Extension News and Events
Keep up with the latest news at Extension or join us for an upcoming event!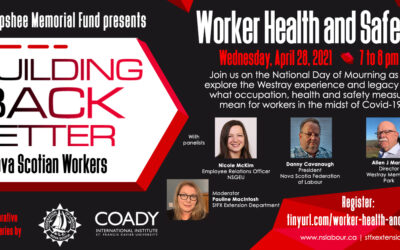 Join us as we explore Building Back Better for Nova Scotian Workers. The first topic of the series is Worker Health and Safety. On April 28, the National Day of Mourning, we will explore the Westray experience and legacy and what occupation, health, and safety measures mean for workers in the midst of Covid-19.
Upcoming Events
Build Together: Strengthening the Community Housing Sector in Nova Scotia
Do you work or volunteer in a non-profit or co-operative housing group in Nova Scotia? If so, please join us for one of ten upcoming engagement sessions focused on strengthening the community housing sector in Nova Scotia. Learn more about the Build Together initiative.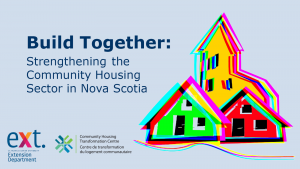 ©2021 StFX University Extension Department | St. Francis Xavier University
4780 Tompkins Lane | PO Box 5000 | Antigonish, NS B2G 2W5 | Canada
Phone: (902) 867-5130 | Contact Us