Extension News and Events
Keep up with the latest news at Extension or join us for an upcoming event!
We share in the grief of this most recent discovery; and we acknowledge that this grief is unequally carried by those directly targeted by the historical and ongoing violence against them as Indigenous communities across Turtle Island continue to experience intergenerational trauma from these experiences at the hands of Canada's governments and church officials.
Upcoming Events
Listen, Discuss, Learn, Act: What we heard from Nova Scotia's community housing sector
Join us for one of two sessions where we will share what we've learned from the Build Together: Strengthening the Community Housing Sector in Nova Scotia engagement sessions, and participate in forming the project's next steps based on these findings. What have we learned? What does it mean? What comes next?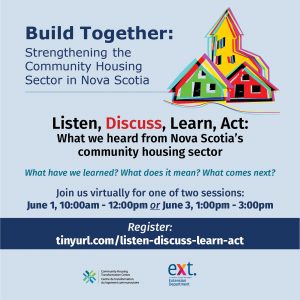 ©2021 StFX University Extension Department | St. Francis Xavier University
4780 Tompkins Lane | PO Box 5000 | Antigonish, NS B2G 2W5 | Canada
Phone: (902) 867-5130 | Contact Us