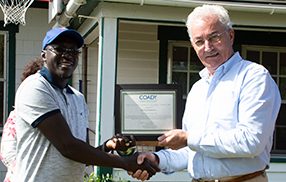 The 2018 Diploma in Development Leadership participants traveled to Margaree, Cape Breton where the family of Rev. Dr. Moses Coady hosted them at the family's homestead and the Coady Tompkins Memorial Library. During the visit, the Coady family presented...
read more
International Women's Week
We are pleased to collaborate with community partners for International Women's Week and International Women's Day events. See the full schedule here.
Friday, March 6
Solidarity as a Verb
Put your solidarity to action with the Antigonish Youth Activism Conference, Masuma Khan, and Ajay Parasam for a workshop (3:00 pm) and keynote (6:30 pm) on living, working, and teaching on stolen territory.
Location: Dennis Hall, Coady Institute, StFX University
Monday, March 9
Waves of Feminist Resistance March
12:00pm – Reflect on the generations of feminist resistance and take to the streets with local women leaders.
Location: Coady International Institute (Meet at main entrance)
Thursday, March 12
Women Land and Water Defenders in Mi'kma'ki
6:30pm – Learn from women land and water defenders in Mi'kma'ki with Dr. Janet Conway, Nancy's Chair in Women's Studies at Mount Saint Vincent, and special guests. Connect with and support women's land and water defense struggles in our region.

Location: Dennis Hall, Coady Institute, StFX University