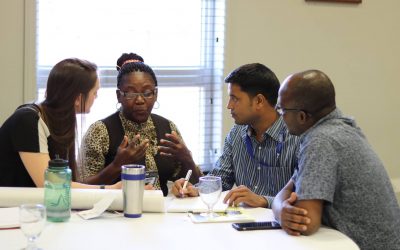 Coady's 2018 Asset-based and Citizen-led Development class traveled to Pictou County to lead a session in mapping assets.
read more
Webinar Series:
Drawing on our Collective Strengths to Promote Civic Leadership in these Extraordinary Times
We are hearing that around the world, Coady graduates and their organizations are finding ways to support their communities to respond to the COVID-19 crisis. For that reason, we are convening a series of community conversations of Coady grads to share ideas and experiences, questions and challenges as to how we can best respond to COVID-19, using an asset-based, community driven approach.
Schedule
Thursday, June 4 – Coady Graduates in/from Nigeria with graduate Sharon Adetutu Omotoso
Tuesday, May 26 – Coady Graduates from/in Cameroon with graduate Mbah Adah
Tuesday, May 19 – Coady Graduates from/in Uganda with graduate Grace Arach
Tuesday, May 5 – Coady Graduates from/in Ghana with graduates Elham Mumuni, Bashiratu Kamal, and Professor Atia Apusigah
Register for a Session
Missed a webinar? Watch them all on our YouTube Channel playlist