Last year, the world's population surpassed seven billion people, more than half of whom are under the age of 30. Young people are at the heart of today's great strategic opportunities and challenges, from rebuilding the global economy to combating violent extremism to building a sustainable environment. Coady programs support the aspirations of young leaders around the globe for positive social change.
Recent events around the world demonstrate that young people are at the heart of social justice and social change. The Coady Institute recognizes both the need for and the capacity of youth leaders to play a pivotal role in community change. We are dedicated to providing knowledge-sharing, global experiences and education to support the aspirations of youth leaders in Canada and the developing world. Grounded in the Coady International Institute's approach to citizen-led development, Coady Youth Programs offers learning opportunities for young leaders to develop the capacity for citizen action towards a more just world.
Pathy Foundation Fellowship

This year-long experiential learning and community development Fellowship is designed to provide young people with opportunities to further develop skills in becoming active and effective change-makers. Through working with a community – local, national or international – with which they have a connection, Fellows foster sustainable and positive social change in the world.
Targeted towards students 29 years old and under who are about to graduate from undergraduate or Masters level study at Bishop's, McGill, uOttawa, Queen's or StFX, the program offers up to $40,000 in funding to support Fellows' travel, living expenses and project costs, while providing them with comprehensive learning support and ongoing guidance throughout.
If you have a meaningful connection with a community and an innovative idea of how that community can be strengthened, this program might be for you!
More Information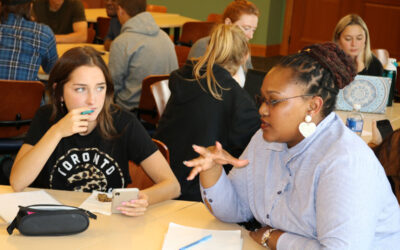 Online Offering. This course is intended to support young professionals in the early stages of their careers as they explore what leadership means to them in the context of their work and future goals. It will offer participants the chance to grow their understanding of what leadership means, explore their own personal strengths as leaders, learn new skills, and begin to think through how they can apply their leadership in the workplace.
read more