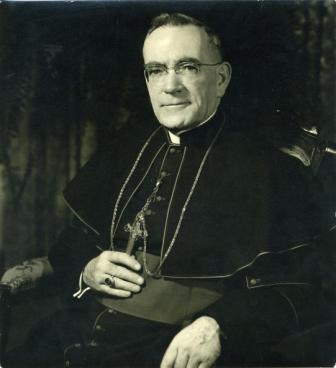 Originally from Port Hood, Cape Breton, John R. MacDonald left home as a youth to complete high school and university in Antigonish. In 1912, he attended the Grand Seminary in Quebec City, later transferred to St. Augustine's Seminary (Toronto) in 1914, and was ordained two years later in Antigonish.
During his tenure as curate at St. Ninian's Cathedral (1916-1922), he came under the influence of Father Jimmy Tompkins and took up a lifelong interest in adult education and the cooperative movement. Tompkins invited him to edit a column in The Casket devoted to improving the social and economic needs of the people through education.
In 1918, he wrote to his uncle Neil MacNeil, Archbishop of Toronto and former Rector of St.F.X. (1884-91): "There has been considerable awakening down this way during the past six months. There is a new spirit of co-operation growing among the laymen particularly…. Maritime Catholics feel that they can work together for a common purpose. If it is a success, it will make them realize their power." MacDonald took leading roles in both the Rural and Industrial, and Educational Conferences held at St.F.X. between 1918 and 1927, presenting papers and becoming the assistant secretary of the Educational Association formed in 1920.
In 1923, Bishop James Morrison appointed him to the isolated parish of Georgeville in Antigonish County (1923-28). He personally witnessed the impact of out-migration as 27 of the 120 families left the parish by 1928. At his next posting in St. Andrews, also in Antigonish County (1928-1932), he worked with Rev. Dr. Moses Coady, Father Michael Gillis and others for the establishment of an extension department, primarily through his position as Secretary of the Scottish Catholic Society of Canada. He co-authored the society's pamphlet Forward Nova Scotia which was intended as part of a fundraising campaign towards a Rural-Industrial Commission. The proposed campaign, somewhat of an embarrassment to the University, helped to spur St.F.X. to establish and fund the Extension Department.
As Rector of St. Ninian's Cathedral (1932-42) and then Bishop of Antigonish (1945-59), he continued to advance the cause of adult education. In the last years of his life he was instrumental in the planning and establishment of the Coady International Institute. He hoped the endeavour would address the shortage of priests and extension workers he observed during a 1955 visit to Latin America. He used his influence with Richard Cardinal Cushing of Boston to secure $200,000 for the erection of the Coady International Institute's first building, the Bishop John R. MacDonald Residence. The formal opening of the building in October 1961 marked the official inauguration of the Institute that had begun in 1959, shortly after his sudden death.