They are active agents in positive change, helping to improve the lives of millions. Here is a glimpse at just a few of our thousands of graduates who are changing the world one community at a time. The profiles here also provide a snapshot of a number of the Coady's institutional partnerships over the years.
Extension Graduates
A.A. "Paddy" Bailey (CU 1955) has throughout his career and life, been instrumental in spreading the word about the value of cooperation, and developing many new credit unions, credit union leagues and other institutions. He started as an inspector of co-ops in Jamaica and became the leading organizer of credit unions there. He joined CUNA International in the 1950s, rising to become executive director of its World Extension Department. At CUNA he was responsible for the development of credit union leagues throughout the West Indies and the formation of the first regional credit union organization. His talents and enthusiasm for co-op philosophy were later applied in Africa, where he helped to found the African Confederation of Cooperative Savings and Credit Associations. Bailey became the first full-time managing director of the World Council of Credit Unions in 1975, where he continued to be an innovative leader and co-op advocate. He was inducted into the Cooperative Hall of Fame in 1997.
Archbishop Peter Cardinal Dery (Soc/Econ. 1958) is a living legend in Ghana where he has been a champion of the youth, and an ardent promoter of education and development. His great service to the Catholic Church and the people of Ghana as a priest and bishop has been recognized by church and state alike. He was among the first recipients of the Star of Ghana and was elevated to the office of Cardinal by Benedict XVI in March 2006. In 1978 StFX bestowed an honourary doctorate upon then Archbishop Dery.
Dr. Jose E. Thielen (CU 1958): More than any other person Dr. Thielen is credited with inspiring the cooperative movement in Venezuela. Shortly after his graduation in 1959 he was appointed Director of the Extension Dept. of the University of Los Andes in Merida. He established a cooperative education centre which trained leaders who spread the movement throughout that state or launched it elsewhere. A number of Coady grads volunteered at this centre. One of these was Fr. Jose Echeverria S.J. (SL 63-64), a zealous pioneer of the movement who established dozens of coops out of a centre he founded in Barquisimeto, Lara state. In 1993 Dr. Thielen wrote to say that the Coady has had a lasting legacy in his country. In 1959 there were just two cooperatives remaining in Venezuela (after government repression of them). By 1993 there were thousands of people in the cooperative movement because of the Antigonish influence. He is retired from the university and is connected now to CIEREC, an international research centre. He mentioned in a recent letter that he left Antigonish a month before Dr. Coady died and was grateful that he had the opportunity to say good-bye to him.
Coady Graduates
Father Ramon Gonzalez (1963): Since 1964, Fr. Ramon and the Social Pastoral Diocese of San Gil have been creating an extensive network of cooperatives in the San Gil region of Colombia, resulting in boosted economic and social growth for the entire region. Drawing upon Coady Institute-inspired cooperative experience, the movement is now a model for other rural development projects in Colombia and has spawned the creation of the cooperative educational institution, San Gil University which offers advanced training programs to the staff of the more than 200 cooperatives that have sprung up in the San Gil Diocese over the last 40 years. As of 1999 SEPAS (Santander Pastoral and Social Action Centre) and its affiliated organizations oversaw 200 local coops involving 250,000 members, 3000 church groups, 78 campesino organizations, 2000 full-time employees and over US$85 million in capital. Fr. Ramon has for over 40 years provided the mystique and the drive behind this movement. SEPAS is affiliated with University San Gil. See the Coady Newsletter, June 1995.
Dr. Anselmo "Boy" Mercado (Cert. Social Leadership 1964), inspired by the Coady Institute's approach, established the South East Asia Rural Social Leadership Institute (SEARSOLIN) in 1964, a community development education centre in Cagayan de Ore, Philippines. Now after four decades, the centre continues educating dynamic leaders who are devoted to alleviating poverty by increasing people's assets, resources and capacities. Working with the Coady Institute, SEARSOLIN is leading the way in community development by testing and applying the newest approaches such as asset-based community development. At least five of SEARSOLIN's key staff have attended the Coady.
Raymond Tremblay (SL Dipl. '65-66) was hired as superintendent of the Indian agency for PEI soon after graduation. He went on to a distinguished career that included appointment to the NB Human Rights Commission, chief of the Tobique band, Manager of the NB Dept. of Indian Affairs and Elder with the National Council of the Assembly of First Nations. He has been instrumental in revitalizing community development programs of the Union of NB Indians and designed and coordinated a series of self-determination workshops. He retired in 2000 and sits as an Elder on the Atlantic Policy Congress of First Nations Communities. In 1992 he received an honorary degree from St.F.X. as "one who has been a light to his people, a source of pride for his family and community and a role model for those seeking direction."
Joe B. Marshall (SLC '66-'67) is the Executive Director of the Union of Nova Scotia Indians and was a founding member of the organization. He graduated from the University College of Cape Breton (UCCB) in 1989 and from Dalhousie University Law School in 1993. He is an Associate Professor of Mi'kmaq Studies at UCCB and a teacher at the Eskasoni Training and Education Centre. Recently he was selected by the Assembly of Nova Scotia Mi'kmaq Chiefs to join the staff of the Mi'kmaq Advisors on constitutional rights.
Hon. Winston Baldwin Spencer (1968): Prime Minister of Antigua and Barbuda since March 2004, Prime Minister Spencer has three decades of service in various areas of public life. He is a former Assistant General Secretary and 1st Vice-President of the Antigua and Barbuda Workers' Union, and a past President of the Caribbean Maritime and Aviation Council. Prime Minister Spencer has also served as Chairman of the Public Accounts Committee of the Antigua and Barbuda Parliament and as a Caribbean Representative of the Fair Practices Committee of the International Transport Workers Federation.
Noel Knockwood (SLC 1968-69): Almost single-handedly, Noel Knockwood began the task of restoring and building the Native spiritual movement in New Brunswick and Nova Scotia in the 1970s. Elder Knockwood had Native Spirituality recognized as an official religion in Nova Scotia. Elder Knockwood was also involved in the Eagle Feather Project which introduced the use of the eagle feather, in place of the Bible, to his province's judicial system. He changed the lives of generations of Nova Scotians after he developed the Transitional Year Program for Black and Aboriginal students at Dalhousie. Elder Knockwood was made the first Aboriginal Sergeant-at-Arms of the Nova Scotia House of Assembly. "His commitment to his province, his integrity and his respect for others is an example for all Nova Scotians," Premier John Hamm said at the time.

Matthew Wang Wu Chang (Dipl. 1971) founded the Populorum Progressio Institute for Volunteer Leadership Training in Taichung, Taiwan the year after he graduated from the Coady. PPI's training programs were based on the social leadership principles of the Antigonish Movement. During Dr. Wang's 17 years as director, the institute trained more than 80,000 leaders and is credited with having a major influence on Taiwan's rise to 'economic tiger' status. Around 1976 Mr. Wang was elected President of the Asia Conference of Credit Unions. Within seven years since graduating from the Coady, Mr. Wang was credited with founding over 60 credit unions in Taichang and Chiayi dioceses. In 1978, the 50th anniversary of the St.F.X. Extension Department, he received an honourary degree from St.F.X. In 1984, PPI co-founded a new training centre which offered courses to staff and members of co-operatives, senior university students majoring in co-op studies or agriculture as well as employees of government co-op administration sectors. Dr. Wang also headed the International Catholic Rural Association which sponsors the ICRAF Forums. He retired from PPI in 1990 and has kept busy with volunteer work including serving as chair of the Taiwan Cooperative Development Foundation.
Senator Everard Dean (CU 1975): The late Senator Dean, a citizen of Trinidad and Tobago, gave forty years of service to the co-operative credit union movement locally, regionally and internationally. He was President of the former Trinidad Cement Employees Credit Union when he came to Antigonish and remained in that post until 1985. A year after graduating from the Coady he was elected Vice President of the Board of Directors of the Co-operative Credit Union League of Trinidad & Tobago. He later became President of the Board. He was elected President of the Caribbean Confederation of Credit Unions in 1985 and in the early 1990's became third Vice President of the World Council of Credit Unions. He was appointed to the Senate of Trinidad and Tobago in 1990 and served there until 1994. He died suddenly in 1995. Credit Union leaders from across the Caribbean Region gather each year for the CCCU-sponsored Everard Dean Lecture, established in tribute to Senator Dean's distinguished service to the development of the Cooperative Sector in the Caribbean.
Chief Terrance Paul (Dipl. 1977) has been Chief of the Membertou First Nations Reserve since 1984. His efforts to improve the living and economic conditions of the reserve has helped make Membertou one of the most open and efficient native communities in North America. Soon after his election, Chief Paul sought and generated new revenue streams and created new business partnerships for Membertou. To maximize employment opportunities from these partnerships, he initiated education and career-related training programs for the residents and coaxed many professionals who had left the community to return. In one decade, he transformed the reserve's financial status from a $4 million dollar budget running an annual deficit of $1 million to a $65 million dollar operating budget. Chief Paul has instilled a sense of pride in the people of Membertou and ensured the community's future success. He was inducted into the St.F.X. Hall of Honour in 2006.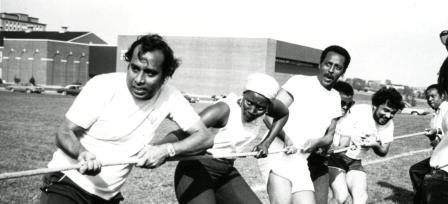 Ben Skosana (Dipl. 1980) has been a member of the Inkatha Freedom Party (IFP) since its formation in 1975. He has a deep interest in rural development and rural social problems. To follow his interests he joined Zululand Churches and Welfare Association (HELWEL), development agency focusing on rural development. After receiving a Diploma in Social Development from the Coady in 1980, Mr. Skosana received a BSc and MSc in International Affairs with the Pacific Western University in the US. From 1981 until 1986 he was the Director of HELWEL. He resigned when he became a permanent representative of the IFP in London. After serving the IFP in London, he returned to South Africa and became a committee member of the Reconstruction and Development Programme, an ANC government initiative to alleviate poverty in South Africa. In 1998 he was appointed Minister of Correctional Services, a post he held until April 2004. He was responsible for cleaning up an extremely corrupt and mismanaged prison system and for making life bearable and more hopeful for thousands of inmates.
Marco Guzman (Dipl. 1981), a social activist since his youth, was awarded Bolivia's Presidential Medal of Honour at the age of 19 for his work in the advancement of rural education and voluntary service. An Aymara native of Bolivia, he was forced to stay in Canada after graduation, due to a military coup which occurred while he was attending the Coady. He became a volunteer with Frontiers Foundation and later became as its Executive Director, in which capacity he still serves. Frontiers Foundation is a non-profit aboriginal voluntary service organization that promotes the advancement of economically and socially disadvantaged communities. FF works with aboriginal communities to provide affordable housing and improvements in education. Mr. Guzman is also the founder of the Canadian Hispanic Foundation. He has been awarded the Aboriginal Order of Canada, the Grand Cross of Bolivia and the condor feather by the Aymara people. He has a school named after him in Bolivia. In 1998 he received an Honorary Doctor of Laws degree from St FX for his work with native communities. See the Coady Connection, May 1999.
Dr. P. A. Kiriwandeniya (Kiri) (C.U. 1981) is an innovative thinker and institution builder in the field of microfinance in Sri Lanka. He has contributed immensely to the phenomenal growth of the SANASA Movement of Sri Lanka. Committed to action through self-reliance, SANASA is an important cooperative network in the delivery of microfinance, relief and development services. Under Kiri's leadership, SANASA has been a unifying force for regions ravaged by ethnic conflict and later by the 2004 tsunami. The movement represents nearly 8,000 'Primary Societies' with a membership of over 850,000 people throughout all districts of the country. Kiri was also President of the Federation of Thrift and Credit Societies of Sri Lanka which revitalized the countries 1,200 rural credit unions. In 1989 he was elected president of the Asian Confederation of Credit Unions. He is currently chairman of the People's Bank which has an unmatched outreach of 324 Branches, 300 Service Centres and 100 ATMs in Sri Lanka.
Dr. Solomon Gidada (1982 Cert. in Evaluation and Research Methods) served as Director of Urban and Rural Development for the Ethiopian Evangelic Church Mekane Yesus (EECMY), the fastest-growing church in the country. In the 1970's and 80's the drought and famine that affected Wollo and Tigray provinces and the war in Eritrea resulted in massive human suffering. The EECMY was faced with the task of caring for large numbers of people who were forced to resettle and establish viable new communities. Coady was an important partner of EECMY during this period. From 1978 to 1988 Dr. Gidada headed the Joint Relief Partnership, which grouped Ethiopia's three main churches. He also presided over the Christian Relief and Development Association (CRDA) until he was appointed as Ethiopia's ambassador to Great Britain in 1992. Dr. Gidada passed away in 2003.
S. Devaraj (Dipl. 1985) founded Activists for Social Alternatives (ASA) in Tamil Nadu, India, the year after he graduated from the Coady. A sister organization, Grama Vidiyal, which focuses on microfinance was created a few years later, and was assisted by ASA in the form of capacity building, impact assessment and other types of support. ASA-Grama Vidayal offers their clientele a wide range of community development products aimed at achieving the empowerment of vulnerable sectors of society. Lower caste Indians and women are the focus of much of this work which has grown to serve more than 90,000 households in southern India. Mr. Devaraj who serves as Chairman and Managing Director of the organization says that "ASA considers its past achievements as merely an experience for the road forward. Never satisfied with what has been achieved in the years past, ASA still strives hard to create a harmonious equitable society."
Krishna K.C. (Dipl. 1985) left Nepal in 1994 to work as sanitation education advisor with OXFAM UK in Cambodia. After that two-year contract he worked as program advisor for the education program of Redd Barna/Save the Children Norway. Most recently he has worked as a project coordinator for UNESCO, including managing a project in Koh Sla region. It covers 18 villages within two communes where most of the former Khmer Rouges reside and is known as "Conflict Prevention and Resolution through Education – Education for Peace and Development" Project. Koh Sla covers a huge area physically, mostly covered by forest. Few agencies were active in the region prior to the UNESCO project. The region faces many problems: human rights abuses, a high percentage of illiteracy among adults and malnutrition among young children and a lack of hospitals, roads, bridges, schools, food, drinking water are some of the major problems. In 2005 for his dedication to nation-building Krishna KC was awarded a gold medal by the president of Cambodia.
Nader Tadros (Dipl. 1987), has over twenty years of international voluntary and professional advocacy and social justice experience working in North America, the Middle East and North Africa, Sub-Saharan Africa, Eastern Europe, and Central Asia. He has combined academic and hands-on experience in promoting democracy and social justice through strengthening civil society organizations and NGOs especially in the areas of advocacy, democratic governance, and social development programs. He has served with many local, national, and international organizations, including civil society organizations, private enterprises, USAID, the World Bank, the United Nations, and the European Union. Dr. Tadros founded People's Advocacy, an organization that promotes advocacy that helps people to realize their power and use it to participate in the decision-making processes. Through People's Advocacy, Nader provides consulting and training services to many national and international social justice organizations and groups on capacity building for advocacy and social justice work. He has co-facilitated the Advocacy certificate program at the Coady.
Adisa Lansah Yakubu (Dipl. 1987; Cert. ABCD 2004) has decades of experience in development, both in terms of field work and work within the UN system. When she first came to the Coady she was a literacy worker with a locally-based women's network and now works in Accra where she has been director of the Africa 2000 Network since its inception in 1989. A2N is a leading NGO in Ghana with network affiliates now in ten African countries. Mama Adisa has returned to the Coady to co-facilitate the Women's Leadership Certificate program.
Dr. Montasser Kamal (Dipl. 1988) is a recognized global authority on various health issues including hepatitis, family planning and the globalization of tobacco. He is currently Chief of the United Nations Health Inspections Unit and Director-General of Multilateral programs for CIDA. He has also served on the Coady advisory board and was formerly employed as Senior Program Officer Research for International Tobacco Control with IRDC. Prior to that appointment he completed his PhD in Medical Anthropology at McGill. He was lead researcher for Egypt's poverty assessment program (1998) and part of an international team evaluating a community-based primary health care project in Afghanistan (1994). See the Coady Newsletter, Fall/Winter 1992.
Issam el-Adawi (Dipl. 1989) after graduating from the Coady, completed his MSc in Medical Anthropology at the Brunel University West London in 1994. He worked with the International Planned Parenthood Federation in Tunisia as training specialist in the Arab world. For some years now he has worked in Iraq, first with Save the Children USA, then the Dept. for International Development and now as Chief of Party for America's Development Foundation. ADF is implementing the Iraq Civil Society and Media Support Project, a US$59 million USAID-funded initiative that works to instill democratic values in Iraq's CSOs. Issam works closely with Mohamed Yasin (Dipl. 89) who is a project manager in Basra.
Pandelani Nefolovhodwe (Cert. Hist. '89) is a former president of the South Africa Student Organization and anti-apartheid activist who was imprisoned from 1976 to 1982. He is an MP and deputy president of the AZAPO, the Black Consciousness Movement which was led by Steve Biko.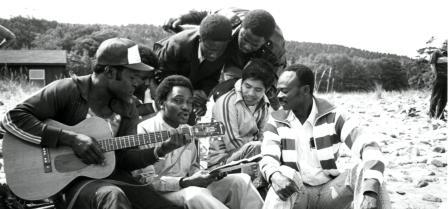 Anuradha Wickramasinghe (Dipl. 1990) is Director of the Small Fishers Federation of Sri Lanka (SFFL) a group of individual fishers and small fishing communities that banded together in 1984 to fortify themselves against the powerful influence of large corporate and political interests. The SFFL now includes 22 percent of the nation's independent fishers and more than 146 fishing communities throughout the country. The federation defines clear fishing rights for its members and works with local and regional enforcement agencies to enforce them. SFFL has been highly successful in combating the destruction of mangrove forests, has established nurseries to replant degraded forest areas, raised freshwater fingerlings to be sold to inland fishers to restock inland waters, and conducted many other environmentally beneficial projects. In 2003 the organization hosted Sri Lanka's first environmental tourism group since the end of Sri Lanka's 12-year civil war. During the welcoming ceremonies, Sri Lanka's Minister of Fisheries commended SFFL for doing "what the Government of Sri Lanka could not; providing environmental education and conservation benefits to the people of Sri Lanka." Several SFFL staff have also attended Coady programs.
Saloni Singh (Dipl. 1990) worked with SAP-Nepal prior to coming to Coady. She then started an innovative NGO called DidiBahini which is active in rural women's advocacy training. It has been very effective in helping women maintain property rights after divorce and in getting women involved in the political process. DidiBahini created a national movement to demand for women's meaningful participation in politics. As a result the government declared a mandatory minimum of 20% of seats for women at the local level. Ms. Singh is now active in political skills development and has co-facilitated the Certificate in Advocacy at the Coady.
Sahr Gborie (Dipl. 1992) had a long history with the Catholic Church in Sierra Leone as a catechist, a youth leader with YCS and a member of the community and mission team. He trained with the DELTA program and also as part of Community Animation Teams. After graduating from the Coady he was made Asst. Director to the Diocesan Development Office in Kenema Diocese in the eastern province of SL where he worked with fellow Coady graduate Nancy Dainkeh. He was sent to the UK for study in conflict resolution, worked briefly in Liberia then became West Africa Coordinator of Conciliation Resources, an organization that partners with community groups and NGOs in Sierra Leone's efforts to rebuild during and after its 10-year civil war. In the 1990's Mr. Gborie helped to found the Network Movement for Justice and Development and developed the innovative NMJD program on the relationship between mining, security and politics. He was a strong promoter of indigenous approaches to peace-building, and in southern Sierra Leone often used the Koran as his entry-point to group discussions.
Stephen Lenaiyasa (Dipl. 1994) was a program manager with the Christian Children's Fund of Kenya when he came to the Coady in 1994. CCF Kenya supervises 75 projects of which 40% include pastoral nomads who depend solely on livestock for food and drink. A pastoralist himself, Stephen has firsthand experience to guide CCF in the development of their programs. Since his graduation he has become an Early Childhood Development and Education Specialist with CCF.
Dr. Rajat Das (Dipl. 1994) was appointed program secretary of Lutheran World Services-India in 1997, building on his role as health advisor for LWS. In 1999 he joined the Usthi Foundation and became responsible for a 35-bed hospital in a Calcutta slum. Dr. Das is a consultant to the HIV/AIDS program in several states of India as well as the State Reproductive and Child Health Projects. He is president of the Association for Social and Health Advancement (ASHA) an NGO working mainly with women, adolescents and children from underprivileged communities on issues such as health and nutrition, education, gender and child labour. Dr. Das works closely with Dr. Sebanti Ghosh (Cert. Women's Leadership 2002), also a Coady graduate. Dr. Ghosh is the driving force behind ASHA and serves as its secretary. ASHA engages in research, training, primary health care and microenterprise development. It also is active in the "Young People's Reproductive and Sexual Health and Rights Network". ASHA has taken up the issue of child labour and has conducted action research on understanding the vulnerability of women and children working in the beedi industry. Some children spend 11-12 hours a day in rolling this type of cigarette. ASHA has begun introducing alternative livelihoods to the beedi makers.
Jaranya 'Mam' Daengnoy (Dipl. 1995), the youngest participant in the 1995 Coady diploma program worked with Thai Volunteer Service (TVS) as a volunteer coordinator and trainer. She later became coordinator/trainer within TVS' fundraising program, and later became Manager of Responsible Ecological Social Tours Project (REST). REST promotes community-based tourism in Thailand, including southern coasts and northern hill tribe areas, which are carefully managed at the grassroots level for the benefit of local communities and the environment. REST has won a National Geographic World Legacy Award for Destination Stewardship. See the Coady Connection, 2003-2004.
Cora Zayas-Sayre (Dipl. 1996) developed an approach to community-development called WAND, which stands for water, agro-forestry, nutrition and development. The approach won a World Bank-sponsored award for innovation in 2004. She is now director of Local Empowerment Foundation (LEF) which provides social development initiatives with emphasis on biodiversity, environment and the agricultural sector, rural entrepreneurship, peacebuilding and gender and development. LEF grew out of a pool of community development workers in North Central Mindanao concerned about the direct link between severe poverty, local resource mismanagement and the absence of lasting peace. Cora and her husband's project on "Advancing Integrated Rural Development and Peace in Conflict Areas in Mindanao, the Philippines" was selected among the three best projects. She has also won an international competition on the "Rehovot Approach" to Integrated Development Projects.
Alexia Manombe-Ncube (Dipl. 1999) was appointed by the president of Namibia as a non-voting Member of Parliament in 2005. She is a member of Parliamentary Standing Committees on Human Resources, Social and Community Development; Standing Rules and Orders and Internal Arrangement; Public Accounts. She has been Chairperson of the Namibia Association of Differently Abled Women; Deputy Chairperson (Women and Under-Represented Groups), Southern Africa Federation of the Disabled; Member of the National Council on Disability (Namibia) and Board Member of the Centre for Women in Leadership. She and her husband Jabu met at the Coady.
Jabulani Manombe-Ncube (Dipl. 1999) is the former director of and a consultant with Development Initiatives and Services (DIS), a regional development organization in Zimbabwe (now based in Botswana). DIS works in Southern, Eastern and Central Africa to build the capacity of the disability movement in Africa. His key skills are in evaluation, NGO management, strategic planning, mediation and workshop facilitation. Jabu has traveled extensively covering issues related to the international disability movement. He is now a consultant living in Namibia where his current interest is in how the collective energies of African disabled people's organizations (DPOs) can be pooled towards fulfilling the objectives of the African Decade on Disability (2000-2009). Jabu has co-facilitated the Advocacy certificate at Coady.



Sarah Garap (Dipl. 2000) is a human rights defender from Chimbu Province in the Papua New Guinea Highlands. She and other women human rights defenders face numerous challenges trying to fill the vacuum left by the Government's inadequate response to gender based violence, especially in caring for victims without the means or mandate to do so. In this respect, they must juggle a desire and need to cooperate with and aid the capacity building of government agencies while simultaneously demanding accountability from them. They must overcome excuses that engrained violence against women is justified on ill-defined 'cultural' grounds. And in all of this their own personal safety is at risk. After the 2002 elections in PNG, Sarah formed the Meri Kirap Collective, a small group of women dedicated to raising consciousness nationally and internationally about the problems of women in PNG and the reasons why women want to be elected to the National Parliament. Meri Kirap (Women Arise) also raises crucial issues about the security of women candidates and women voters.
Vikas Gora (Dipl. 2001) is closely associated with the Atheist Centre in India which was founded by his grandparents, and which has a number of Coady graduates on staff. The Centre has a long history of fighting superstition and promoting scientific mentality, ecology, secular and humanist education, sex education and family planning. It also promotes inter-caste links (esp. marriages). Following his graduation from the Coady, Vikas worked as Program Associate for Care India's new Andhra Pradesh Disaster Mitigation and Preparedness Project. The project focused on reducing vulnerability in nine coastal districts and two flood-prone districts. Following the 2004 tsunami, he became Project Director of the Disaster Management Wing of the Arthik Samata Mandal (ASM), a sector of the Atheist Centre. ASM played a leadership role in the recovery and rehabilitation effort in several Andhra Pradesh villages. Vikas now works as a consultant. He has co-facilitated Coady's youth certificate, completed a Master of Social Work degree, and was awarded a Rotary International fellowship to pursue further studies at Queensland University in Brisbane.
Yolanda Simon (Cert. Women's Leadership 2002) is the regional coordinator of the Caribbean Regional Network of People Living with HIV/AIDS (CRN+). CRN+ strives to raise awareness of people living with HIV/AIDS in the Caribbean through a number of avenues: advocacy, research, capacity building, resource mobilization, lobbying and sensitization strategies to reduce stigma and discrimination. Yolanda is also on the board of the National AIDS Coordination Committee (NACC) in Trinidad and Tobago and is the Caribbean representative on the steering committee for the Global Coalition on Women and AIDS, a group spearheaded by UNAIDS. Through all of her work, Yolanda puts an emphasis on the effect that gender has on HIV/AIDS. In 2001 the Institute for Caribbean Studies (ICS) in Washington DC, honoured her at the Institute's Caribbean Heritage Awards ceremony.
Fr. Valeriano Vaz (Dipl. 2002), was as a teacher in a seminary in Goa when he got involved in social issues affecting the people of Goa. He took a special interest in the cause of the disabled. He was appointed Director of Caritas Goa which works in the area of rehabilitation of disabled persons. The Vocational Training Centre – one of Fr. Vaz' first initiatives and the first of its kind in Goa –has trained thousands of disabled persons, and helped them to gain suitable self-employment or placements in the private sector, notably the hotel industry. Realizing that the key to helping disabled persons gain employment was formal education, Fr. Vaz started St. Xavier's Academy for persons with disabilities. The school's practice of 'Reverse Inclusion' – whereby non-disabled students join the disabled students and benefit from the special school – has been very successful, particularly for children who find it extremely difficult to cope in regular schools. Fr. Vaz has spearheaded several other initiatives to promote disability rights in Goa. He led a campaign to make public buildings barrier-free, has strongly advocated for implementing 3% reservation in the public/government sector, and is creating a network of NGOs in the disability sector to work towards a common vision. In Dec. 2005 he was presented the prestigious Shell-Helen Keller award for outstanding service to the disabled by India's Minister for Human Resources Development, Mr. Arjun Singh.
David Langa (2004) has witnessed firsthand the deprivation brought on by a lack of industry in his town in Northern Ghana. In response, Langa became involved with community development at an early age and was working with ActionAid when he proposed that they finance a smaller organization to focus solely on communities in Northern Ghana and begin to encourage sustainable development through education. The Centre for Active Learning and Integrated Development (CALID) strengthens educational infrastructure through the construction of schools, training of school management committees and educational programs for children.
Fr. Varghese Mattamana (MDO Cert. 2004) took over as head of Caritas India after a four year post as Assistant Director. He has worked as Executive Director of Kerala Social Service Forum and of Shreyas Social Service Centre, also is based in Kerala. He plans to make Caritas a frontline NGO in India so that in the eyes of the government as well as the people it will be seen as an advocate for issues related to the poor and marginalized. Caritas India will become more strategically involved in less developed areas of the country and be a catalyst to strengthen systems, structures and management capacity of partner agencies.
Emily Sikazwe (Dipl. 2004) is a leader for social change in Zambia and heads the powerful NGO Women for Change (WfC). She is a keen critic of both her government and the international economic forces which have devastated her country. She is often called on to speak on behalf of the women of Zambia. She believes that poverty has a woman's face and it takes women to break the chain of poverty. This requires development strategies and models that encompass the whole woman, not just one aspect of her. Emily's unique work has been praised by Mary Robinson, the former United Nations High Commissioner for Human Rights. Several WfC staff have since attended Coady programs, and Emily herself returned to St.F.X. to complete a Master of Adult Education degree. She has also co-facilitated the Advocacy Certificate and has taught gender analysis at the Coady.
Binaya Nanda (Binu) Suma (Dipl. 2004) came to the Coady as a field coordinator with BHORSA (Basic Health Outreach Social Action), a community-based organization that grew out of the experiences of one impoverished village. Building on initial successes around the delivery of medical assistance, the village gradually achieved awareness of the need for change in other areas: hygiene, health literacy and economic development.  BHORSA's program has since expanded to 14 other villages. Binu uses innovative means of teaching, such as the theatre of the oppressed, and incorporates joy and love to build awareness and community capacity. He now is employed by the Xavier Institute of Management where he continues to do field work with the dalits and tribals while managing the Training and Documentation wing of XIM's South Orissa Resource Centre. Binu calls the centre "a treasure of experiential learning" and he works on one project in particular: Sustainable Livelihoods Options for the Rural Poor.
Ida Mukuka (Dipl. 2005) is a widowed mother of three who has dedicated her life to giving her children a better life and to providing counseling to street children, battered women, and to providing care and support to people living with HIV. Ida strongly believes that people living with HIV are part of the solution, and that effective HIV responses must listen to their voices. Ida was director of community outreach at the Center for Infectious Disease Research in Zambia (CIDRZ), where she has brought together over 1,000 HIV+ patients on antiretroviral therapy in vibrant support groups. She also founded a Peer Education program of those living with IV who provide counseling and outreach at government clinics. In the spring of 2007 she became the Stephen Lewis Foundation's regional coordinator in charge of monitoring and evaluating the programs funded by the foundation in southern Africa.
Choolwe Mwetwa (Dipl. 2005) is a very politically active pastor and leaders working on behalf of Zambian faith-based organizations and civil society. He is part of a network called the Oasis Forum consisting of lawyers, pastors, media and other leaders who put political pressure on the government and hold it accountable.
Mengistu Gonsamo (2 Cert., incl. 2006) works for OXFAM in Ethiopia along with fellow Coady graduate Samuel Molla. They are active in the ABCD approach in partnership with the Coady. Previously, he was director of Sidama Development Corp. SDC is a grassroots non-profit organization established to harness the human and physical resources of the Sidama people in order to help reduce poverty and foster sustainable development. It establishes village-based development committees and trains its members with a locally-designed participatory curriculum. It operates a training and research institute which offers courses in participatory rural development and project management. SDC also promotes microfinance. The Sidama people of southern Ethiopia are a minority which has been historically oppressed by state authorities. Mengistu has stood on the side of the oppressed and was arrested as a prisoner of conscience after a rampage by police killed one and injured many other residents of a local village.