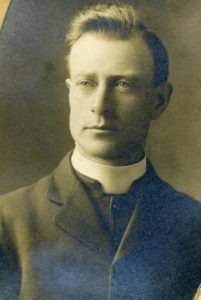 Rt. Rev. Dr. Hugh ("Little Doc Hugh") MacPherson is known as the Antigonish Movement's 'first co-operator'. For over 60 years he combined a passion for scientific agriculture and co-operative principles into a unique career as teacher, advocate and organizer. Along with Father Michael Gillis, he pioneered rural cooperative action, energizing and spurring farmers across the Diocese of Antigonish and beyond to improve their agricultural techniques and to cooperate in production and marketing for their own benefit.
In 1872, he was born into a farming family of ten children located at Fraser's Mills, Antigonish County. He graduated from St.F.X. in 1893, then went to the Urban College in Rome, and was ordained into the priesthood in 1899. After receiving his doctor of divinity and doctor of philosophy degrees, he pursued post-graduate studies in engineering and geology at Lille, France. Thereafter, he returned to St.F.X. and joined its faculty in 1900.
"Little Doc Hugh" was comfortable and adept in many roles. Academically proficient, he taught one of the first courses in applied science at St.F.X. and moved easily between scientific subjects and languages. He served as the athletic director and famously coached the St.F.X. hockey team to victory over Harvard University in 1910. It was this beneficial mixture of scholarship and people skills that led him to devote much of his life to educating farmers.
Although he taught chemistry and mining engineering, his rural upbringing informed his interest and concern for farming as both a scientific occupation and a cultural activity. He observed that the majority of farmers in the region ignored progressive agricultural practices and he sought to change the situation. He saw farming as a complex of all the sciences he loved as well as a traditional way of life. While solidly rooted in faith and family virtues, it could benefit greatly from science and modern technique. Thus he began to see the need for social organizations in the rural communities that both introduced new information and supported traditional values.
Based on what he had seen in France, he began his own extension activities in 1912. From those efforts emerged the region's first producer co-operatives and shortly thereafter the first consumer co-operatives. In 1914, the Nova Scotia government asked Bishop James Morrison if he would 'loan' him to work as the province's first agricultural representative. For four years, "Little Doc Hugh" established livestock clubs and marketing co-ops across the province. He also taught at the Truro agricultural college and took advanced studies at the Ontario Agricultural College in Guelph.
From 1916 to 1932, he directed operations at the university-owned farm, Mount Cameron, located just outside of Antigonish. Msgr. Hugh MacPherson always ran the farm as if it was his own. When short of hired hands, he helped harvest, weed and plow. This hands-on role ended his active working life when a tractor he was using to load hay tipped and pinned him underneath. Tragically, it fractured his hip and pelvis. Although the incident nearly killed him, he eventually recovered. He never laboured manually again and had to use a cane; through the last ten years of his life he was obliged to use a wheelchair.
Rt. Rev. Dr. Hugh MacPherson was made a fellow of the Royal Agricultural Institute of Canada in 1946. He formally retired in 1950, the year when Pope Pius XII awarded him the honorary title of "monsignor." The man who called Jimmy Tompkins his 'first convert' left an indelible legacy for St.F.X., the farming community and the larger Antigonish Movement.