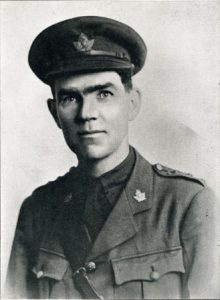 Father Michael Gillis, a long-time parish priest who served as military chaplain in both world wars, was a passionate defender of his native rural farming culture. A founding father of the Antigonish Movement, he led a vanguard of early reformers in the Diocese of Antigonish who spearheaded the call for action in the 1910's and 1920's that ultimately led to the Extension Department's establishment in 1928. It is sometimes forgotten, but surely worth remembering, that leaders like Michael Gillis stood up and spoke their minds at a time when it was professionally and personally difficult. Many people considered their criticism of the status quo radical, but they persevered in their mission and established the foundations upon which Dr. Moses Coady and others would build.
Born in Soldier's Cove, Richmond County, Cape Breton, and educated at St. Peter's Academy and then St.F.X. (B.A. 1904), he entered the Grand Seminary in Quebec and was ordained priest in 1907 by Bishop John Cameron. He served as assistant in the Port Hood, Sydney, and Antigonish parishes before being appointed pastor of Georgeville, Antigonish County, in 1914. The Great War cut short his tenure there as he went to Europe to serve as a military chaplain.
Like numerous other priests of his time and place, bonds of blood, faith and culture to his people and their problems bound Gillis. With deep roots in the rural farming communities, he knew the people and feared they were losing both their faith and material well-being because of economic depression and out-migration. From his early days, the regeneration and improvement of the rural lifestyle through adult education and co-operative group action became his life's work. Even while serving in Europe, his thoughts were on problems at home, and he wrote letters urging leaders to undertake rural education and give greater support to Rev. Dr. Hugh MacPherson who was working with farmers of eastern Nova Scotia.
After the war, Gillis did a short stint of post-graduate work at London University then returned home full of zeal for rural cooperation. After a year teaching at St.F.X., he resumed pastoral duties in 1920 at St. Andrews Parish, Boisdale, Cape Breton County. Gillis and his fellow reformers called on St.F.X. to coordinate and implement programs for enriching rural life. They worked through several different, but closely connected, activities and organizations, such as educational and rural conferences in Antigonish, and the Scottish Catholic Society of Canada.

A seed of the Antigonish Movement was sown at the third Educational conference in 1920. Father Gillis was elected secretary of the educational association created at the conference. Its founding articles explicitly called for the establishment of study clubs. Throughout the 1920s, Gillis led the charge for action and change. He and his fellow agitators placed the rural problem front and center at the 1924 Rural conference and in 1925 pushed the conference to ask Bishop James Morrison to appeal to his parishes for funds to send twenty-five young men each year to the Farmers' winter course at the Agricultural College in Truro.
Gillis was also an important member of the Scottish Catholic Society of Canada founded in 1919. He helped frame its focus on rural education and was a prime mover behind the society's sponsorship of its own scholarship program in support of rural education in 1928. After a tenure of thirty years in the Boisdale parish, and a second tour of duty as military chaplain and major serving overseas during World War II, Gillis became pastor of St. Anthony's Parish, Glace Bay (1950-1954) and later Our Lady of Lourdes Parish in Stellarton, NS (1954-1964). He received an honorary doctor of laws from St.F.X. in 1953, in celebration of the 25th anniversary of the St.F.X. Extension Department. In 1964 he was appointed to the staff of the Coady International Institute. Four years later he left Antigonish to retire at the MacGillivray Guest Home in Sydney, NS. He died in Sydney on April 11, 1970 and is buried in Boisdale. At the time of his death he was considered to have been one of the last of the visionary band of Antigonish Movement pioneers.
Although Gillis was an effective promoter of practical responses to the rural problem, his ultimate goal remained the institutionalization of the reform agenda. The fact that his contemporaries universally credited him with being the driving force behind the establishment of the St.F.X. Extension Department is not always appreciated. He was a quiet, humble man who performed his duties in a quiet, humble way.
Father Gillis was a man both of his time and for this time. He understood that effective action for social change must begin with fighting the problems of one's own community. He knew that more courage is required to speak out against evils in one's own backyard than to sound off about problems thousands of miles away. Adverse to demagoguery or flashy slogans, he possessed a trained mind capable of choosing effective methods for social change. For more than sixty years, he demonstrated the discipline, patience and fortitude necessary to work each day towards "a just society." In a way, he functioned as the social conscience of St.F.X. University, his alma mater, periodically urging it not to forget its mission to serve the common people.
His beneficial influence was multiplied by the Antigonish Movement which inspired others to dedicate themselves to fruitful social endeavours: Donald MacDonald of the Canadian Labour Congress; Alexander Laidlaw, former head of the Co-operative Union of Canada; and those who served Nova Scotia in political life, such as The Honourable Allan J. MacEachen, J. Clyde Nunn, and Angus ("Tando") Maclsaac, Sr. Of course the Antigonish Movement also inspired countless rank and file members of social reform organizations as well as foreign students and disciples of the Antigonish program.