Msgr. Francis J. Smyth was the founding director of the Coady International Institute [hereafter The Coady]. A native of Sydney, NS, he was a star athlete and coach, graduated from St.F.X. in 1940, and was ordained priest in 1945. He was briefly an assistant at St. Anne's Parish in Glace Bay, NS before joining the staff of St.F.X. in 1946. In 1951, he was appointed to the staff of the newly established Xavier Junior College in Sydney and also was director of St.F.X. Extension Department's adult education program there at the time. At the request of Bishop John R. MacDonald, he interrupted graduate studies in sociology at University of Notre Dame, South Bend, Indiana  in 1955 to act as director of social action for the Canadian Catholic Conference of Bishops in Ottawa. In 1960, he returned to Antigonish to direct the work of The Coady.
Smyth's two primary concerns in the early years of The Coady were to create an effective program of studies and to find the funds necessary to support and grow the institution. He set about striking committees, securing financing for a permanent building, finding scholarship funds, creating an administrative centre, and organizing a unique and effective curriculum. Smyth achieved all of those goals. His contacts with the Catholic hierarchy resulted in a large donation of $200,000 from Richard Cardinal Cushing of the Archdiocese of Boston which that financed The Coady's first building, the Bishop John R. MacDonald residence. He also obtained funds from Catholic foundations in addition to grants from the federal government.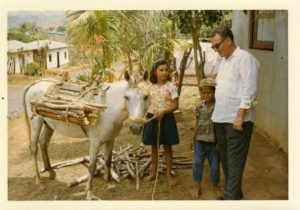 Smyth adapted the traditional St.F.X. Extension Department curriculum for the international context. As director he traveled extensively in Asia, Africa, and Latin America. He was also a member of many international development organizations and served on various committees. While he favoured a straightforward transplantation overseas of the principles of the Antigonish Movement, he also accepted that religion should be kept low-key, given that The Coady constituency embraced the world. Under his leadership, it adopted both long and short courses. Smyth and his dedicated staff created a program that attracted students because it taught them inexpensive, effective, democratic and self-sustaining grass roots methods that made sense in third-world situations. In 1964 he was elevated to the position of domestic prelate with the title of monsignor.
At Smyth's retirement from The Coady in 1970, the staff had grown from four in 1960 to 18 full-time teaching, administrative and secretarial members. It also benefited from the ongoing contributions of regular university faculty members. By the early 1970s, over 1200 internationals had been trained in the Coady programs. Smyth and his pioneer staff had laid solid foundations for an effective niche institution at the university that would give it an international profile in less developed parts of the world.
In 1972 Smyth was appointed vice president and director of funding services for St. F.X. Two years later he was appointed to the Board of Governors as one of the bishop's appointees and also as a special consultant to The Coady. In 1976 he was installed as vice president of CESTA, which is a social research institute located in Rome. In recognition for his pioneering work at The Coady, and in celebration of its 25th anniversary, he was awarded a Doctor of Laws honoris causa at the St.F.X. 1984 fall convocation. He lived in retirement at Mockler Hall, St. F.X. University and then moved in July 1990 to the RK MacDonald Nursing Home. He died on July 3, 1995 at St. Martha's Hospital, Antigonish, NS.