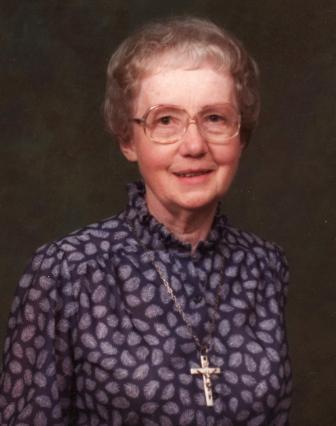 Sister Irene Doyle was born in Melford, Inverness County in 1913. A member of the Coady-Tompkins-McDaniels-Doyle clan, she entered the Sisters of St. Martha on September 8, 1930 and made her perpetual vows in 1935, the same year she graduated from St.F.X. University with a B.Sc. in Home Economics. She was a fieldworker in the Extension Department from 1935 to 1939, 1940 to 1944 and 1947 to 1952. Thereafter, she attended the Massachusetts School of Art and Design and then served as Mistress of Postulants for her congregation. In 1952, Sister Irene undertook part-time studies in the field of child welfare and social work. She began full-time studies at Boston College in 1953, graduating in 1956 with a Masters of Science in Social Work.
Sister Irene, a highly intelligent women, who was strong willed and opinionated with a wonderful sense of humour and compassion for justice, worked closely with her close confidant Sister of St. Martha, Sister Marie Michael MacKinnon. In reality, Sister Irene functioned as her unofficial co-director of the Women and Work section of the Extension Department. Officially, she was in charge of the promotion of handicrafts; the job required her to provide and distribute study materials, teach at short courses and conferences, and organize exhibits. In practice, Sister Irene worked on a great variety of tasks. A skilled drawer, she soon became the unofficial "artist-in-residence" and her spare time was often devoted to designing and drawing posters, pamphlet covers, and linoleum cuts. She designed and created the four-by-six foot "Program for Change" oilcloth poster affixed to a wooden roller that Extension fieldworkers toted across the Maritimes. As well she also designed and created the large and famous Antigonish Movement collage. It was presented to the Pope in 1950 as St.F.X.'s gift in recognition of the Marian Year.
Sister Irene also wrote two widely read pamphlets: What Can the Women Do? and The Fat of the Land. The latter pamphlet integrated nutrition, meal planning, homemaking, gardening and purchasing information into a practical package that many rural women found very useful. Its sensible, matter of fact style, also helped counter some criticisms of female efforts to improve domestic conditions.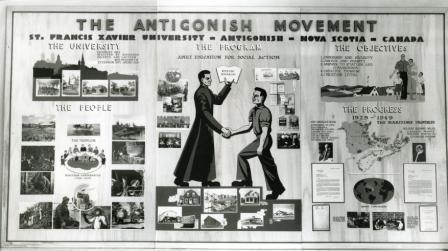 As World War II began to affect the Extension Department, she realized that support for her work in handicrafts was in jeopardy. In 1942, she organized a two-day conference that led to the establishment of a handicraft division of the Nova Scotia Department of Industry; Extension then closed down its handicraft section. Along with Sister Marie Michael and Ida Delaney, she pushed for more legal rights for female cooperators. While women were welcomed as members, they did not sit on any boards, and although they co-owned shares with their husbands, none had any voting rights at meetings. Women guilds had been formed as a substitute for women's representation on boards, but Sister Irene and Ida Delaney feared they were becoming little more than auxiliaries to the male directors. A women's conference at St.F.X. in 1942 highlighted these issues and at the founding meeting of the Nova Scotia Cooperative Union in 1944, they came to a head. Both advanced several women's rights resolutions, but unfortunately none were passed.
After a three-year hiatus, Sister Irene returned to Extension in 1947 and remained there until 1952. During that period she took over many of the duties formerly the responsibility of Sister Marie Michael, such as writing and distributing pamphlets, responding to information requests, and receiving visitors. In 1952, her career shifted primarily to social work when she went to Boston to study and afterwards worked at a social work centre there. Over the next three decades, she held a number of important positions in her congregation's administration and in national social work organizations in the US and Canada.
In 1975, Sister Irene received an Exemplary Service Award from the Extension Department and Coady International Institute. A recipient of an Honorary Degree of Doctor of Laws from St.F.X. in 1982, she was also inducted into its Hall of Thought in 1997. Between 1990 and 2005 she served as the congregation's historian for an oral history project. Sister Irene Doyle died at Bethany on July 7, 2008 after a long, productive career as a Martha and pioneer Extension worker.