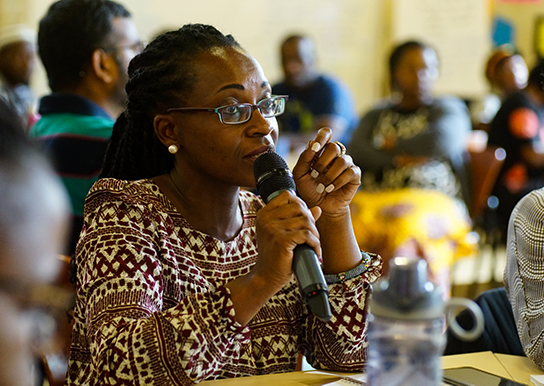 "Our mission is participatory restoration and conservation of the Nzoia River Basin, using both ecofriendly agricultural practices and enhancement of biodiversity. Climate smart agriculture driven by local communities is our goal.
At Coady, I hope to open up myself to rethinking what I know and re-inventing myself into a more effective leader. I hope to learn how to influence policy in conservation and inspire local communities to use their land wisely."
– Carole Nyakeri
Diploma in Development Leadership, 2018
The only thing that is constant is change. Upon those who step into the same rivers flow other and yet other waters. All things . . . are in flux like a river.
– Heraclitus
These words resonate more than ever. As the world continues to change, Coady International Institute is responding with innovative education programs that enable citizens to bring about positive and collaborative change in their communities. All while holding true to Dr. Rev. Moses Coady's ideal of a "full and abundant life for all."
Your support for global leaders creates the change the world needs right now.
With graduates in more than 130 countries around the globe, Coady International Institute has been proud to support the kind of grassroots community leadership that is improving lives.
Participants like Carole Nyakeri, Chief Operating Officer of Green Gates Ecofarm in Kenya, are working to protect the environment and assist social enterprises. Her work helps alleviate poverty for women and persons with disabilities by fostering micro and small eco-enterprises in agroforestry, apiculture, and aquafarming.
This October, the United Nations produced a comprehensive report on climate change that illustrates how important efforts like Nyakeri's are to our future. Governments and individuals must take immediate and drastic action to reduce greenhouse gas emissions – or ecosystems and livelihoods will be threatened in locations around the world.
The need for inspired leadership has never been more important. By supporting Coady, you will be a champion of change in the lives of passionate leaders like Carole Nyakeri, who are making a difference every day.
As we celebrate the 100th anniversary of the Antigonish Movement, and the 60th anniversary of Coady International Institute, I thank you again for your continued support and for making a difference in communities around the world.
Sincerely,
Dr. June Webber, Vice-President
Coady International Institute
Extension Department
St. Francis Xavier University