Learning at Coady
Coady Institute offers educational programming for emerging and established community leaders with a passion for social change. Coady's approach to adult education is practice-focused and participatory, informed by learner-centered and asset-based methods that hold the potential for both personal growth and societal transformation. Courses are hosted on-campus at St. Francis Xavier University in Canada, off-campus in communities around the globe, and online using various communications platforms.
Given the uncertainties related to the COVID-19 pandemic, Coady Institute's 2021 courses will take place online. We remain hopeful that a return to on-campus course offerings will be possible by May, 2022. Further information will be released as details for future programming emerge.
Education Programs for 2021/2022
Coady is offering an extensive program of online courses this year as we continue our commitment to developing knowledge and skills for social change. Online courses begin in April 2021 and offer the opportunity to learn with a cohort of change leaders from around the globe while balancing work and family commitments, offering affordable rates, and ensuring the health and safety of participants and staff by learning from home. Join us as we explore subjects ranging from climate change and community resilience, to the future of work and workers, to conflict transformation and peacebuilding, and more!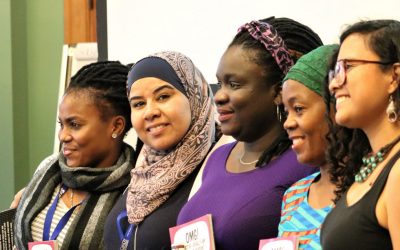 July 6 to August 24, 2022
This program enables participants identifying as women from developing countries to strengthen their leadership capacities in order to contribute towards a feminist and just world. Program participants engage in at the conceptual, policy level and praxis of understanding development, justice and feminism.
read more
Application deadlines for the following program offerings are now closed, however may be opening again soon. Check back for updates.
(June 14 – July 30, 2021)

This course covers the fundamentals of action research for citizen-led change. This course will accompany you in identifying and undertaking research that engages citizens more fully from the outset in a spirit of co-learning. Read more about the Action Research course.
(September 20 – November 14, 2021)
This course is a global space for sharing and learning about the practices and theories of adult education and learning for community development. Over eight weeks, you will have opportunities to reflect on your role and practice as an educator, explore theories and practices of adult learning, consider gender, power and learning for social change, and develop skills for designing adult education, including online learning. Read more about the Adult Education program.
(August 16 – October 15, 2021)
This course is a global space for sharing and learning about the principles, practices and tools that put local assets and action at the centre any development initiative. It offers a "time-out" for you to question conventional community development practices and beliefs and to re-evaluate the role of institutions in stimulating and supporting genuine asset-based and citizen-led development (ABCD). Read more about the ABCD Course
(May 24 – July 9, 2021)
This online program will provide inspiration for women around the world (Indigenous and non-Indigenous) to enhance their leadership capacities for citizen-led community-driven development and create spaces for social change to occur. Read more about the Feminist Leadership for Justice program.
(September 27 – December 10, 2021)
This ambitious course will help participants better understand the magnitude and intensity of the current changes shaping the world of work and provide a peek into what is to come. Read more about the Future of Work and Workers course.
(September 20 – November 5, 2021)
This seven-week course is designed for community workers and program implementers working with young women to enhance their active citizenship. In this course you will learn overarching frameworks, approaches, and tools for engaging young women leaders as change agents on gender equality, ongoing learning, health rights, and economic agency. This course will be co-facilitated by young women professionals, drawing on their real-life experiences in developing leadership of girls and young women. You will culminate your learning in the development of a step-by-step proposal for how you will work with young women in your own community. Read more about the Resources and tools course.
Please Note
Please note that Coady International Institute does not accept third party applications. Individuals need to submit their application via Coady's website and should use caution when approached by those offering services to complete the application and admissions process.