Written by Namadi (Peggy) Saka
Diploma in Development Leadership, 2017
Practice, Adaptations, Innovations
In Mombasa, Kenya, organizations have decided to work together to address various children's issues in the advent of COVID-19. The Mombasa County Child Rights Network (MCRN) is composed of organizations working for and with children. As a network we are focusing on child protection as a major governance issue in the advent of COVID-19, and are enabling children to participate, speak out, and create messages on COVID-19 to the world.
Even before COVID-19, child abuse in the country had been on the rise; the fight to get the conversation rolling and to get concrete governance decisions made to enhance child safeguarding has been difficult. Now with COVID-19, many child protection services have been put on hold. Due to shifting focus away from routine programs and towards COVID-19, families have been left vulnerable with children bearing the brunt. Parents are unable to provide children with proper nutrition, safety, healthcare or education. Currently, cases of child abuse are on the rise – especially in Mombasa – with increased teenage pregnancies and sexual abuse of both boys and girls. School closures have contributed to many children staying at home unattended. Children on the streets and child-headed households are a great concern for the MCRN. Children can no longer be placed in children homes and alternative measures are required to get them off the streets and receive help.
A generalized fear of contracting COVID-19 has hindered child participation through the normal channels we know. Accountability for the use of resources set aside for children is lacking.
As a network, MCRN has come up with strategies to engage children and youth in conversations to air their views and feelings, and to raise their voices on how COVID-19 has affected them. We have held Zoom meetings with youth and live sessions with children, elected officials, leaders of community, and national organizations, through the Kenya Broadcasting Corporation (KBC) – our national broadcaster. Children are expressing themselves – stating their fears and anxieties during this pandemic. We have led sensitization and advocacy campaigns using radio and social media, as well as through weekly online meetings with stakeholders and partners in the children sector.
Today, the social fabric of our society has changed. New social norms are emerging as parents are now working from home and home schooling their children. New trends are emerging related to the internet's increasingly influential role, as parents and school-aged children are unable to play with their friends or go out in public.  
In some communities, it is estimated that over 80% of children live in poverty, many of whom cannot access internet or mobile phones and are further disadvantaged in this time. The government is prioritizing stopping the spread of COVID-19, and child participation is not given much emphasis in this process. This is challenging as a community developer and child protection professional, who works to ensure the voice of the child is heard, upheld as a governance issue, and given a place at the discussion and decision-making table.
Reflections, Learning and Lessons
COVID-19 has made me realize that I am a creature of habit, and this goes to our network. It took long before we realized things are no longer as usual and that we needed to find new strategies to work. We started to fully embrace social media and the internet as new modes of communication, especially when while working from home. The fact that our constituents – the children – need us and we cannot reach them through normal channels is prompting us to adapt to new ways to engage them and provide services.
Emerging lessons
It is difficult to hold leaders accountable because we are in a state of emergency. On the other hand, internal and horizontal accountability has been put in place, especially through our own network and the various committees we work with. For instance, we report to the network on our activities once a week using Zoom. In terms of evolving social accountability mechanisms, the MCRN participates in various forums with public decision-making bodies. The Area Advisory Council on Children has had meetings online to deliberate on how to curb the disease from spreading to children in Charitable Children Institutions and those on the streets. This is chaired by the County Commissioner's Office with the County Children Officer as the secretary. We also have the Court Users Committee which is chaired by the Children Magistrate, where we deliberate on children matters in court and those that have urgency.
Leadership and success
For us to beat COVID-19 and uphold the best interest of the child, true leaders have to offer direction and be firm on the implementation of the same. It is crucial for us to rally behind the true leader and implement resolutions in the best interest of the citizens. Where applicable, we continue to seek public participation and opportunity for discussion – we all agree that saving lives comes first.
Impossible situations and access to information
Holding community meetings to sensitize communities and children on COVID-19 and how to prepare themselves beyond COVID-19 is a task that needs great strategy and planning. Most of our citizens cannot afford televisions or smart phones, and some cannot read or comprehend what is being said on the media. Their only channels for information are the rumours of those who may not even understand, passing the wrong information. I would love to change this narrative.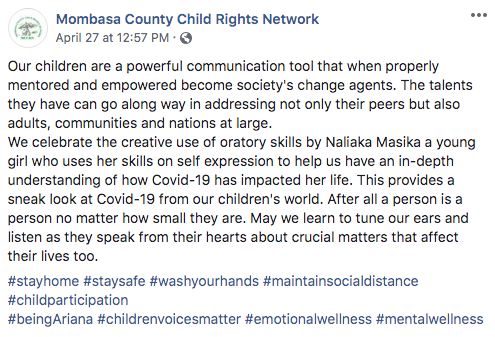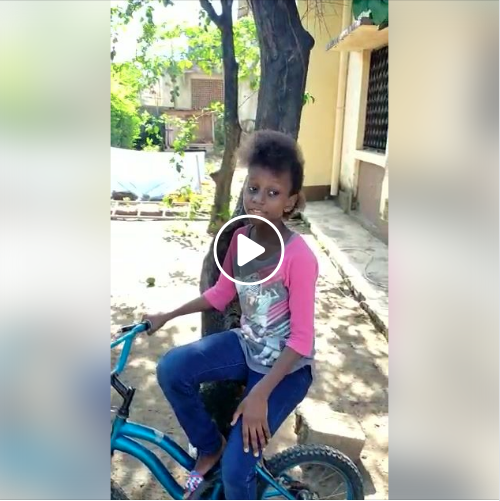 Questions for the future
New leaders have emerged from the community and there are local people who have gone out of their way to support their communities. The question is, what comes next after COVID-19? How will programming change? Many community members have lost their jobs and are depending on well-wishers. As a practitioner, is it necessary for me to have a physical office to serve my constituents? How else can I hold myself accountable to the community?
In conclusion, the best thing that has happened during this pandemic is bringing families closer. My daughter says, "I am glad for corona because my mummy now works from home and I am able to spend more time with her."
The new way of socializing and hygiene will also prevent many more communicable diseases like Tuberculosis (TB) and influenza (flu).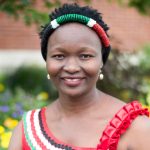 Namadi (Peggy) Saka is a development leadership professional with a strong focus on advocacy for child rights programming and child protection throughout Kenya. She has a Bachelor of Early Childhood Education from Kenyatta University, Master's in Planning and Project Management from University of Nairobi, and a Diploma in Development Leadership from Coady International Institute where she received the 2017 Katherine Fleming International Development Award.