Healing and Wellbeing from a Feminist Perspective
Feminist Leadership Speaker Series
Brought to you by Coady Institute's International Centre for Women's Leadership
With Hope Chigudu
Recorded April 3, 2023
View the recording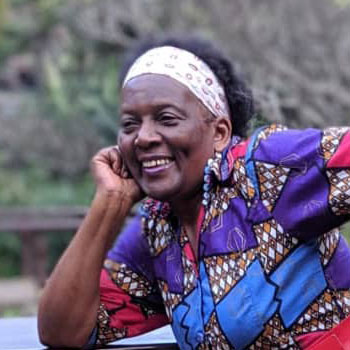 Hope Chigudu is an uncontainable feminist activist with decades of experience in feminist movement building and feminist leadership development. Over the years, she has honed her skills in organizational development, health and wellbeing of individuals and the collective. She takes a holistic approach where people are the focus and their needs, emotions, and senses are supported and enhanced as enunciated in the book Strategies for Building Organizations with a Soul. She supports/coaches individuals and remind them to keep their vehicles, (bodies) nourished, happy, and in good repair. Hope co-founder of the Zimbabwe Women's Resource Centre and Network and Just Associates (JASS)
Hope has served on the boards of the Global Fund for Women, Urgent Action Fund-Africa, Global Fund for Community Foundation, and Oxfam SA, and now serve on the board of Practical Action. She calls Uganda and Zimbabwe home but also says she finds home "in my body, and anywhere, where my tribe is; in organisations, wellbeing circles, or simply in spaces of joy, excitement, creativity, and imagination. My home is also in places where we are collectively lifted, lightened, where power pulsates through us, from above, below around, and runs through; transforming all that is within and without, leaving our bellies bursting with joy."
She was raised and nurtured by her people, the Bakiga of western Uganda. They are farmers, healers, storytellers, craft makers, dancers and they are brutally honest. They are people who understand the importance of art, of building communities of support and flourishing under difficult circumstances. They embody political beliefs through their everyday practices. The Bakiga are constantly moving, swaying, flowing; a flow of constant change.
When not engaged with organisational work and wellness circles, you will find Hope designing her clothes and creating new dishes in the kitchen. She can also be found engaging with young people, those who constantly create beautiful trouble.
View the video recording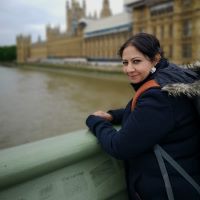 A Conversation with Sarika Sinha, Coady Institute
Coady Institute's International Centre for Women's Leadership Engaging with Feminist Leadership series welcomes feminists from around the world who share their personal journeys with Coady participants, graduates, and others during an online session.