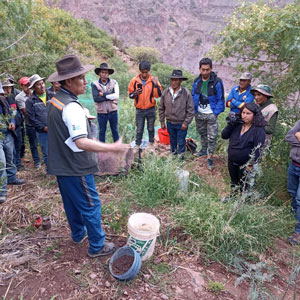 PRODII: Participatory Guarantee System pilot in Bolivia
Félix Vale is an agronomist specialist on local development and agroecology, with extensive experience in Participatory Guarantee Systems developed in farmer communities in Bolivia. He is the Executive Director of the Comprehensive Interdisciplinary Development Program (PRODII). 
PRODII: Sistema de Garantía Participativo piloto en Bolivia
Félix Vale es agrónomo especialista en desarrollo local y agroecología, con amplia experiencia en Sistemas de Garantía Participativos desarrollados en comunidades campesinas de Bolivia. Es Director Ejecutivo del Programa de Desarrollo Integral Interdisciplinario (PRODII).
PRODII : Système de garantie participatif pilote en Bolivie
Félix Vale est un agronome spécialiste du développement local et de l'agroécologie, avec une grande expérience des systèmes de garantie participatifs développés dans les communautés d'agriculteurs en Bolivie. Il est le directeur exécutif du Programme interdisciplinaire de développement intégral (PRODII).