Transnational feminist movement: A transforming Perspective and Practice
Feminist Leadership Speaker Series
Brought to you by Coady Institute's International Centre for Women's Leadership
Recorded May 1, 2023
Abha Bhaiya
Founder Trustee & Executive Director, Jagori Rural Charitable Trust
Abha Bhaiya is one of the founder trustees and the executive director of the Jagori Rural Charitable Trust based in Himachal, India. She is also a founder trustee of Jagori Delhi set up in 1983. Her engagement as a change maker and a human rights activist spans nearly 50 years. She is one of the strong pillars of the Indian women's movement. She is internationally known as a gender trainer, researcher, and visionary, and has worked in several countries of South Asia, Africa, and Europe.
Jagori Rural is active in nearly 170 villages of the Kangra and Chamba districts. The major focus is to work with farmers to propagate organic agriculture and sustainable environment, the elimination of violence against girls and women, health awareness and entitlement, and building community leadership of girls, women, and men for a people-centered sustainable model of development.
Abha works and lives in a village at the foothills of Dhauladhar mountains.
Dr. Nancy Forestell
Professor, Women's and Gender Studies, StFX University
Nancy Forestell is a feminist scholar and activist. A professor in the Women's and Gender Studies Program at StFX University, she has pursued positive social change at a local, regional and national level in Canada since the 1980s. Through her work with different women's organizations and sexual assault services associations, Nancy has sought to actively address gender-based violence, women's economic prosperity and security, and the well-being of girls and women in a rural context. She also recently served on Gender Equality Network Canada which developed a pan-Canadian strategy to advance gender equity. Her current research involves an examination of Canadian engagement in transnational feminist networks from 1945 to 1970.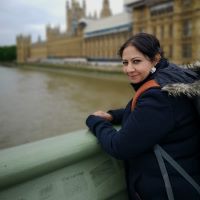 A Conversation with Sarika Sinha, Coady Institute
Coady Institute's International Centre for Women's Leadership Engaging with Feminist Leadership series welcomes feminists from around the world who share their personal journeys with Coady participants, graduates, and others during an online session.