Coady Institute is marking an important milestone, surpassing the 10,000 graduate mark since being founded in 1959. These 10,000 plus graduates, who hail from 146 countries around the world as well as locally, have completed either an on-campus, off-campus, or online workshop or course, or the Diploma in Development Leadership program. 
"We are thrilled that our latest graduates from our spring online courses and the Pathy Foundation Fellowship program have put us across the 10,000 unique graduate threshold," Interim Executive Director Eileen Alma says.
"Reaching this milestone is a testament to the commitment and work of each of the graduates, our amazing team at Coady, and all those who came before us. This would not have been possible without our donors and partners locally and globally – thank you for your support."
The milestone is even more significant as many of these 10,000 graduates have taken a second, third, or more courses at Coady Institute, meaning more than 11,000 certificates have been earned. Each of these change makers have returned to their own communities whether it is here in Nova Scotia, Canada, or internationally and have gone on to influence thousands – if not millions – of others in their own communities and countries. 
Alma spoke of the prioritization of women, youth and Indigenous peoples including First Nations, Métis, and Inuit women from the Institute's Circle of Abundance program, participants from the International Centre for Women's Leadership, and participants from around the world. 
"Coady remains committed to helping change leaders here in Nova Scotia and across the country and internationally by offering education programs which address issues of critical importance to communities and building leadership capacity. As this work continues, Coady is excited to begin welcoming participants back to the StFX campus."  
Indigenous and Youth Participants Arrive on StFX Campus 
The 2021-22 cohort of Pathy Fellows were at Coady for their debrief May 23 to 27, culminating in their graduation on May 27. The next cohort's fellowship journey begins June 6 with their four-week Foundations for Community Change on campus at Coady.  
"It was such a pleasure to welcome our Pathy Foundation Fellows back to campus," Youth Program Manager Adam Baden-Clay says. "They have worked incredibly hard and achieved tremendous things during their 12-month Fellowships, implementing social change initiatives in communities across Canada and around the world, while further developing their own personal leadership capacities. It's terrific to be able to have these young leaders on campus to learn with them and from them, and to introduce them to Coady's approaches to community development and adult learning as well as supporting them in the planning of their initiatives."  
From May 29 to June 10, Coady is welcoming 15 Indigenous women to campus taking part in the Indigenous Women in Community Leadership program. These Indigenous women are passionate about positively impacting their communities, organizations, and Nations and through engaging learning experiences, mentorship, and circles of support will further develop their leadership capacity. After their on-campus residency, the participants will return to their communities to develop projects before completing the program in October 2022.   
"We are eager to welcome the first Indigenous Women in Community Leadership program cohort since 2019 and grow our Circle of Abundance. It feels like a re-birth as we reconnect in-person, post-pandemic with our participants and we could not be more delighted that these women will be among the first of Coady's next 10,000 graduates."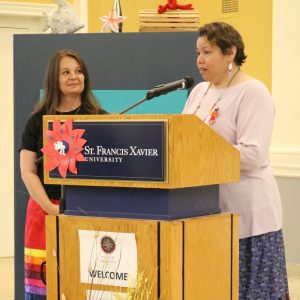 Coady's on-campus programs for 2022 will continue with the Global Change Leaders who will be in Antigonish from July 6 to August 24. Offered by Coady Institute's International Centre for Women's Leadership, this program enables participants identifying as women from developing countries to strengthen their leadership capacities in order to contribute towards a feminist and just world.
Later this year, Coady will announce a renewed schedule of educational programs which will include on-campus and online program opportunities for 2023.