Coady Participants Greet Prime Minister
Coady participants were among the hundreds of people who welcomed Prime Minister Justin Trudeau to the campus of St. Francis Xavier University July 17. Trudeau was in Antigonish to announce federal funding for the twinning of Highway 104 and to participate in Central Nova Member of Parliament Sean Fraser's summer barbeque.
StFX Welcomes Special Olympics Canada
Photo credit: Salim October
The Diploma in Development Leadership participants greeted 1,025 Special Olympic athletes, 315 coaches, and 109 staff members from across Canada as they filled various volunteer positions for the Special Olympics Canada 2018 Summer Games.
Sureni 'Sue' Perera, Diploma in Development Leadership participant, reflects on her experience and her work with people with disabilities in Fiji.
NEW PROGRAMS 
Be the first to experience these newly designed programs that aim to meet modern development needs and the United Nations' Sustainable Development Goals (SGDs).
Social Enterprise for Inclusive Local Economies
May 27 – Jun 7, 2019 – APPLY NOW
Understand the for-profit and non-profit divide, enterprise design, resource mobilization strategies, monitoring, evaluation and learning (MEL) systems, and institutional and personal leadership.
Promoting Accountable Democracies
Oct 7 – Nov 1, 2019 – APPLY NOW
Engage citizens in deepening democratic practice and in promoting transparency, accountability, and participation in governance systems and structures.
Strengthening Inclusive Economies
Oct 7 – Nov 1, 2019 – APPLY NOW
Explore key concepts related to the structure and dynamic of local economies. Examine different approaches to making these economies more inclusive and equitable.
Building Resilient Communities
Oct 7 – Nov 1, 2019 – APPLY NOW
Develop a strategy to build community resilience for the specific opportunities and challenges in your own context.
Coady Neighbours
As part of the revamped Coady Neighbours Program, we have partnered with local organizations to host events where Coady participants and community members can engage, learn, and share with each other.
Rev. Dr. Moses Coady Memorial
Coady participants, staff, and family, marked the 59th anniversary of the death of our namesake, Rev. Dr. Moses Coady's with a memorial of his life and his legacy.
Women's Picnic
In partnership with Antigonish Women's Resource Centre & Sexual Assault Services Association, we hosted the annual Women's Picnic, which brought together communities of women students, leaders, residents, newcomers, and families.
Welcome New Graduates
Global Change Leaders
We celebrated the graduation of 25 women leaders from 22 countries.
"This is the time for feminist leadership. And we are built for this moment…" – Nina Somera (Global Change Leaders, 2018)
Community Development Leadership by Women
We celebrated the graduation of 28 women leaders from 16 countries.
"One of the greatest powers we have is you. It's in you. It's in our hearts." – Sunder Erdenekhuyag, Mongolia (Community Development Leadership by Women, 2018)
We celebrated the graduation of 68 participants from 24 countries who have completed one of Coady's three Spring Certificate courses in:
Asset-based and Citizen-led Development (ABCD)
Community-based Microfinance for Financial Inclusion
Livelihoods and Markets
"One thing we are promising you is that we are not stopping here." – Chizoba Obianuja Oranu (Community-based Microfinance for Financial Inclusion, 2018)
Oceanpath Fellowship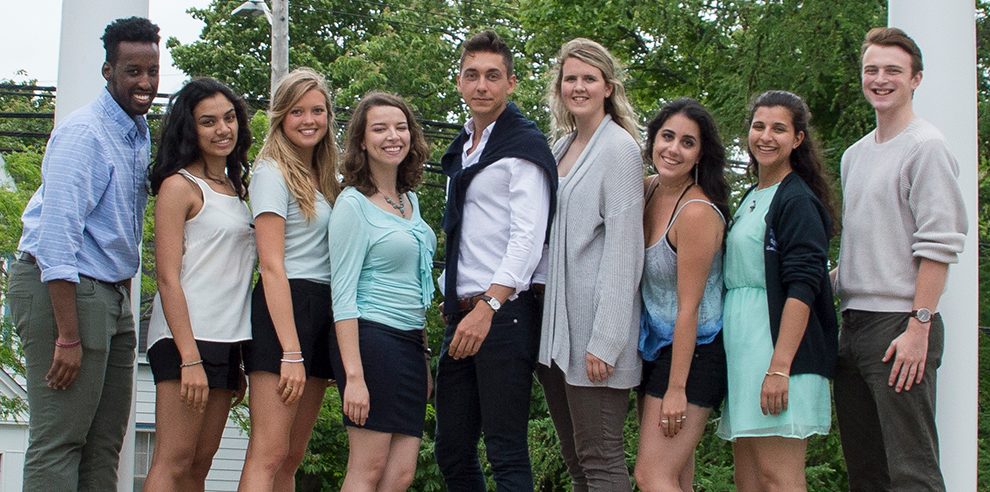 We celebrated the graduation of the 2017-2018 cohort of youth leaders, after they spent 12 months developing and implementing community development projects all over the globe.
"To have the space to really learn, grow, make mistakes, is something I never imagined would be part of my life, and I will carry it with me for the rest of my life." – JP Dobson (Oceanpath Fellowship, 2017-2018)
Learning around the Globe
Ethiopia
We are offering certificates in Livelihoods and Markets and Community-Based Microfinance for Financial Inclusion in Addis Ababa, Ethiopia in October and November.
India
We are offering a certificate in Community-Based Microfinance for Financial Inclusion in Hyderabad City, Telangna State, India in December.
Tanzania
In July, Coady's Julien Landry (Program Teaching Staff) co-facilitated a certificate in Citizen-Led Accountability: Strategies and Tools in partnership with Gender Training Institute (GTI), TGNP Mtandao, and Crossroads International in Dar es Salaam, Tanzania.
Antigua and Barbuda in Canada
In May, we welcomed Coady Graduate, Winston Vincent D. Williams Jr. (Diploma in Development Leadership, 2016) for his return to Coady as a Coady Fellow. Winston is the Senior Advisor to the Minister of Foreign Affairs, Immigration, and International Trade for the Government of Antigua and Barbuda in West Indies.
"The people of Antigua Barbuda need an economy that works for them and in turn they can help the economy. I am using the fellowship to pull together all the different ingredients to make this work."
"I am always blown away that Coady actually exists…anyone who wants to go into politics ought to be trying to get here."
Canada
For those who choose to learn on campus at St.FX University, there are many opportunities to learn in community during class field trips right here in Antigonish, Nova Scotia, Canada. Recent field visits include:
L'Arche Antigonish
Heatherton Community Centre
Potlotek First Nation
Bergengren Credit Union and East Coast Credit Union
Scotchill Holsteins
Municipality of Pictou County
A Coady Welcome
We celebrated the arrival of 41 global leaders from 19 countries for the 2018 Diploma in Development Leadership program to Coady, StFX University, and the communities of Antigonish at the annual Coady Welcome Social.
The program included welcoming remarks from Coady International Institute, StFX University, Paqtnkek Mi'kmaw Nation, Town of Antigonish, Municipality of the County of Antigonish, and StFX University Student Union Executive; performances by We'koqma'qewiskwa and Smith Highland Dancers; invitations from Coady Neighbours Program partners; and remarks from class participants, followed by a community meet-and-greet.
Meet our Staff Charlene Worth
Name: Charlene Worth
Years at Coady: Since April 26, 2003
Role at Coady: Interim Manager –Student Services and Admissions
I joined the Coady support staff in April 2003 as Secretary to the Manager of Education Programs. I later assumed the role of Education Program Assistant – Recruitment and Admissions, and more recently Interim Manager – Student Services and Admissions. I manage the selection and admissions process of approximately 2,000 applications per year. I manage the records retention of all off-site programs delivered through Coady partner organizations.  I work closely with the Recruitment team to ensure prospective candidates receive up-to-date information concerning Coady's current educational programs.
What do you like about your job?
One of my favorite sayings about my work is that I travel all around the world from my desk each day.
The best thing about working at Coady is the feeling that I am making a difference in a person's life. I get to interact with people all over the world and feel that I contribute to making a difference in the world.
Do you have a favourite moment, or memory, from your time here at Coady?
I spend most of my job communicating with people by email and it is very exciting when they finally arrive at Coady and we meet for the first time in person. I love getting to know our graduates and keeping in touch with them when they go home. They become part of your family and stay in your heart forever.
 Do you have a hobby, or something that you do outside of work, that we might not know about you?
 I enjoy cooking and word search puzzles.
Oceanpath Fellowship: Meet the Newest Youth Leaders
Welcome to the 2018-2019 Oceanpath Fellows
The OceanPath Fellowship provides community-focused experiential learning opportunities for graduating students to become active and effective change-makers, bringing new ideas and working closely with communities to foster sustainable and positive social change in Canada and around the world.
Meet Corrina:
Corrina Vali is a graduate of McGill University. For her community initiative, she will be working out of Godhra, India to create a sustainable social enterprise. This enterprise will work with rural Indian women to improve menstrual health.
"Through the OceanPath Fellowship, I hope to create a sustainable social enterprise, producing biodegradable menstrual hygiene products that will support the empowerment of my community in rural India. I am also looking forward to growing as a person, as a community member, and as a leader. I can't wait to gain field experience, learn practical skills, and benefit my community in the upcoming year."
A Full and Abundant Life For All
Building on the distinct historical experience of the Antigonish Movement formed 100 years ago, St. Francis Xavier University established Coady International Institute in 1959 as part of its commitment to community leadership development and social responsibility.
We encourage you to learn more about how our graduates, supporters, donors, and friends are contributing to StFX's and Coady's commitment to social justice, social responsibility, innovation, equity, and inclusion by reading our 2017 – 2018 Annual Report.
It is a tradition we are proud to be able to deliver … For All.
In Their Words
A Letter: Global Change Leader Applying Learning in Nepal

Dear Coady team,
I hope you are doing well. I have been meaning to write to you since I came back. Thank you again for your wisdom, knowledge, and incredible support to women. So blessed!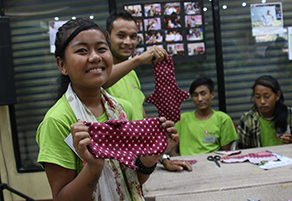 I wanted to update you a little bit about my leadership action plan. Last week, I discussed my plan with 100 adolescents, teachers, and local government representatives in a two-day Adolescents Conference. It was absolutely amazing to get their input and incorporate their suggestions into the plan and establish a collaborative relationship with the local community. As a next step, I am conducting ABCD with the local community in early September and then we will move into establishing the Learning Center.
Also, I tested the social enterprise idea that I presented in our class about environment-friendly sanitary napkins. The adolescent girls made the napkins together with adolescent boys and teachers and they loved it.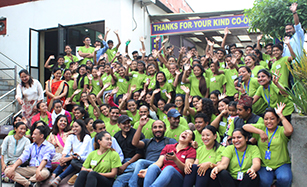 Also, Prakash Koirala (Community-Based Microfinance for Financial Inclusion, 2017), another Coady graduate was one of the young achievers' guests in the conference. So great to catch up with him and share our Coady experience. Here are a few pictures from the conference.
Every day, when I work on this action plan, I think of you and my fellow GCL leaders. Much love.
Best Regards
Anita Thapa (Global Change Leaders, 2018), Executive Director, Hamro Palo (Her Turn)
Do you have a story to share about how you are applying your learnings from Coady International Institute? If so, contact us at coadycom@stfx.ca
Coady Connects Webinars
Thursday, September 6, 2018
Live: 2:00pm–3:30pm
Ashley Bouchie
Coordinator, Systems and Technology
Best Practices for Affordable Web Design
Thursday, October 11, 2018
12:30pm–1:30pm
This will be a recorded session only
Ann Marie Smith
2017 Diploma graduate; 2018 Fellow
Ongoing Learning in the Promoting Accountable Democracies Thematic Area
Tuesday, October 23, 2018
Live: 8:30am–10:00am
Anuj Jain, Senior Project Specialist; Shelagh Savage, Associate Director Partnerships and Organizational Learning; with the Fall 2018 Re-thinking Partnership class
Multi-stakeholder Partnerships
Tuesday, November 6, 2018
Live: 10:00am–11:30am
Wendy Kraglund-Gauthier
Manager, Networks and Ongoing Learning
Universal Design for Learning: Connecting Accessibility and Andragogy
Tuesday, December 11, 2018
Live: 10:00am–11:30am
Eric Smith
Monitoring and Evaluation Analyst
Social Network Analysis
Miss a Webinar?
View the entire series on our YouTube Channel or log-in to your Coady Connects account to join the discussion.