As part of Climate and Democracy Week 2019, we are pleased to collaborate with StFX University and others to host this week with the theme, For a Sustainable Future. Join us for one of these upcoming events, or learn more about our commitment to climate action through our educational program offerings.
Thursday Nov. 14th
Climate Week Keynote (Opening Event)
Schwartz Auditorium, 6:30pm – 8:30pm
Opening Ceremony: Regional Climate Strategy: Introducing a New Partnership
Interim President, Dr. Kevin Wamsley, Chief PJ Prosper, Mayor Laurie Boucher, Deputy Warden Owen McCarron
Hotter, Wetter, Wilder: Is Canada moving fast enough to keep up with a changing climate?
Keynote: Dr. Blair Feltmate (Chair of Govt. of Canada Climate Adaptation Plan)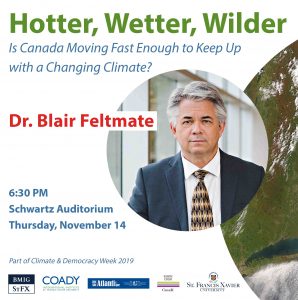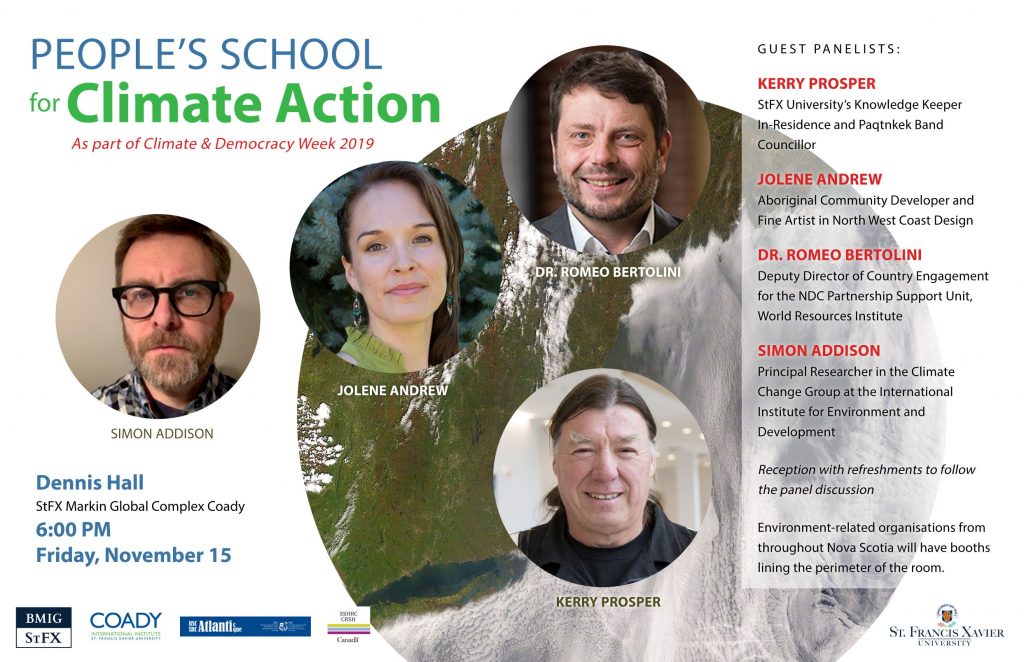 Friday Nov. 15th
Climate Services and Research Centre Launch
Mulroney Hall Atrium, 4:00pm
A People's School on Climate Action
Dennis Hall, Coady Institute, 6:00pm – 8:00pm
Saturday Nov. 16th
The Weekend People's School
The People's Place Library, 10:00am – 5:00pm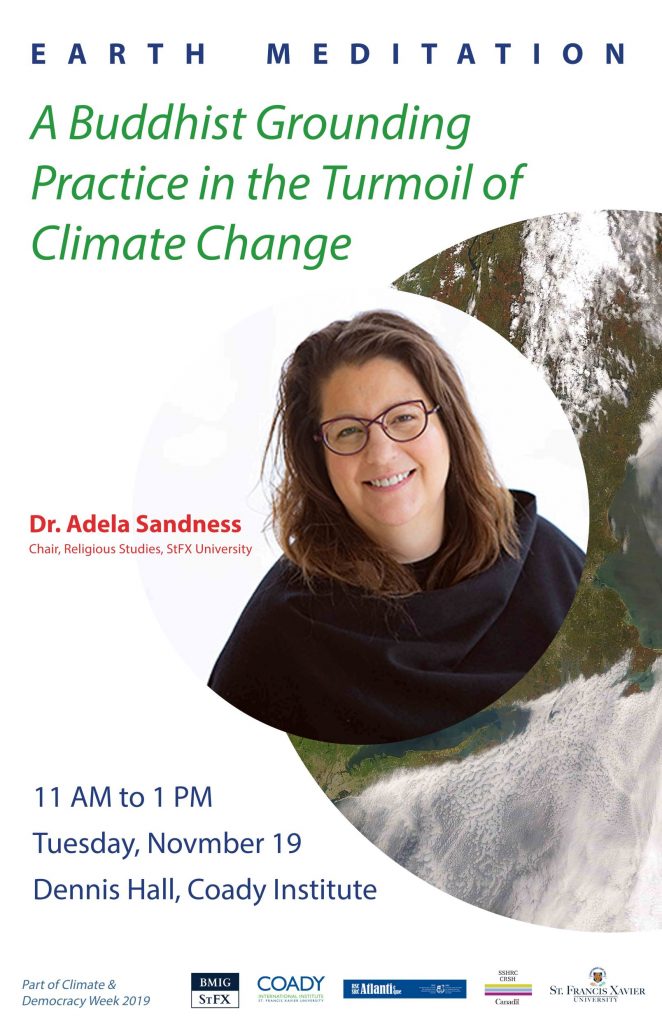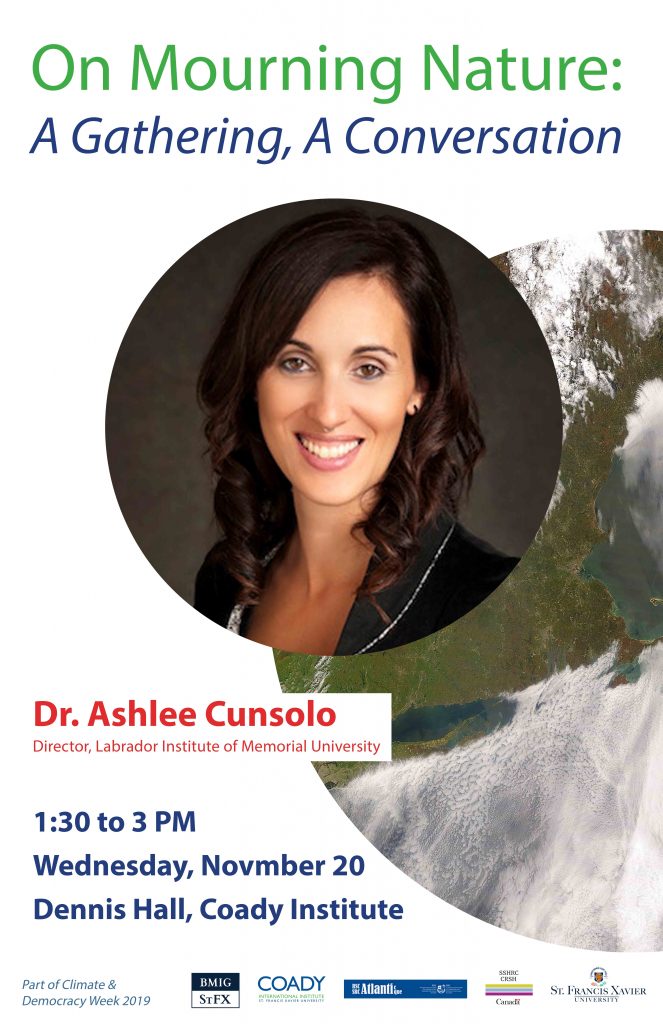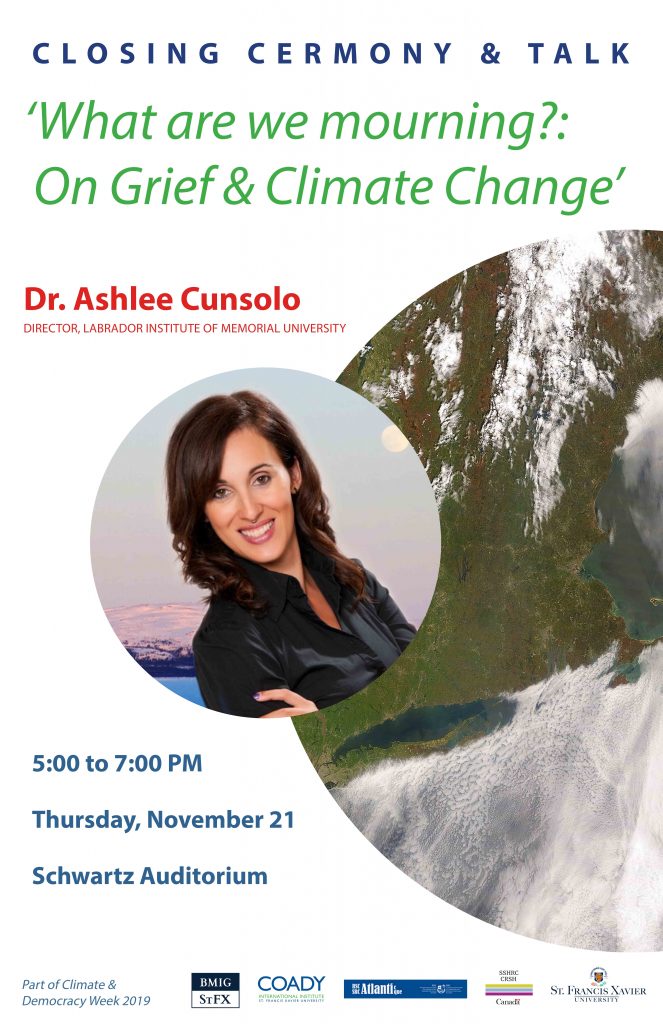 Tuesday Nov. 19th
Earth Meditation: A Buddhist Grounding Practice in the Turmoil of Climate Change
With Dr. Adela Sandness, Religious Studies, StFX
Dennis Hall, Coady Institute, 11:00am – 1:00pm
Wednesday Nov. 20th
'On Mourning Nature: A Gathering, a Conversation'
Dr. Ashlee Cunsolo: Director, Labrador Institute of Memorial University
Dennis Hall, Coady Institute, 1:30pm – 3:00pm
Thursday November 21st
'What are we mourning?: On Grief and Climate Change' (Closing Ceremony and Talk)
Dr. Ashlee Cunsolo, Director, Labrador Institute of Memorial University
Schwartz Auditorium, 5:00pm – 7:00pm