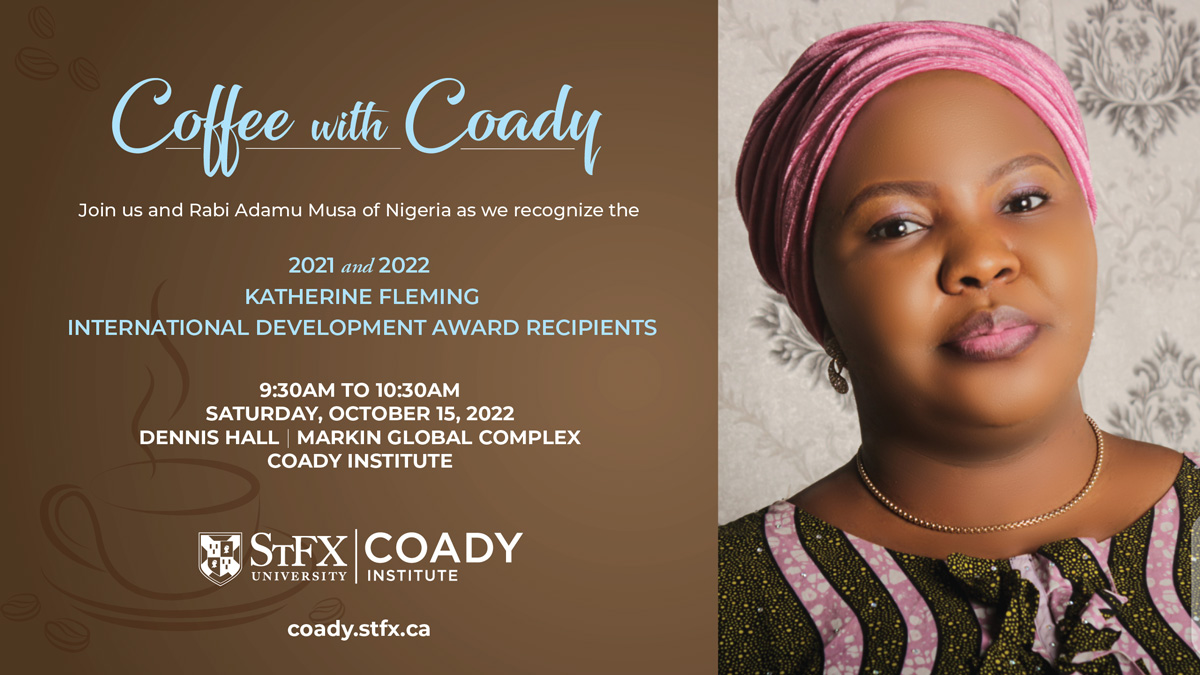 Coffee with Coady 2021 and 2022
On October 15 we celebrated the 2021 and 2022 Katherine Fleming International Development award winners:
Caroline Nyangoma Mukisa, Uganda;
Rabi Adamu Musa, Nigeria;
Saliwe Mutetwa-Zakariya, Zimbabwe; and
Vera Elikem Awuye, Ghana
as part of StFX Homecoming.
About the Award
Katherine (Katie) Fleming graduated from St. Francis Xavier University in 1985. After completing her studies as a Rhodes Scholar (1985-1987), she began her career as a programme officer for the United Nations Children's Fund (UNICEF) in Eastern and Southern Africa. From 1993 to 1995, Katie served at UNICEF's headquarters in New York City followed by a return to Africa. She died at her home in Tanzania in May 1999 at the age of 35.
Katie dedicated her life's work to overcoming child poverty in Africa. At the time of her death, Fleming worked for the United Nations Children's Fund where she was committed to human rights and defense of those rights on behalf of children everywhere. Family and friends created the Katherine Fleming International Development Award in loving memory of her lifetime dedication to supporting the elimination of child poverty in Africa.
Each year, an African woman leader from Coady International Institute's Diploma in Development Leadership receives the prestigious award at StFX Homecoming Coffee with Coady event.
To view past recipients, click here.