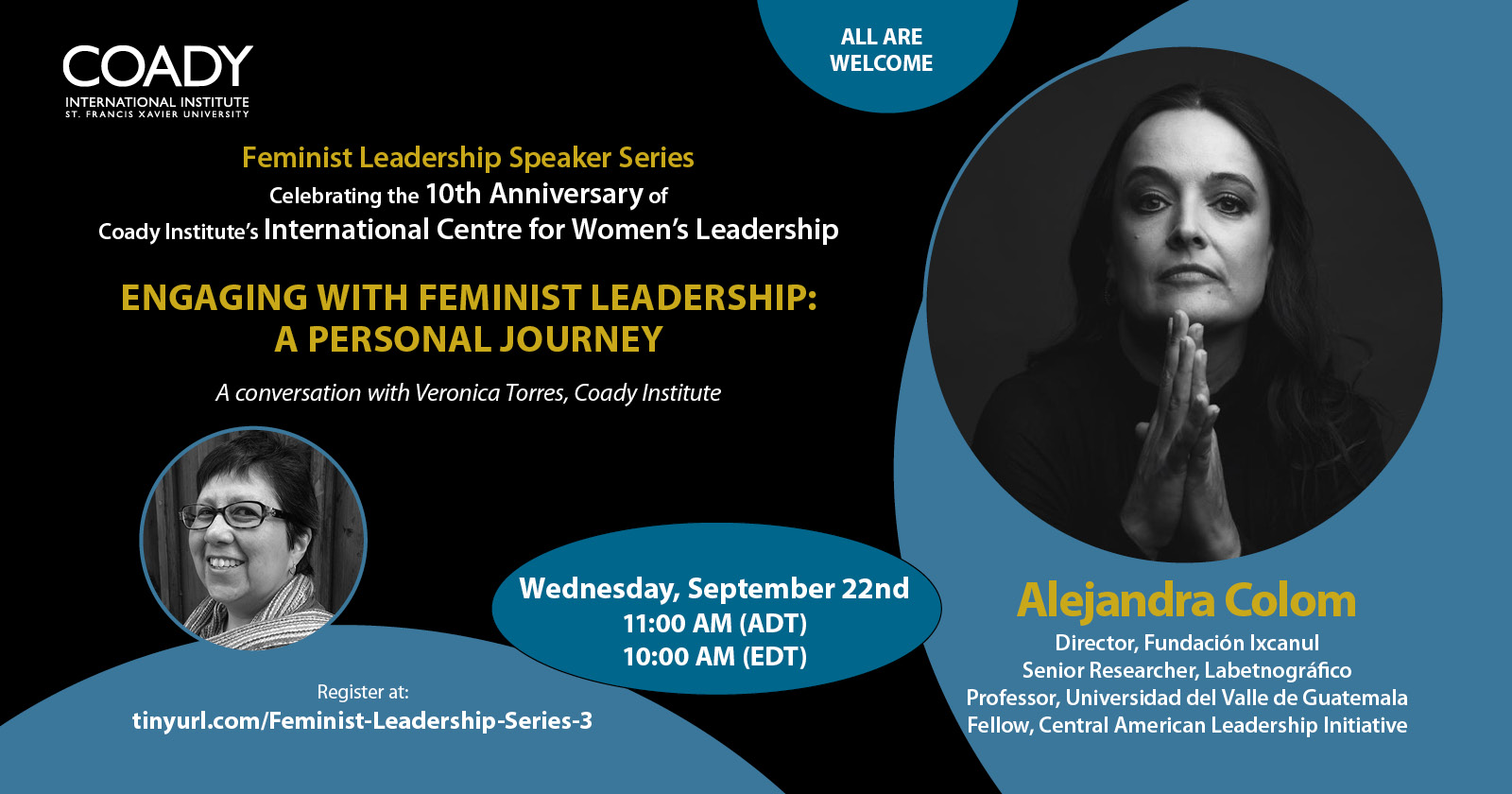 Engaging with Feminist Leadership: A Personal Journey with Alejandra Colom
Wednesday, September 22, 2021
11:00am Atlantic Daylight Time (Halifax, Canada)
Join us as we celebrate the 10th anniversary of the Coady Institute's International Centre for Women's Leadership.
Alejandra Colom is a professor of Anthropology at the Universidad del Valle de Guatemala, director of Fundación Ixcanul and senior researcher with Labetnográfico with a focus on inequality, freedom, and environmental justice. She is also a fellow with Central American Leadership Initiative and member of two commissions with the Society of Applied Anthropology. She focuses on collaborating with organizations' and groups in the transformation of values and expectations into achievable goals that aim at improving livelihoods, sustainability, equality, and freedom.
Whether in the private sector, traditional indigenous authorities, cooperatives, and, sometimes, governments, Alejandra uses brokering and cultural implementation to seek realistic program design and implementation. She believes monitoring and assessing success also depend on agreed common language and expectations that strengthen partnerships and improve cultural and ideological sustainability of actions and investments.
Born in Guatemala City, Alejandra grew up during the country's civil war graduating with a degree in anthropology from Universidad del Valle de Guatemala and working for PROARCA-CAPAS, a regional USAID program. She continued her education as a Fulbright scholarship obtaining a masters' in Applied Anthropology at the University of Maryland. Her PhD dissertation (KU Leuven, Belgium) focused on conservationists working in Central Africa.
She has collaborated with such organizations as: Worldwide Fund for Nature and World Wildlife Fund (WWF), Population Council, The Nature Conservancy, Oxfam, Ford Foundation, Rockefeller Brothers Fund, Novo Foundation, Rainforest Alliance, Defensores de la Naturaleza, Asociación de Comunidades Forestales del Petén, Visibles, USAC es Pueblo, Fedecovera, Asocuch, Museo de la Memoria de Rabinal, various indigenous authorities, Plaza Pública, and more.