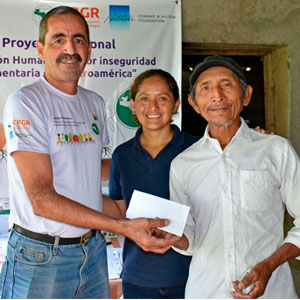 FECODESA: Seed cooperatives and Community Seed Bank network in Nicaragua
Blanca Castro is an agronomist specialist in Participatory Plant Breeding and local seed production on maize, bean and sorghum. For the last 15 years, she has led the participatory development and release of new crop varieties of those crops working with cooperatives in Nicaragua. Blanca has extensive experience in the promotion of local seed production and community seed banks.
FECODESA: Cooperativas de semillas y red de Bancos Comunitarios de Semillas en Nicaragua
Blanca Castro es ingeniera agrónoma especialista en fitomejoramiento participativo y producción local de semillas de maíz, frijol y sorgo. Durante los últimos 15 años, ha dirigido el desarrollo participativo y la liberación de nuevas variedades de estos cultivos trabajando con cooperativas en Nicaragua. Blanca tiene una amplia experiencia en la promoción de la producción local de semillas y bancos comunitarios de semillas.
FECODESA : Coopératives de semences et réseau de banques de semences communautaires au Nicaragua
Blanca Castro est une agronome spécialisée dans la sélection végétale participative et la production locale de semences de maïs, de haricot et de sorgho. Au cours des 15 dernières années, elle a dirigé le développement participatif et la diffusion de nouvelles variétés de ces cultures en travaillant avec des coopératives au Nicaragua. Blanca a une grande expérience dans la promotion de la production locale de semences et des banques de semences communautaires.