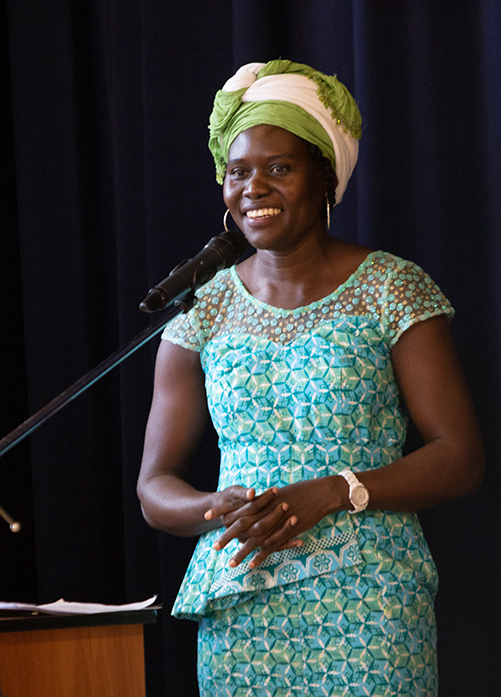 As a Coady participant, Grace Arach (Diploma in Development Leadership, 2018) received the 19th Katherine Fleming International Development Award for her work as the founder and executive director of Foundation for Women Affected by Conflicts (FOWAC).
Now a graduate, she has received national commendation in her home country of Uganda for her outstanding contributions to her nation.
Grace received a Golden Jubilee Award at the 38th Tarehe Sita celebration in Kitgum, Uganda – an annual event celebrating the anniversary of the birth of the National Resistance Army (NRA) and the Uganda People's Defence Forces (UPDF). The country's president, Yoweri Museveni, hosted the event under the theme, "UPDF and the People: Consolidating Peace for Sustainable Development and Prosperity".
"[The award] is in recognition of exceptional contribution from an individual to the country's peace, security, and development," Grace says.
"I am humbled," she adds. "I think my community, and the leaders, who understand my efforts to ensure that war victims – women, children, and girls – get social and economic justice in our society saw that they deserved to be recognized and appreciated."
Presented by the military's general, Grace notes that it is significant to receive such an award as a civilian, and as a young woman.
"I am proud to be one of the few young ladies to get this kind of award," Grace says. "The award has given me strength to do even more."