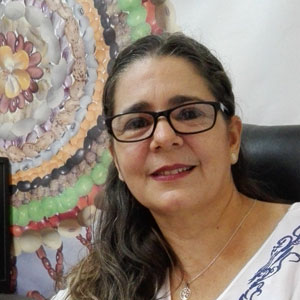 INCA: Local seed certification methodology in Cuba
Dr. C. Rosa Acosta Roca is a researcher in the Genetics and Plant Breeding Department, National Institute of Agricultural Sciences (INCA), with a PhD in Biological Sciences and more than 20 years experience in Participatory Plant Breeding (focus on maize breeding under open pollination conditions). Co-Coordinator of Innovation Program In Cuba related with 75 municipalities in Cuba. 
INCA: Metodología de certificación local de semillas en Cuba
Dr. C. Rosa Acosta Roca es Investigadora Auxiliar en el Departamento de Genética y Mejoramiento de las Plantas del Instituto Nacional de Ciencias Agrícolas (INCA). Doctora en Ciencias Biológicas, trabaja en el Mejoramiento Genético de las Plantas, con experiencias desde el 1999 en el Fitomejoramiento participativo. Co-Coordinadora del Proyecto de Innovación Agropecuario Local, con impacto en 75 municipios del país.
INCA : Méthodologie de certification locale des semences à Cuba
Dr. C. Rosa Acosta Roca est chercheuse au département de génétique et de sélection végétale de l'Institut national des sciences agricoles (INCA). Docteur en sciences biologiques, elle a plus de 20 ans d'expérience dans le domaine de la sélection végétale participative (en particulier la sélection du maïs dans des conditions de pollinisation ouverte). Co-Coordinatrice du programme d'innovation à Cuba, en relation avec 75 municipalités cubaines.