Dr. John Gaventa receives an honourary degree from StFX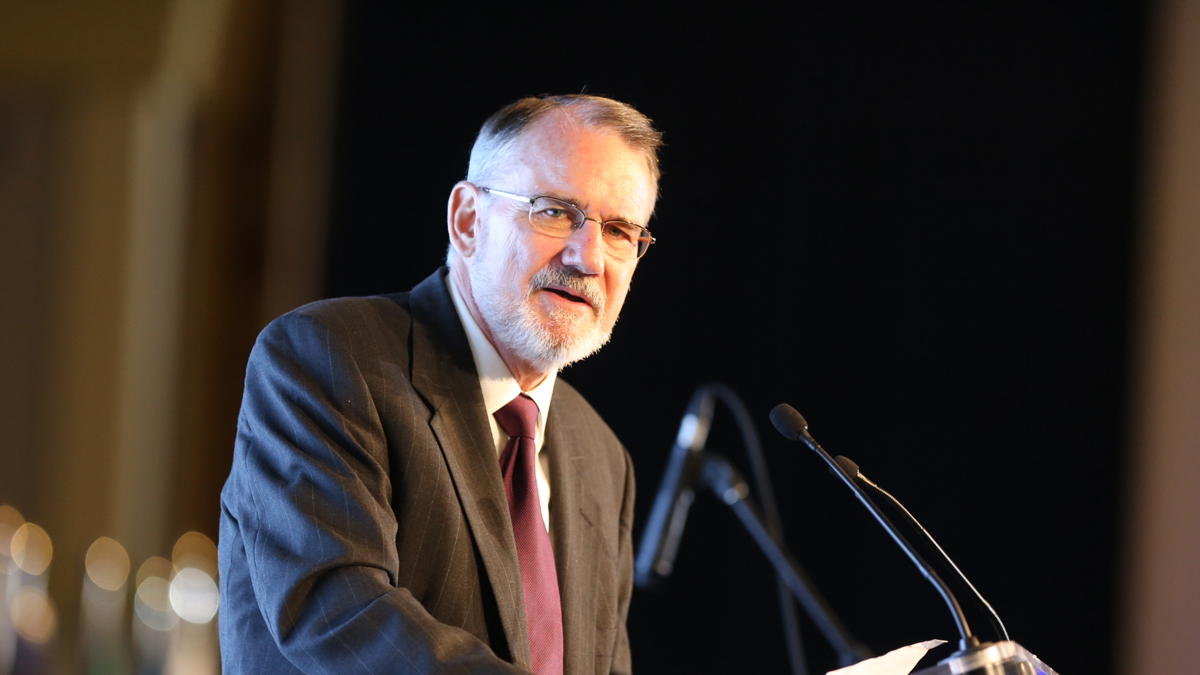 Former Coady Institute director and VP, Dr. John Gaventa received an honourary degree at the StFX University spring convocation ceremony, May 7.
Here is his speech:
Remarks to STFX convocation
May 7, 2023
John Gaventa, on occasion of receiving an honorary degree
Chancellor Peacock, President Hakin, Vice President Cockshutt, distinguished platform guests, faculty, staff, members of the Class of 2023:
I want to acknowledge in standing here today that we are on the ancestral and unceded territory of the Mi'kmaq People.
Congratulations to the graduating class!  This moment celebrates the hard work of each of you, the support of your families, friends and faculty at STFX University.
And, thank you for this enormous honour! It's great to back at STFX and in Antigonish. It was a privilege to be director of the Coady Institute and Vice President of STFX for a few years, and to come to know this wonderful community. I am pleased that many of the staff of the Coady Institute with whom I worked are here today. I want to give a special thanks to you and share this award through your presence.  (Will all former and current staff of Coady who are here please stand). We worked as a Team.  Thank you.
Moses Coady, the STFX leader for which the Coady Institute is named, had a vision of using education to build leadership, to help communities around the world 'to get the good and abundant life and to become the masters of their own destiny'.  
As you leave here, you embark on an exciting new journey towards this good and abundant life, full of opportunity but also unknowns. Already, you have shown your resilience in enduring and adapting to a global pandemic that affected your studies.  But as you graduate, you also are global citizens in a world with many other challenges which you also must face.  From my own work in international development, three contemporary issues stand out:
First is the urgency of climate change. Report after report have warned that we have only limited time left to prevent the rise of global temperatures that will have devastating effects on our planet.  The climate crisis is not only an environmental crisis: it is a matter of justice: its effects are experienced unequally, with richer nations and groups –  often those who have polluted the most –  able to protect themselves from its consequences, while poorer communities, often indigenous communities or those in the global south, face the most extreme effects.
Climate inequalities sit in the context of a second great challenge – that of extreme economic inequality.  In 1950 in a speech in Cape Breton, Moses Coady warned that 'the basic problem of the world is the creation and distribution of wealth. We owe it to ourselves to solve this problem,' he said. And yet global inequality has continued to increase, with the gap between the haves and the have nots greater than ever. Such inequality in turn translates to huge disparities of power and privilege, threatening livelihoods, social cohesion, and contributing to other forms of instability.
The solution to such problems, Moses Coady felt, would come through democratic action. As he wrote in 1957, 'it is not going to be done by guns, marching armies or bombs but by a program in which the people themselves will participate. It is democracy not only in the political sense but it is participation by the people in the economic, social and educational forces which condition their lives.'  
But herein lies the third challenge.  Despite the need for democratic action, many parts of the world are becoming less democratic.  After a century of democratic expansion around the world, in recent years we have seen a global democratic decline and a resurgence in authoritarianism. Some 87% of the world's population now live in countries where democratic space is rated as closed, repressed and obstructed.  Only about 4% live in so called open societies – and as Canadians you are fortunate to be in that number.
As a member of the older generation, I am afraid that the challenges we pass on will be faced inordinately by you, the younger generations. Today over 50% of the world's population is under 30.  In Africa, 60% is under 25, and in Nigeria, the country in which I was raised, a staggering 43% of the population is under 15.
Whether you are in Nova Scotia, other parts of Canada, or the rest of the world, it is younger generations in whom we must place our hope to create a better future. No pressure there!   Please be bold in the fight for sustainability, equity and democracy.
But Moses Coady, Jimmy Tompkins and others in the Antigonish movement taught us that change will come not by focusing on what is wrong with the world – on its deficits – but through recognising and building on our assets. As Coady famously said, we must "use what we have to secure what we have not" – what has become known as the asset-based approach to development.
As you graduate with the class of 2023, you carry with you many assets:
You graduate from STFX, a great educational institution shaped by the values of social justice, grounded in the principle of acting on 'whatsover is true', and guided by respect, compassion for others, service and integrity.
You graduate from an Institution that had the vision in 1959 to found the Coady International Institute to spread these ideas of asset based development around the world. Today the Coady Institute represent a unique network of over 10,000 graduates in 146 countries, who are themselves change makers and innovators in all parts of life.
As change makers yourselves, you can be inspired by the examples of other young leaders who came before you. When Martin Luther King was first on the cover of Time Magazine in 1957 for his role in the American Civil rights movement, he was only 28 years old.  He wasn't described as youth leader – he was a civil rights leader.  In 2019, when Greta Thunberg was named person of the year by Time Magazine for her advocacy on climate change, she was only 16 years old.
My point is that while the world's political leaders grow older, those at the cutting edge of change are often young people, who are acting not just for themselves, but for the planet and for humanity.  These change makers may not always  become famous – like King or Thunberg –  but are acting in countless less visible ways to make the world a better place.
Over the last 50 years, I have had the extraordinary privilege of working as a researcher and educator with many activists and leaders who are on this journey of working for scial change, whether in the Appalachian region of the US, the Niger Delta where I was raised, here in Canada with Coady, in the UK where I live now, or the some 30 countries where my work has taken me.
But as I sat where you now sit in my own graduation ceremonies over 50 years ago, I would not have foreseen this path.  Rather the future unfolded in ways I did not expect. Along the way I learned some valuable lessons that I share with you in closing.
First, don't worry if you don't have your own life plan in order as you walk out the door today.  As the Spanish poet Antonio Machedo wrote, 'wanderer, there is no road, the road is made by walking.' In my experience, there will be many opportunities, also with many twists and turns along the way. Keep walking.
Secondly, as you pursue your journey, keep learning. Your education doesn't stop with graduation. Much of my learning hasn't come from the formal classroom – despite my professors' best intentions – but from the leaders in grassroots communities, whose peoples' knowledge and courage in the face of adversity have been constant sources of inspiration. Listen for such wisdom and for the stories of hope that will give you strength.
Finally, as you walk, believe in the power of small steps.  Very rarely in our lifetimes will change come in one fell swoop, through a single leader, event, policy or election.  Rather, big changes come through the accumulation of lots and lots of small changes, where people create their own solutions with the assets they have and then join hands in the spirit of collaboration and solidarity with others.  In walking together, small footpaths can become major pathways.
As you graduate proudly today, may you make your own road, but may you also remember that each of your steps can create footprints towards a better world, towards that 'good and abundant life for all.'
Congratulations and good luck on your journey, wherever it may take you.
Dr. John Gaventa has made significant contributions to grassroots adult education, academic scholarship, and international development over a distinguished career of nearly 50 years. Throughout his work, he has sought to use his research and leadership to support community driven efforts for social change and social justice. A former Director of the Coady Institute and Vice-President, International at StFX, Dr. Gaventa is currently a Professorial Fellow at the Institute of Development Studies, a leading global institution for development research, based at the University of Sussex.