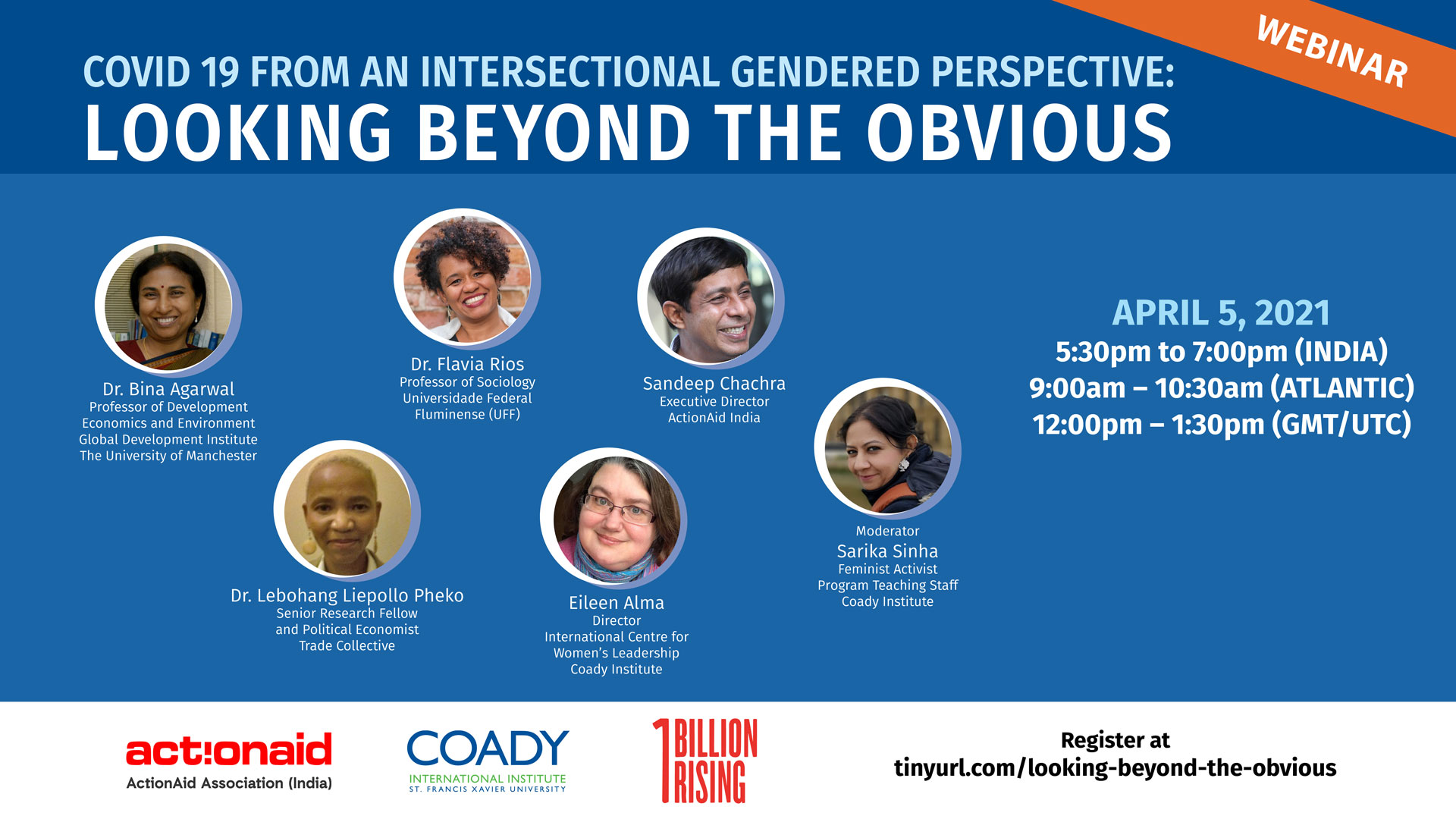 Join Coady Institute's Sarika Sinha (Program Teaching Staff), Eileen Alma (Director, International Centre for Women's Leadership), and guests for a free webinar, Covid-19 from an Intersectional Gendered Perspective: Looking Beyond the Obvious.
This webinar proposes to delve into the impact of Covid-19 on the gendered relations and look beyond the obvious. It aims to not only delve directly into the loss of jobs and earnings, but also indirectly in terms of food insecurity, depletion of savings and assets, social isolation, and mobility loss (much of it legalised and enforced by state). Further, women who were unpaid workers in homes and family enterprises, face further precarity. The conversation, moreover, aims to look into the labour market transitions, type of work that women have been doing, social protection and change in care work from the standpoint of the poor and excluded women across the globe. Lastly, it aims to look at the women led progressive pathways towards developing more equitable alternatives.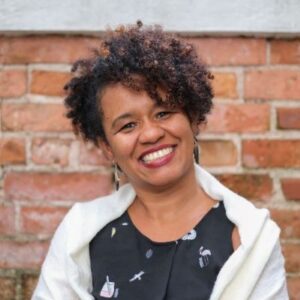 Dr. Flavia Rios: Reproductive work in the context of the pandemic in Brazil
Flavia Rios (Ph.D, USP) is a Professor of Sociology at the Universidade Federal Fluminense (UFF), Brazil. She was a Visiting Student Researcher Collaborator (VSRC) in the Department of Sociology at Princeton University (2013). Her main interests are Social Movements, Gender and racial inequalities, Affirmative Actions and Black thought. She wrote and organized three books: Lélia Gonzalez (Summus, 2010); Blacks in Brazilian cities (Intermeios, 2018) and For a Latin American Afro feminism (ZAHAR, 2020)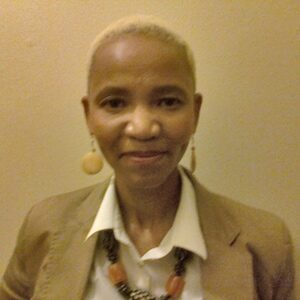 Dr. Lebohang L Pheko: Dismantling and deconstructing  'care' work as a critique on extractive capitalism
Dr. Lebohang Liepollo Pheko is a senior research fellow and political economist at a think tank called  Trade Collective and has over 25 years  experience in cross sector leadership . She is  an activist scholar, public intellectual , African  feminist theoretician. Over the past year  Liepollo  has contributed to framing  policy alternatives that centre women in post covid economic recovery through various platforms including  SAWID, AWID,  WIMN, DAWN, Tufts University and South Feminist Futures. Her key interests are in international trade, globalisation in the context of migration, regional integration  and currently the feminist economic recovery.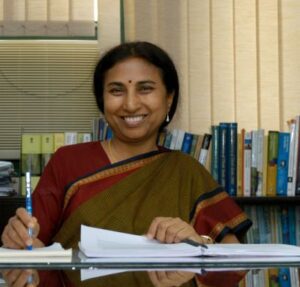 Dr. Bina Agarwal: Gender and Covid 19 in India, Looking beyond the Obvious
Dr. Bina Agarwal is Professor of Development Economics and Environment at the Global Development Institute, The University of Manchester. Earlier she was Director and Professor at the Institute of Economic Growth, Delhi. She has published extensively on property and land rights, environmental governance, agrarian change, and poverty and inequality especially from a political economy and gender perspective. Her latest book is Gender Challenges, a three volume compendium of her selected papers (Oxford University Press, 2016).
Agarwal's path-breaking work on women's land rights and on environmental governance has had widespread international impact, both academically and on policy. In 2005, she also led a successful civil society campaign to amend India's Hindu inheritance law to make it gender equal. She has held distinguished positions at several universities globally and served on the advisory boards of several UN and other organisations. Among her many awards are book prizes, a Padma Shri from the President of India in 2008, the Leontief Prize 2010 'for advancing the frontiers of economic thought,' and the International Balzan Prize 2017 'for challenging established premises in economics and the social sciences by using an innovative gender perspective.'