A British online magazine and former First Lady of the United States Michelle Obama have recognized a 2015 Coady Institute graduate. In August, Obama nominated Maria Omare as one of Red magazine's The Next 25: 25 visionaries to watch.
Maria took part in Coady's Global Change Leader's program and is founder of The Action Foundation. The foundation helps build inclusive and resilient communities for children, women, and girls with disabilities in Kenya.
"The Action Foundation has been a refuge for kids with disabilities to learn, grow, and explore their interests for over a decade," Obama wrote in the Red article.
"Today, The Action Foundation is not only an institution that's closing the education gap for children with disabilities, it's a safe haven for young women to explore their truest passions and be their best selves."
All countries need to invest in children, girls, and women with disabilities. We cannot do it in isolation. We have to come together and do it and bring about this change together.
Maria says she founded The Action Foundation in 2009 as way to support children with disabilities and their families in her own community by providing a space for them to go to learn and work.
"A lot of families with children who have a disability are largely isolated because of stigmas, negative social norms, and attitudes," Maria says. "So if we weren't here, a lot of them would still be at home, probably going through really challenging mental health issues. Now the kids have a chance to access basic health and education opportunities."
Over the past 14 years the organization has expanded its efforts and her learnings from Coady Institute have helped. The Action Foundation also outgrew the initial centre they were operating. Using an asset-based, community-led development approach, Maria says the foundation mapped out assets within the community to reestablish another center.
"The space is truly inclusive and mirroring the support that we wanted to offer the community," she says. "We realized the community has the power to bring about the change that they want to see. That's something that helped me navigate through that period."
The community held fundraisers and parents of the children with disabilities organized themselves to contribute what they could. Local businesses also began to support the effort and when surrounding communities saw what was happening support grew. She says a new three-story building became a source of hope and light to hundreds of people in the community, providing employment to at least a dozen community members.
"The pillar of how this building was able to come to life was through small contributions from the people who we are currently directly working with," Maria says. "They were really invested, even designing the space. It is really their own space. It doesn't belong to the actual foundation but it's their space and every single person who runs the center right now, it's fully community owned and run."
The centre now has a mixture of staff and volunteers and continues to grow through a holistic approach that has attracted different types of funding. The funding allows the foundation to hire professionals to deliver different services for the children and their families including counseling, occupational therapy, and physiotherapy.
"We've grown quite a bit from working with just a handful of kids to now supporting thousands of children across the country working to strengthen government systems that provide health and education for children with disabilities, setting up caregiver support groups," Maria says.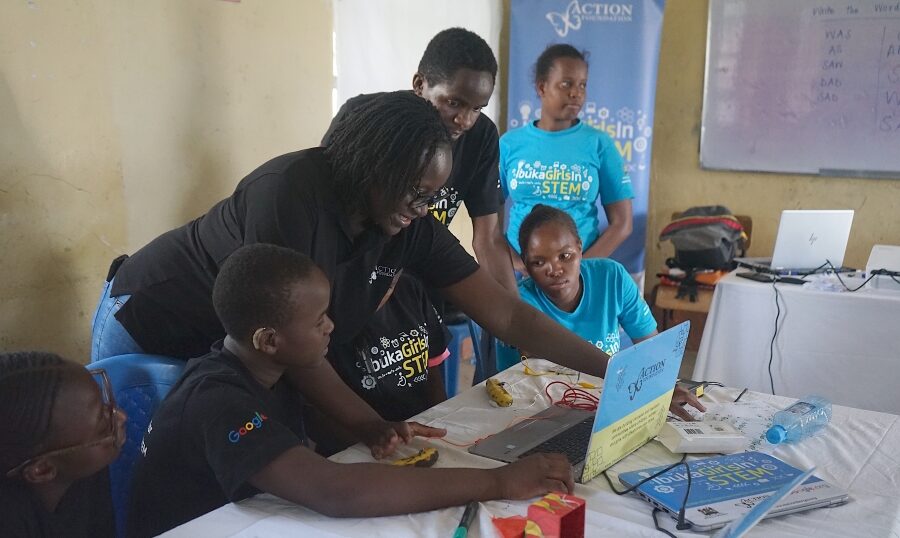 The Action Foundation is not only an institution that's closing the education gap for children with disabilities, it's a safe haven for young women to explore their truest passions and be their best selves.
The foundation's efforts caught Obama's eye.
"We have a program that is Michelle Obama's favorite, which is enabling girls with disabilities to reimagine what their futures could look like through STEM," Maria says. "We are building the next generation of girls with disabilities who can be coders, engineers, and graphic designers who can leverage this new digital age."
In 2021, The Action Foundation won a Google.org Impact Challenge for Women and Girls award that helped take the STEM program nationally. The program went from working with just under 80 girls to more than 3,000 girls across the country. The foundation was also invited to and was successful in applying for funding from The Obama Foundation's Girls Opportunity Alliance.
"So, I believe that Mrs. Obama read up on us and the several projects that are featured by the Girls Opportunity Alliance," Maria says. "She somehow picked us from all of those."
Maria's goal is to bring similar programs to other parts of Africa and recognitions such as the one from Red magazine and Obama help bring the work of educating disabled children, youth, and women centre stage. Maria noted that while the government in Kenya has been supportive assisting those with disabilities, that enhancing the lives of those with disabilities is one of the least funded areas in national budgets on the continent of Africa and globally.
"The Action Foundation is shifting from just doing direct services and service delivery to influencing systems change," Maria says. "That's the future of the organization and we want to see how we can support millions of millions of other children with disabilities, at least in East Africa, and a lot of governments might want to help, but they don't really know how to do it."
She is working to achieve systems change. Maria is the vice chair of the African Disability Collaboration, a collective of organizations working to support children with disabilities in eastern and southern Africa. She is also secretary of Amplify Girls "a network of 40 community-driven organizations across five countries in East and Southern Africa" who work to "build adolescent girls' agency."
"All countries need to invest in children, girls, and women with disabilities. We cannot do it in isolation. We have to come together and do it and bring about this change together."