The StFX Extension Department, in partnership with the Strait Richmond Housing Group, and the Antigonish Affordable Housing Society, will co-host a People's School on Housing Needs: From Research to Action on May 11th in Port Hawkesbury.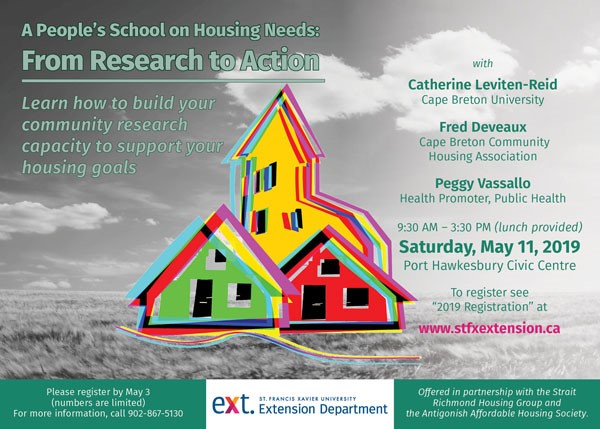 Building on last year's people's school and community think tanks about housing needs, the people's school will explore ways to build the research capacity of community groups to provide evidence about local needs and support their housing goals.
Extension and its partners are looking for a broad cross-section of community groups and individuals interested in community-driven housing to attend on May 11th.
The People's School will be held at the Port Hawkesbury Civic Centre, from 9:30 am – 3:30 pm (lunch provided). Registration is free, but space is limited. To register, go to "2019 Registration".
Or call 902-867-5130 for more information.