St. Francis Xavier University's Extension Department's Topshee Memorial Fund presents Building Back Better for Nova Scotian Workers
Each year on April 28, Canada observes the National Day of Mourning to remember and honour workers who have lost their lives or have been injured in the workplace. Here, in Nova Scotia, members of the labour movement and others gather for memorial services across the province including at Westray Memorial Park in New Glasgow where the 26 miners who perished in the Westray Mine explosion on May 9, 1992 are honoured.
This year the Nova Scotia Federation of Labour, St. Francis Xavier University Extension Department, and Coady Institute are commemorating the National Day of Mourning by launching a new webinar series, Building Back Better for Nova Scotian Workers. The first webinar takes place online April 28 from 7 to 8 p.m. and focuses on Worker Health and Safety. A panel of guests will discuss the Westray experience and legacy and what occupation, health, and safety measures mean for workers in the midst of Covid-19.
Nova Scotia Federation of Labour President Danny Cavanaugh, Nova Scotia Government Employee Relations Officer Nicole McKim, and Westray Memorial Park Director Allen Martin will headline the panel. StFX Extension Department's Topshee Memorial Fund is presenting the series with program staff member Pauline MacIntosh serving as panel moderator.
The Topshee Memorial Fund was established in 1984 to honour the memory of Reverend George Topshee. Topshee was a former Director of the StFX Extension Department (1969-1982) who during his tenure worked to maintain close links to organized labour, co-operators, and credit unions. Topshee was an "Antigonish Movement" person and saw workers in their trade unions and consumers and producers in their co-operatives and credit unions as part of the same cause for social justice and economic democracy.
Leaders  of unions and community organzations across Atlantic Canada initiated the Topshee Memorial Fund to provide for conferences and/or other events to honour Topshee's name and carry forward the work to which he had devoted his life. Between 1984 and 2004, StFX Extension hosted 18 Topshee Memorial Conferences with nearly 5,000 participants taking part in them. These conferences provided a forum in which people from all walks of life could meet to discuss critical social and economic issues affecting life in Atlantic Canada.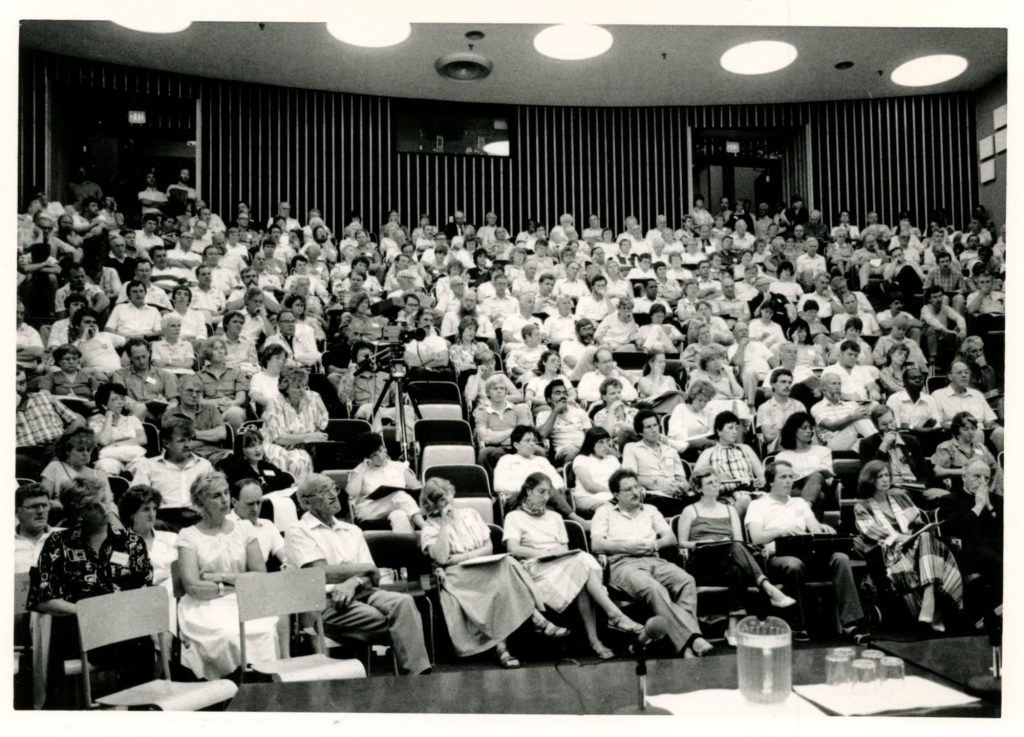 Photo Caption: Topshee Conference participants gather on the campus of St. Francis Xavier University August 1989. The Conference focused on Democracy and Power: Local Action with participants examining the possibilities for meaningful change in society based on effective social action. (Courtesy of StFX Archives)
The Building Back Better for Nova Scotian Workers series seeks to continue the dialogue within the context of today's society. Future topics for the monthly series will include affordable childcare, $15 minimum wage, labour standards, domestic violence, and affordable housing. The series is scheduled to take place the last Wednesday of each month.
Those seeking to join the discussion can join the April 28 webinar by going to tinyurl.com/worker-health-and-safety.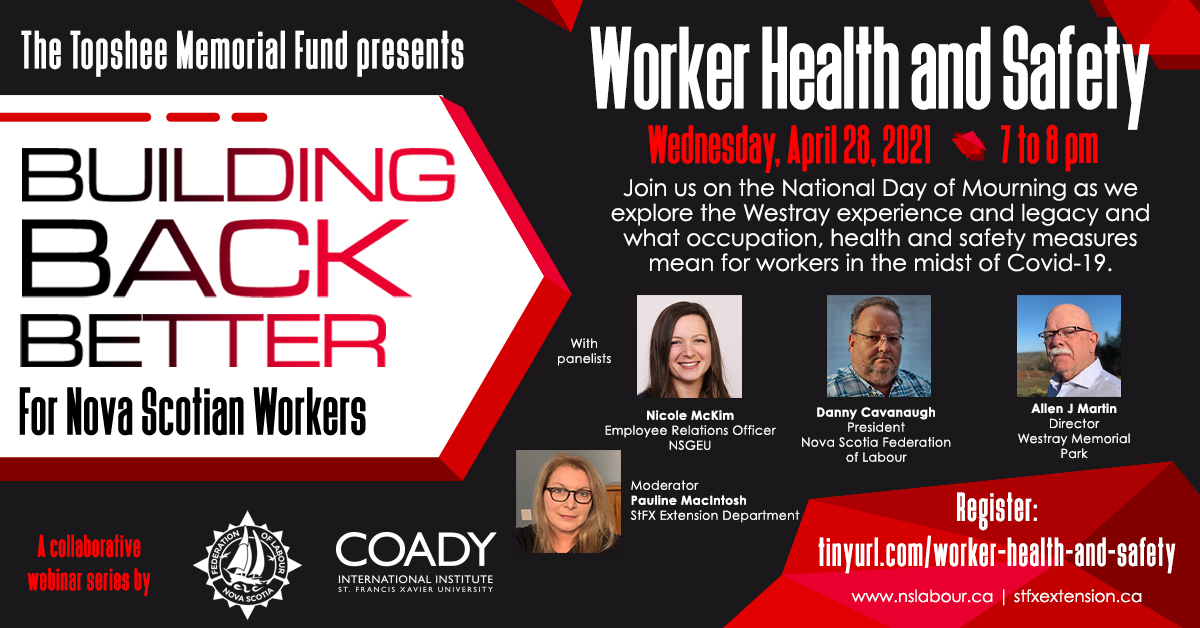 About Nova Scotia Federation of Labour
The Nova Scotia Federation of Labour is committed to the principle of advancing the social and economic well-being of the workers of Nova Scotia; as well as attempting to secure legislative change which will safeguard and promote the principles of free collective bargaining, the rights of workers, human rights and the security and welfare of all people. Learn more at nslabour.ca
About Coady Institute
Established in 1959 by St. Francis Xavier University, Coady Institute is committed to accompanying generations of global leaders skilled in the application of citizen-led, asset-based, and community-driven leadership for economic and social change. Located in Mi'kma'ki, the ancestral and unceded territory of the Mi'kmaq People, on the campus of St. Francis Xavier University, Antigonish, Nova Scotia, Coady Institute includes a network of more than 9,000 leaders in 133 countries globally. Learn more at coady.stfx.ca
About StFX Extension
St. Francis Xavier University, located in Antigonish, NS, is largely defined by its historic commitment to quality education and citizen engagement. StFX's Extension Department was established in 1928 with the mandate to support the revitalization of the communities of Northeastern Nova Scotia through a people-centered approach to development, an approach that became known globally as the Antigonish Movement. Grounded in the values, vision, and principles of the Antigonish Movement and now serving a much larger geographic area, the Extension Department has endeavored over the decades to continuously re-invent itself in the design and implementation of innovative programs that strengthen community capacity to address key issues of the day. Learn more at coady.stfx.ca/extension