Women Research Fellows
Coady Institute's International Centre for Women's Leadership offers a Research Fellowship program for graduates of one, or more, of our women's leadership programs – Global Change Leaders, Diploma in Development Leadership, Community Development Leadership by Women Certificate and/or organizations involved in Coady's EMPOWER program.
The Fellowship residency takes place at Coady on the campus of StFX University in Antigonish, Nova Scotia. Their research proposals use the approach outlined in Coady's Action Research for Citizen-led Change course. Participants carry out their research in their communities, work with local and international scholars, and communicate their findings. They also travel and make presentations about their proposed work in select communities in Canada.
Together with the Coady team, Fellows focus on documenting and building knowledge that seeks to understand local learnings of women's economic and political empowerment and how they intersect, and the innovative strategies used by the women leaders and organizations to support community engagement in ways that can push for women's inclusion.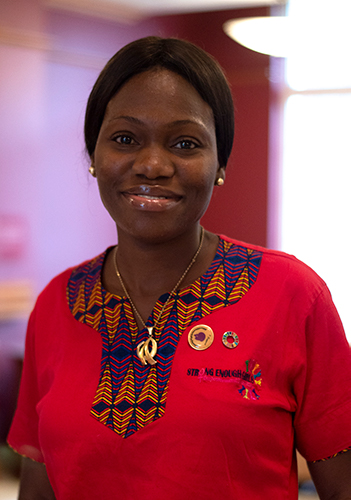 Abiodun Omowunmi Essiet
Abiodun is a certified mid-wife and public health nurse. She holds a Bachelors degree in Nursing science and a Masters in public health with focus on health promotion and education. She is the Executive Director of Abiodun Essiet Initiative for Girls, an organization committed to promoting safe spaces for girls and women in the society.
A young female politician and women leader of Nigeria Women Trust Fund, Abiodun was the first woman in her ward to contest for the office of a councilor since 1995 when the council was created. She is a gender activist, a community development expert, and an agent for social change. She has trained more than 40 women in grassroots budget tracking, provided skill acquisition for more than 100 women, and provided free medical outreach for more than 500 people in rural communities.
Abiodun is the National Director on Women, Gender and Development Affairs of African Youth for Development Commission, AYDEC Nigeria and a resource consultant for European Center for Electoral Support in Nigeria. She won the award of best Head of State for Model ECOWAS Summit 2018 in Ghana and was appointed the Chairperson of the local organizing committee for Model ECOWAS Summit 2020 which will take place in Nigeria. She is a fellow of Canvassity Pan African Youth Democracy Program 2018, working on public service efficiency by engaging elected representatives to become more accountable, efficient, and to deliver impactful governance to citizens in her community.
Abiodun is an international reviewer for BMC journal on reproductive and adolescent health.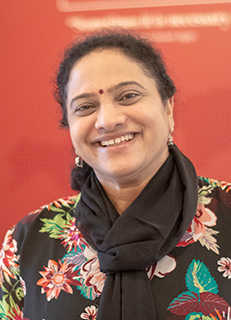 Dr. Mamatha Achanta
Mamatha is a women and children's rights activist, pro-bono lawyer, and founder of Tharuni a non-government organization working for the welfare of adolescent girls and women for more than 18 years. Mamatha has stopped hundreds of child marriages and was instrumental in bringing new legislation and policies to tackle this problem in India. Through girls clubs she has mentored more than 13,000 adolescent girls in rural villages in Telangana State and helped them avoid child marriage, labour, and trafficking.
She co-founded Network of International Legal Activists (NILA) to help the non-residential Indian women who are facing marital and labour problems in other countries. Mamatha has conceptualized an integrated support centre (Bharosa) to access justice for child abuse and rape victims without getting re-victimised during the legal process.
Mamatha has filed 126 public interest litigations as a pro-bono lawyer to help women and children who are in need. Her selection for the International Visitors Leadership Program (IVLP) on Human Trafficking by U.S. Government in 2009 is among her many accolades.
Dr. Olayinka Oluwakemi Adeniyi
Olayinka is the executive director and founder of Women On the Watch (WOW) Society Initiative, a not-for-profit organization based in South Africa. She is also the founder of the center for the protection of the girl child based in Nigeria. Her passion is to develop women and girls for economical, social, and emotional stabilities.
A Barrister and an Advocate of Nigeria, Olayinka has almost 20 years of experience in legal practice including providing legal aids for women and girls in Nigeria. She has a doctoral degree in law (LLD) from the University of Pretoria, South Africa; a Master's degree in law (LLM) as well as a Bachelors degree in law (LLB) from the Obafemi Awolowo University, Nigeria. She has a certificate in social entrepreneurship from Gordon Institute of Business Science (GIBS) South Africa. She is an alumna of Coady and has also attended women human rights intensive program for Convention on the Elimination of All Forms of Discrimination against Women for change in Canada.
Olayinka is a researcher, a women's right advocate, marriage and youth counsellor, motivational speaker, and a prolific writer with several books in the area of women, girls, and law as well as journal articles and book chapters for academic works. Her books include You and the Law, Legal Marriage, Maximizing Womanhood, Common Sense for Girls, and Help I'm a Girl. She is a Margaret McNamara Memorial Fund (MMMF) awardee and is currently researching on teenage pregnancy and women economic empowerment in South Africa.
Tigist Kassahun Temesgen
Tigist is a practicing professional architect and urbanist in Ethiopia. She is a Fulbright Hubert H. Humphrey research fellow at Massachusetts Institute of Technology (MIT), United States, in the Special Program of Urban and Regional Studies (SPURS). She is a lecturer and researcher at EiABC – Addis Ababa University and the National Program Officer for UN-Habitat, Ethiopia.
With more than 10 years of experience developing new building designs and construction site supervision, Tigist brings strong technical and research skills in addressing diverse national and international issues working with multi-scale institutions on various aspects of human settlement in the fields of architecture, urbanism, spatial planning, and construction. She conducted design in research on sustainable urbanization and industrialization in the manufacturing, construction, and knowledge industry; urban mobility infrastructure; urban poverty and slum formation; mass housing and housing quality standards; sustainable economic and urban (re)development and property taxation in the construction boom for both rapidly expanding and shrinking cities.
Tigist holds a BSc in Architecture and Urban Planning, Masters in Human Settlement and MSc in Urbanism and Strategic Planning. She is currently working on her research project – Gender and Space: the role of spatial/city design through a gender lens for an equitably inclusive development.