On February 16, Coady Institute hosted a celebration in honor of supporters Dr. Dorothy Lander and Dr. John Graham Pole.
A fitting setting for the celebration, the event took place at Coady's Marie Michael Library where library specialist Catherine Irving thanked the duo for their most recent donation of $15,000 to enhance the library's collections of books focusing on climate change such as:
Saving Us: A Climate Scientist's Case for Hope And Healing in a Divided World by Katharine Hayhoe;
Plants, People, and Places: The Roles of Ethnobotany and Ethnoecology in Indigenous Peoples' Land Rights in Canada and Beyond by Various Indigenous Authors;
Burnt: Fighting for Climate Justice by Chris Saltmarsh;
Finding the Mother Tree: Discovering the Wisdom of the Forest by Suzanne Simard, and many more.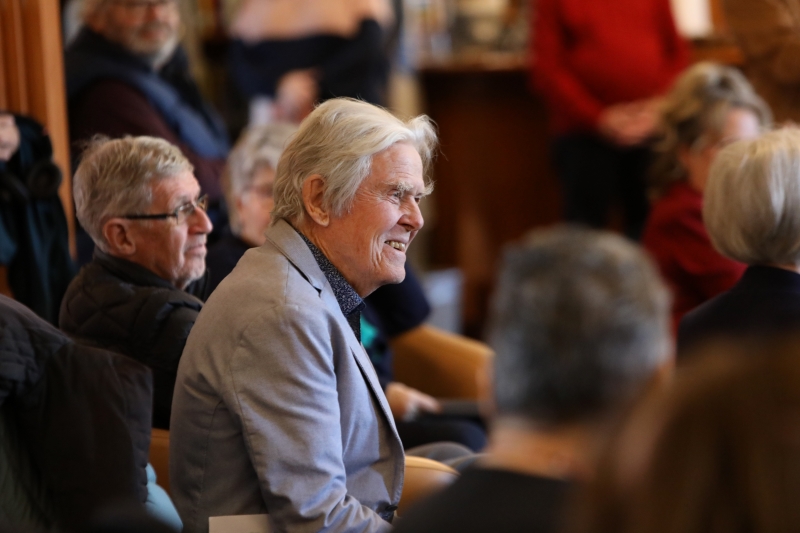 Through the Lander Graham-Pole Sustainable Development Fund (previously the Lander Graham-Pole Arts Fund), Dorothy and John have supported numerous scholarships for Coady participants with a focus on arts and sustainability, totaling more than $200,000. Additionally, they contribute a portion of proceeds from their social enterprise, HARP Publishing, they are dedicated donors of the Circle of Abundance's Indigenous Women in Community Leadership program, and they are each active collaborators of learning as guest facilitators in many program classrooms.
Learn more about supporting social change by visiting coady.stfx.ca/support or contacting coady@stfx.ca.