Coady Institute has 60 years of experience in accompanying leaders who are creating economic and social change and for the past 10 years has developed and held its award winning Indigenous Women in Community Leadership program. Donations to Circle of Abundance – Amplifying Indigenous Women's Leadership will help Coady in:
Learning from its work over the last 10 years with Indigenous women leaders and pivoting in a direction that reflects current realities and recent history;
Expanding Coady's offerings of Indigenous women's leadership programs across the country, for First Nations, Métis, and Inuit women leaders, both in their community as well as on-campus programs at St. Francis Xavier University in Nova Scotia;
Connecting and creating exchanges for Indigenous women globally; and
Supporting the incubation of a new Indigenous-led and Indigenous-run women's initiative.
January 10 – February 11, 2022
By the end of the course, you will identify changes you want to see in your community or organization and create an engagement plan to begin putting your plan into practice.
read more
"The Circle of Abundance is something I support because I believe that there's no stronger advocate for a community than those living within that community. I believe in women. I believe in their power to build local economies. I believe in their power to build resilient communities. It's incredibly exciting to be working with Indigenous leaders at Coady, learning from their lived experiences, and of course their collective wisdom."
– Ryan Reynolds and Blake Lively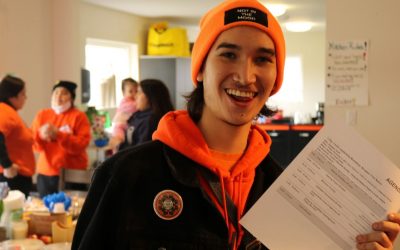 Youth from Saugeen First Nation came together on Friday, November 5, 2021 to participate in a one day Leadership Training facilitated by Coady's Circle of Abundance Teaching Staff, in partnership with the Saugeen Youth Council and Further Education Society of Alberta (FESA).
read more