Indigenous Women in Community Leadership
Mentors

The Indigenous Women in Community Leadership program includes the guidance and support of experienced mentors who work with program participants. Current IWCL mentors are listed below. To enquire about being a mentor, contact womenlead@stfx.ca.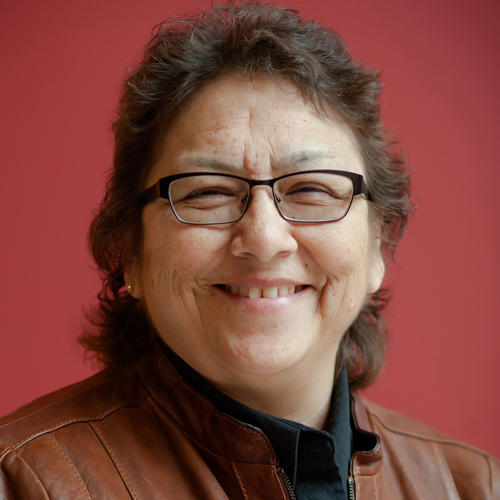 Read More
Named White Thunderbird Woman of the Bear Clan, those Grandmothers knew Deborah was bound to do great things for her people. She lived a difficult life through her young years, much like any other youth, but she lived within very good values handed down from her mother and father, Myrtle and Tom Chief.
At a very young age, she left school, began working, and decided to return to school to further her education. She then started worked at the Winnipeg Friendship Center. It was at the Winnipeg Friendship Center that Deborah became interested in accounting and her life changed completely.
Deborah moved back to Brokenhead to serve her people. Starting as a Secretary and working at various positions, learning as she went along, in 1994, Deborah won a by-election for Chief and served as the first female Chief in Brokenhead. She has served in the positions of Band Councillor and Chief over the last 17 years, elected as Chief for three and one half terms.
All the while, Deborah was upgrading her education. She obtained Leadership Certificates, First Nations Financial Certificate, and an Advanced Degree in Financial Management and has attained her Masters of Business Administration through Athabasca University to become the first Chief in Manitoba with an MBA.
Through her last three terms as Chief, Deborah has shown a great deal of success as Brokenhead Ojibway Nation is one of the most progressive communities in all of Manitoba with a lot of economic development. Having established strong business working relationships with all levels of government, banks and entrepreneurs, Deborah's goal is to continue to work towards financial independence for her community by 2025.
In addition to Deborah Chief's dedication to further the business interests in her community, she serves as a Board Member on the BAAS (Baaskandibewizibiing) Trust. She is currently the Health Director of the Brokenhead Ojibway Nation Health Centre. Deborah is also a co-writer of "First Nation Lady, Vol. II" and is in the process of writing her own book. Her personal interests are riding her Harley trike, golfing, reading and writing.
In the media:
Deborah Chief, NDP – Selkirk-Interlake Eastman
https://www.cbc.ca/news/canada/manitoba/election-manitoba-selkirk-interlake-eastman-deborah-chief-1.3262379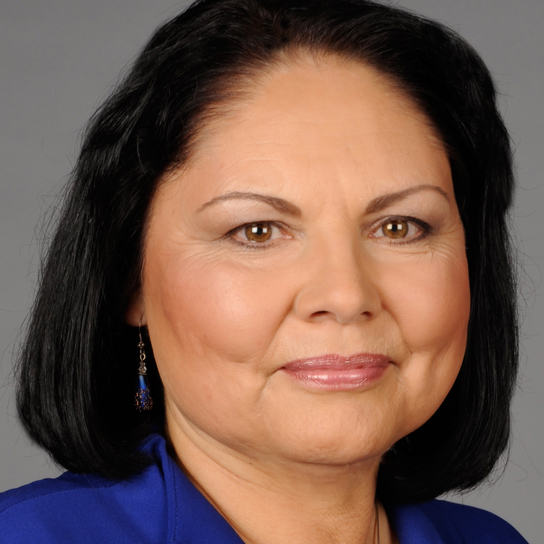 Read More
She chairs the Chiniki Trico Board, is past chair of the RCMP Foundation Board, and serves on the River Cree Enterprises Board, the National Indigenous Economic Development Board, the Queen's University Board of Trustees, and The Canadian Centre to End Human Trafficking. She is also an advisor to two Universities.
Dr. Delorme is a Member of the Order of Canada. She has received the Indspire Award in Business and Commerce; and was named as one of Canada's 100 Most Powerful Women. Other awards include: the University of Calgary Dr. Douglas Cardinal Award; Alberta Chamber of Commerce Business Award of Distinction; Calgary Chamber of Commerce Salute to Excellence Award, and Métis Nation Entrepreneurial Leadership Award. 
Dr. Delorme holds a Bachelor of Science degree, a Master of Business Administration from Queen's University, and both a PhD and an Honorary Doctor of Laws from the University of Calgary.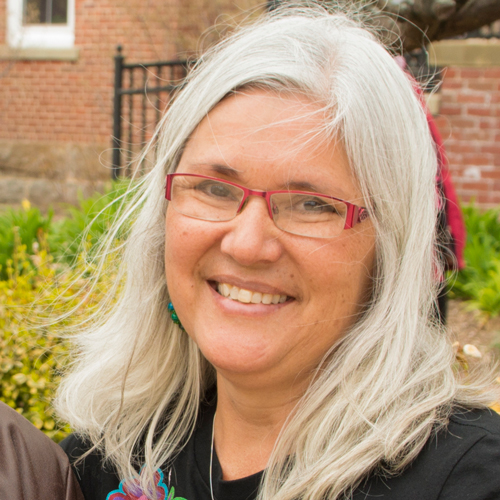 Read More
Gaya'do:węhs, Mohawk, Bear Clan, is from the Six Nations of the Grand River Territory and is the proud mother of two wonderful sons.
She has been dedicated to advancing Indigenous education programs, policy and governance.  Her leadership has resulted in numerous achievements, including:  the design, development and implementation of several new programs for young children and their families; instructor, mentor and advocate for Early Childhood Education (ECE) locally, provincially, nationally and internationally; provincial advocate and trainer for the Mentoring Pairs for ECE Supervisors Program; and, was appointed by Order in Council to assist in the creation of the regulatory College of Early Childhood Education in Ontario (the first entity of its kind in Canada). 
Gaya'do:węhs has been a strong advocate for Indigenous Institutions of Higher Learning in Ontario, nationally and internationally.  She has worked with the World Indigenous Nations Higher Education Consortium, served as Co-Chair of the President's Committee on Indigenous Issues at McMaster University, served as Governor on the Board of Fanshawe College and Senior Policy Analyst for the Assembly of First Nations.
She currently facilitates cultural awareness training for KAIROS and is a Mentor in the Indigenous Women in Community Leadership (IWCL) Program at Coady International Institute.
Gaya'do:węhs is devoted to sharing the knowledge she carries for the successful future of Indigenous peoples.
Read More
She is one of the lead editors of the Kino-nda-niimi Collective for the book, "The Winter We Danced: Voices From the Past, the Future, and the Idle No More Movement". She is a faculty member at Dechinta University where she guest lectures on "Our Land, Our Life: Dene Self-Determination in Theory and Practice."
She is also a member of the National Collective for Walking With Our Sisters/
She has delivered presentations on Indigenous Rights in Canada to a variety of post-secondary institutions including the University of Alberta, the University of Manitoba, the University of Victoria, Richard Ivey Business School, Dartmouth University, the University of Winnipeg and the Red River College.
She has also been invited to give keynote addresses and panel participation at various conferences and meetings such as the Berkshire Conference on the History of Women; The Edmonton Lifelong Learning Association; Feminist Art Conference; Silence No More; Edmonton LitFest; Indigenous Circumpolar Women's Gathering; and Global Shapers Edmonton "Preparing for Davos".
She is a graduate of the Faculty of Law at the University of Manitoba. She also completed International Law at the Rothberg International School at the Hebrew University of Jerusalem.
Tanya also contributes to media awareness of Indigenous issues and perspectives by having op/ed pieces published in national news venues; as well as numerous appearances on television news reports and radio shows.
Tanya works for the Treaty 8 First Nations of Alberta, where she provides advisory support and assistance.  She also practices law in Edmonton where her current focus is solely on representing survivors of Indian Residential Schools.
Tanya is a mother of three children.
From https://www.bcnu.org/about-bcnu/human-rights-and-equity/tanya-kappo
In the media:
Tanya Kappo resigns from MMIWG national inquiry staff, CBC
https://www.cbc.ca/news/canada/thunder-bay/tanya-kappo-mmiw-1.4160105
Full interview: In conversation with Tanya Kappo, Winnipeg Free Press
https://www.winnipegfreepress.com/local/in-conversation-with-idle-no-more-edited-188327231.html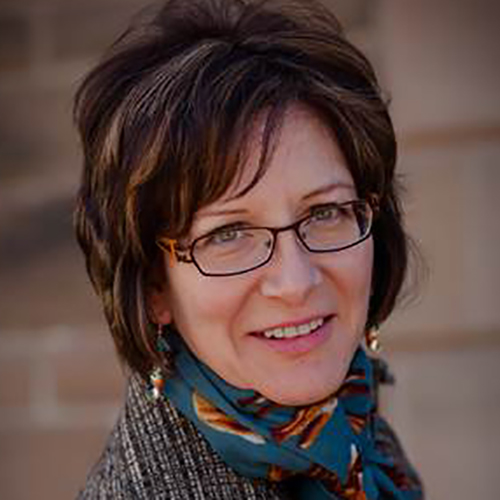 Read More
Victoria owns Wejipeg Excavation Inc., which she created in 2011 to participate in wind park development across the territory; she co-owns and serves as President of Wejuseg Construction Inc. She owns rental properties in both New Brunswick and Quebec, launched an online clothing company www.rezmopolitan.ca , and is a partner to other joint ventures in the region.
Victoria has served many roles for the First Nation and federal public service, working at the Band level, as well as regional and national levels.  Her energy and commitment to service for indigenous people is extensive.
Victoria holds a BA ('91) in political science and a MBA ('04) both from the University of New Brunswick at Fredericton. Past recipient of the E.D. Maher graduate student prize awarded for the highest graduating GPA.  Post-secondary studies included credits from the Université Canadienne en France ('90).  She also holds a contractor's license ('11) from the Régie du bâtiment du Québec.
As coach and role model to many, Victoria has served as mentor to Indigenous women as part of the Indigenous Women in Community Leadership program at the Coady International Institute, for several years.  She serves as mentor to the New Brunswick Joint Economic Development Initiative Aboriginal Business Accelerator Program.  Helping to build capacity, Victoria teaches financial literacy in her community and at local schools.
Victoria is fluent in English, French and actively learning Mi'gmaq. With her gift for languages, Victoria is the go-to M.C. for events in her community.
Giving back is important to Victoria; she served as co-chair for a national Steering Committee with the Canadian Construction Association, overseeing development of an Indigenous Engagement Guide for SMEs.
Victoria is active in the struggle to end violence against women.  An unwavering advocate to the local Indigenous women's shelter, Victoria continuously supports the team in carrying out community-based prevention and healing activities.
Victoria is a proud alumna of the 2017 Governor General's Canadian Leadership Conference. http://www.leadershipcanada.ca/labillois-victoria/
Current board service includes a Governor-in-Council appointment to the National Indigenous Economic Development Board; the regional Mi'gmawei Mawiomi Business Corporation; and the local Listuguj Economic Development Board.
Victoria's diplomacy and leadership skills were evident in her role as moderator the 2018 Peace and Friendship Leadership Dialogue with federal and provincial Ministers and New Brunswick Mi'gmaq and Wolastoqiyik Chiefs.
Read More
This new venture is a revolutionary, simple and powerful way to look at what supports performance in people, teams, organizations and communities.
Karen brings her traditional knowledge of Indigenous ways into the contemporary workplace as this wisdom and way of being reflect "wise practices of purpose driven individuals, communities and organizations". Through storytelling she engages audiences to learn about the First Peoples and their gifts and traditional knowledge. This learning and worldview expand the perspective and understanding of greater possibilities while building on shared values. This approach supports organizations and communities to co-create a deeper and more meaningful relationships built on trust and respect.  Karen is committed to the "Calls to Action" from the Truth and Reconciliation Commission and works with organizations to bring this awareness and action into their stated goals.
Karen is a member of the Edmonton Police Commission and the Circle of Elders for Edmonton Catholic Schools. She is a Senior Advisor and mentor to the Indigenous Women in Community Leadership, Coady Institute, St. Francis Xavier University and was recently appointed as one of two members for Alberta to the Independent Advisory Board for Senate Appointments. Most recently, she was recognized as an Albertan SHEInnovates leader under the Global Innovation Coalition for Change (GICC).   Karen is also a board member for "Honouring Indigenous Peoples (HIP)", a national initiative of Rotary Canada to support reconciliation through education and partnerships.
In the media
Edmonton Police Commission
https://www.edmontonpolicecommission.com/commissioners-staff/karen-mackenzie/
Minister Gould announces appointments to Independent Advisory Board for Senate Appointments, Government of Canada
https://www.canada.ca/en/democratic-institutions/news/2018/07/minister-gould-announces-appointments-to-independent-advisory-board-for-senate-appointments.html
Read More
She is foremost a mother of 3 and a grandmother to 10.  Patricia lives the values of her culture and considers herself blessed to have that within her life. Patricia is a nurse by trade, certified in Health Management, she has her Masters in Admin and Leadership and is currently a PhD candidate.  Ms. Thomson has extensive expertise in management, administration and operations in business. She provides a record of clear decision making, team leadership skills to drive critical strategic shifts, realizes peak performance for top quality organizations and governance integrity. She has proven to excel in operations, leadership and organizational development. Ms. Thomson personal goals align with an executive that possesses the proven ability to empower individuals and groups to build a strong organization.
Patricia currently sits at the Vice Chair of Saskatoon Gaming Board of Directors for Casino Regina and Moose Jaw and Chair of the Governance and Human Resource committee. She is the currently serving as the President of the First Nations Health Managers Association in her second term.
In the media:
First Nations Health Managers Association
http://www.fnhma.ca/board-member/patricia-thomson/
'It's a really powerful feeling': 2 Regina-area women in NYC for UN Commission on the Status of Women, CBC Saskatchewan
https://www.cbc.ca/news/canada/saskatchewan/un-status-of-women-commission-new-york-city-regina-1.4576076