Indigenous Women in Community Leadership
Class of 2018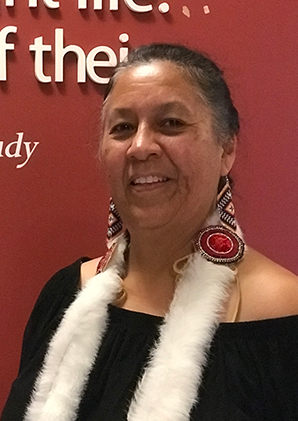 Sherry Condo
Mi'gmaq
Listuguj Mi'gmaq First Nation
I decided to take part in the IWCL program at Coady as it focuses on First Nations women's issues and roles, also to receive the proper tools in becoming a leader of our community or in other leadership roles.
Read More
The first week had been very intense as I came here not really knowing what the program was all about. I have learned at Coady the true meaning of who I am as a women. How can I become a leader in my own community if I do not even understand the role or term leader? The learning tools that are offered to us is amazing, we learn many things from each other as we all come from different First Nations. For me, it is about the sharing and caring and I hope to use these tools in the future.
I am currently employed at the Mi'gmawi Mawoimi Business Corporation which is an organization established by the three Mi'gmaq communities, namely Listuguj/Gesgapegiag/Gespeg. I am the Administrative Assistant to the organization. My role is to ensure that I know the members within the three communities that MMBC represents. I ensure that the office is a friendly environment for our team and visitors, along with maintaining confidentially in and outside the office.
My goals are to be able to have a better working relationship with people from all levels of government, traditional people organizations, and community as well as respect their ideas and suggestions on matters that play an important role in our communities. My sole purpose is to see the organization grow and provide job creation within the three communities within the next five years. I also want to work as a team and provide information about the organization.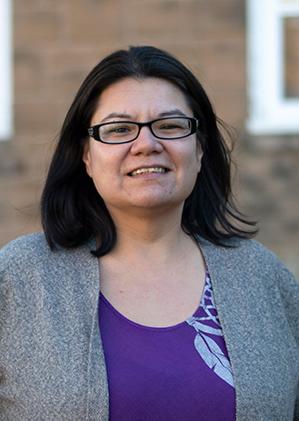 Lori Deets
Cree-Métis
Moose Jaw, Saskatchewan
I am passionate about sharing my story and my experiences to help others. I am committed to my own healing journey and to my own personal and professional development. Helping others heal is my life purpose.
Read More
I am excited about learning from the amazing women in the IWCL program. Knowing I am part of a team of leaders all across Turtle Island fills me with hope, inspiration, and pride in who we are as strong resilient Indigenous women. Bringing the knowledge I am learning back to my home fire will strengthen our community. Being part of IWCL leaders will always remind me that we are all part of something bigger and we all have an equal place in this world.
I currently serve as chair of the Wakamow Aboriginal Community Association (WACA). We are a non-profit board run by a group of dedicated volunteers bringing traditional knowledge and ceremony to our community. In my role as chair, I lead our team planning events. I am involved in the community, building partnerships with other like-minded organizations. I lead our team fulfilling the needs of our community with knowledge and understanding of Truth and Reconciliation.
Our mission at WACA is to foster Indigenous awareness in the Treaty 4 area. WACA believes strongly in reconciliation through education, we achieve this by working with our children and youth, strengthening our traditional knowledge, and bringing awareness to our community about our roles in reconciliation. WACA is committed to becoming a full time drop in center fulfilling the needs of all of our Indigenous community, whether that be traditional knowledge, ceremony, healing, or advocacy.
Rhonda Head
Cree
Opaskwayak Cree Nation, MB
I chose to come to Coady because I heard a lot of good things coming out from the women that graduated. I wanted to be part of a course that has a great reputation across Canada. I want to be part of the great women leaders who have graduated.
Read More
I am an equal and I am surrounded by other strong indigenous leaders who build each other up and help one another strive. This program motivates us, helps us heal and gives us life long teachings through a traditional/spiritual teaching sense. As a result, our spirit is being strengthened. I want to learn how to reclaim my power and be a confident leader.
I am a five time international award winning classical singer from Opaskwayak Cree Nation. I fuse the Cree Language with classical music. I'm also an event planner and I am currently working with the Manitoba Arts Network in Winnipeg, Manitoba. My job is to recruit upcoming Indigenous musicians to attend the Manitoba Showcase that will be held in Portage La Prairie, Manitoba.
The objective of the work is to increase Indigenous involvement with the Manitoba Showcase.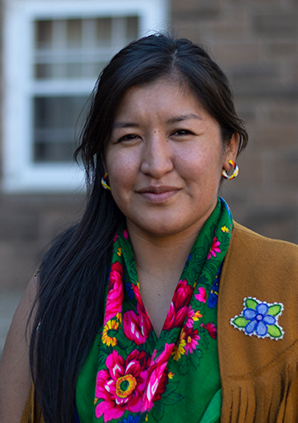 Bobbi Rose Koe
Tetlit Gwich'in
Fort McPherson, Northwest Territories
I chose to come to Coady and take part in the IWCL program because I wanted to expand my mind by learning more about the different types of leadership but to also grow as a leader too. Coady so far has helped me do that.
Read More
I want to have an open mind, open heart, and skills to help my community!
I am one of the co-founders of Youth of the Peel, which has a mandate to "engage First Nations youth and create community among those who would like to contribute to fostering healthy futures for ourselves, communities, and nations." The Youth of the Peel achieves this by organizing paddling trips down the various rivers in the Peel Watershed.
I have a passion for community and connecting youth with the land, my goals and purpose are to do as much as I can to continue to make sure youth get the opportunity to walk in the footprints of their ancestors, connect to the land, and be empowered through on the land experiences.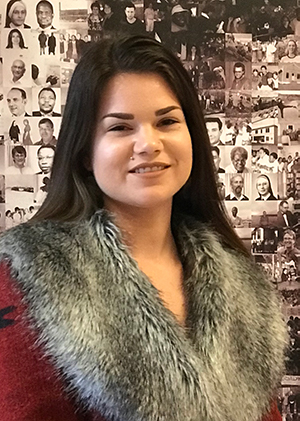 Read More
The most exciting part about IWCL is gathering together a strong, supportive group of women to collectively improve our communities through shared strength, love, and resilience. Growing up as an urban Indigenous person, it is so incredibly valuable for me to spend time with our Elders and to learn by example how to be an Indigenous woman leader. I look forward to sharing what I learn with the youth in my community, in order to empower them to be leaders themselves.
As coordinator of the Butterfly Club, a leadership program for Indigenous girls and two spirit youth from nine to 13 years old, I work with an amazing team of strong Indigenous women to mentor our youth in Indigenous culture, land stewardship, self-development, and community involvement. Our goal is to provide our youth with a safe, supportive environment where they are empowered to be the next generation of leaders for our community.
Ka Ni Kanichihk means "those who lead" in Ininew (Cree), and we provide Indigenous identified programs and services that focus on wholeness and wellness and that build on the strengths and resilience of Indigenous peoples. We do this to help people to help themselves, to build healthy relationships and to create a sustainable future for our community.
Shannon Tara Kraichy
Métis Anishinaabekwe
Winnipeg, Manitoba
As human beings, we are continuously learning and growing, and I love seeking out new opportunities in order to better myself and give back to my community.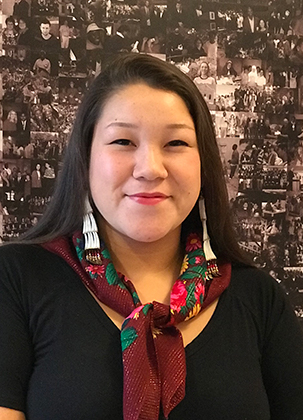 Rosalie Margaret LaBillois
Mi'gmaq
Ugpi'ganjig
I heard about the program before through family members and have been following IWCL for a while and it finally came to a point in my life where I felt prepared and ready to take part in such an amazing program.
Read More
I find these past few weeks have been so uplifting and empowering to be given the gift of being a woman. To truly understand and recognize the strength I have in myself and to be surrounded with such a supportive group of women is honestly powerful. I hope to take back home all these wonderful tools and strong teachings and share them with the women in my community to remind them how worthy they are too.
As a young person, I've taken on my responsibility to learn my language and our ceremonies from the elders. My love for our people has taken me across the world and my latest adventure has been to my new position working for the Turtle Lodge in Sagkeeng, Manitoba. It's such a honor to have been called upon to come and work for the lodge and to be in the presence of many strong elders and to receive their teachings.
The Turtle Lodge offers children, youth, adults, and elders the opportunity to come together in a sacred environment for traditional teachings, ceremony, healing, and the sharing of the perspectives of the Original Peoples of Turtle Island on how to have a good and peaceful life.
In my experience being in the lodge, I have found a place where I truly belong and I am able to be myself because of a loving support system who believes in me.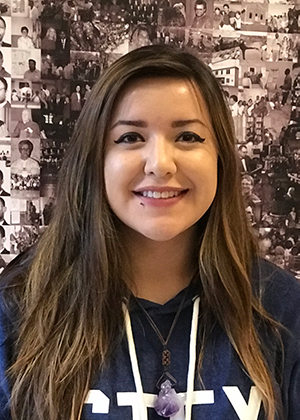 Crystal Lewis
First Nations
Squamish Nation
I decided to come to Coady to further my education and enhance my leadership skills, in preparation for my next run for office. I believe it is important to know how to be an effective leader before becoming a politician.
Read More
What excites me most about this program are the amazing, inspiring women leaders you come to meet from around Canada. It is an honour and privilege to see them strive, talk about their passions, and see their community projects come to life! I hope to become more competent in my coordinating skills and learn how to engage the people in my community.
At the age of six, I knew I wanted to be a leader. I knew that change had to start with me and so, since then, I decided to dedicate my life to being drug and alcohol free. By trusting my intuition, taking initiative, and by taking the steps necessary to fulfill my role as a youth ambassador and leader, I have become recognized for my work, provincially, nationally, and internationally. I live by the motto, "be the change you want to see, lead by example, and take action."
At the age of 19 and 23, I ran for Squamish Nation Chief and Council. My campaign focused on sustainability, wellness, and transparency. Furthermore, I was nominated as a Peer Leader and Peacebuilder for the United Nation's Association of Canada in creating policy recommendations for the UNSCR 2250. I helped coordinate, facilitate, and create Canada's first ever youth policy. I was also the volunteer coordinator at the Watch House. My community project will focus on becoming sustainable.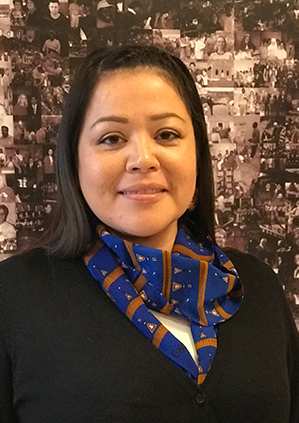 Shelley Morin
Cree
Enoch Cree Nation
I participated in a five day pilot program in my home community and learned of Coady and the IWCL program in April 2018. I know I have been called into leadership and I know that Coady will help me to follow this path and develop my skills.
Read More
I am most excited about joining the IWCL program because to me it means becoming a part of a family of strong and inspiring women. I have learned so much from my IWCL sisters and gained greater awareness of myself along the way. I believe the key to my learning and growth as a leader lies first and foremost in trusting myself and my abilities, in my willingness to commit, and in my courage to dream big.
I am Program Coordinator for the Building Healthy Communities Program.
The Enoch Wellness Centre strives to provide appropriate resources, advocacy support, referrals, and counselling services to community members on their healing and wellness journeys.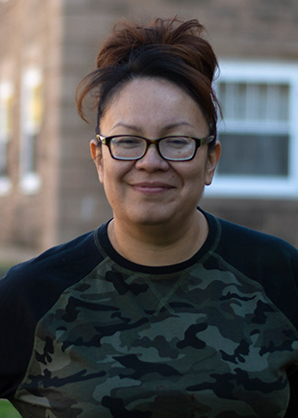 Holly Moyah
Cree Treaty 6
Frog Lake First Nation Band #121 & #122
In my 20s, I completed the Leadership and Management Diploma Program from BQFNC, known as Blue Quills University, with a different perspective during that time in my life. I am now taking this program with a different perspective as I am in my early 40s. I wanted to bring the learning together.
Read More
I am looking forward to Asset building through ABCD – the people you are involved with when taking this program are sharing extraordinary teaching resources of what it means to be an Indigenous Women in Community Leadership. They are helping to provide the tools and resources to help the truth and reconciliation process within our own community. "A footprint on Turtle Island that will last for our next seven generations." As our Ancestor created a footprint the moment the document was signed as Treaty people.
With my love for educational learning, I currently have applied project management through Saskatchewan Polytechnic.
My role is to bring about transformative change for a healthier community. I want to support the metamorphosis of a "living organism – always evolving and growing into something beautiful." For me, the cycles of life as community involve the need to continue to embrace truth and reconciliation: "We are a whole community; we are the tree and we have many branches and we have leaves and we have a solid root foundation which we will plant on good soil".
Effective communication is our goal because when you talk in clear and simple terms the person who you are talking to listens actively, absorbs your point, and understands it. This helps us create participatory projects and therefore establishing successful results.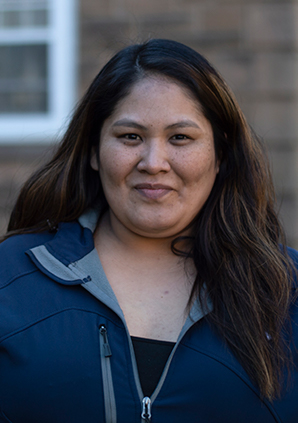 Tanya Snowshoe
First Nations – Dene
Inuvik
After much research into the program I decided to submit my application with Coady to take part in such a rewarding program. A friend of mine who also took the program insisted I apply as it will be a life changing experience.
Read More
I am excited by the teachings around being a successful Indigenous woman that leads in their community and how to be able to ground yourself when so many individuals are looking at you for answers in any activity, meeting, etc. Women are born leaders, some embrace it and some don't. I was born into a family with many leaders making me a natural leader.
I have recently resigned from the Gwich'in Tribal Council where I was the Program Assistant with the wellness department. I held programs that empowered young individuals to embrace their identity, regain their culture, and build them up to attend youth activities as well as their post secondary path. Currently, with the help with IWCL, I'll be able to plan a project that would empower and build Inuvik residents up to their true capability.
My goal is to begin the dialogue around residential school, mental health, and addictions. All three topics each affect one another especially in the Indigenous communities. I want to help individuals regain their identity, their mental, physical, spiritual, and culture. By doing this we are empowering one another to build a strong nation.
Barbara Spade-Dupuis
Ojibway
Whitesand First Nation, ON, 1850 Robinson Superior Treaty Area
I chose to take part in the Indigenous Women's Community Leadership program with Coady to gain confidence in myself and to further develop my leadership skills.
Read More
I am excited for the opportunity to train alongside other women from across Canada. I hope to learn more about what other communities are doing so that I may be able to develop similar programs in my community.
My current position as the Family Well Being Worker with Whitesand First Nation is developing community programming to reduce violence through crisis intervention and through the delivery of educational workshops, and culture based programming. The focus is working with families to increase community wellness and reduce family violence by providing resources through community and cultural programming.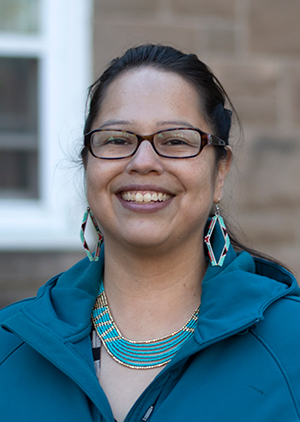 Natoyi'taapiiakii (Holy Women) aka Jayme Steele
Blackfoot Confederacy (Blood Tribe)
Treaty 7 Territory
I was a participant in the five day program that was offered on the Enoch First Nation in 2017. I got a brief overview of what this program had to offer and I knew that I had to pursue this program. I am a leader and IWCL will help build my skills.
Read More
I am an equal and I am surrounded by other strong indigenous leaders who build each other up and help one another strive. This program motivates us, helps us heal and gives us life long teachings through a traditional/spiritual teaching sense. As a result, our spirit is being strengthened. I want to learn how to reclaim my power and be a confident leader.
I am educated in the child and youth care field and am in the process of completing my Human Services degree. I work with adults with disabilities and have been doing this for seven years. At this point in my journey, I am focusing on strengthening my spirit. Only then will I be able to guide others and achieve my vision.
We provide support for people with disabilities to achieve their goals in independence, well-being, and community connectedness. We maximize opportunities for people to reach their potential by focusing on individualized programing to fit each individuals needs.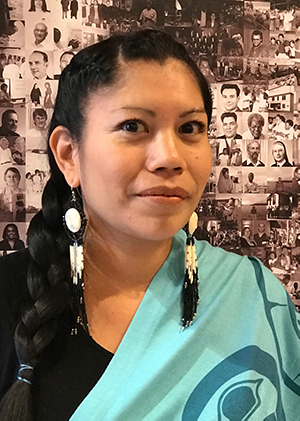 Lorelei Williams
Interior Salish/Coast Salish
Skatin Nations/Sts'Ailes Vancouver, BC
I want build on my leadership skills and make connections nationally and internationally. I knew this was the program I wanted to take when I read about it.
Read More
I am excited to learn from Elders and the other incredible women leaders from across Canada. Every person in the program has amazing knowledge to share.
I work at the Vancouver Aboriginal Community Policing Centre as the Women's Coordinator working with families of missing and murdered Indigenous women and girls, women in violent situations, and women in the Downtown Eastside. I try to build positive relationships between the community and the police which is hard considering our history. I do a lot of work raising awareness of missing and murdered Indigenous women and girls in Canada through my dance group Butterflies in Spirit.
As a family member of both missing and murdered Indigenous women, I do what I can to raise awareness of this issue so this doesn't happen to more families. My wish is that violence would end for women and girls around the world.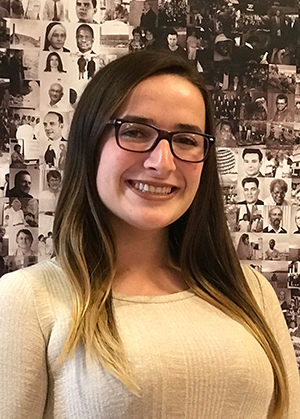 Brooke Willis
Mi'kmaq
Sipekne'katik
I chose to come to Coady and take part in the IWCL program to develop my leadership skills to be able to bring back what I learn to my community and organization.
Read More
What excites me most about IWCL is how it is focused around my culture and teachings. I feel that I can better relate.
I would like to learn different leadership styles from IWCL and some new techniques on how to become a better leader.
IWCL has been such a great experience and learning oopportunity! I am grateful to be able to take part in the program and gain new sisters who are such strong women!
I am currently Assistant to the Chief of the Native Council of Nova Scotia (NCNS).
The NCNS is "the self-governing authority for the large community of Mi'kmaq/Aboriginal peoples residing off-reserve in Nova Scotia throughout traditional Mi'kmaq territory".
The NCNS provides numerous programs and services to aid and assist off-reserve Mi'kmaq/Aboriginal peoples in Nova Scotia to organize community affiliate zones for the purpose of advancing their general living conditions.