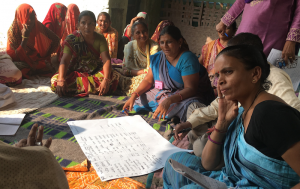 Coady Institute is one of nine Canadian organizations to receive funding toward advancing gender equality from the Fund for Innovation and Transformation (FIT). The Institute will receive $236,000 over 15 months for Farmer-led Tools, Dashboard Development and the Future of Farming.
Access and control over digital and financial services is essential for advancing women's economic and political empowerment.
The initiative will test tools with women farmers to identify capacity building needs, such as accessing technologies, credit, infrastructure, markets, as well as financial and business planning and management. It will also test a farmer-led indicator dashboard and explore the opportunities and impacts of big data on the future of farming at the smallholder farmer level in the Nyando Valley in Kenya and in two districts of Gujarat State in India.
"With the feminisation of agriculture, the role of women in agriculture is changing from that of simply being a source of labour to that of farm decision-makers and leaders," Yogesh Ghore, Senior Program Staff and project lead, and Eric Smith, Monitoring and Evaluation Specialist for the project, explain.
"As women take increasingly greater responsibility for food production and agricultural decision-making, they need improved access to information, resources, technology, and markets, as well as the skills and tools to make sense of it all."
Yogesh and Eric will facilitate Coady's role in the initiative, which they say combines business, finance, and digital literacy as catalysts to address the barriers women are facing in the agricultural sector.
"The innovation involves the transformation of the traditional value chain approach to a producer-led value chain approach (PLVCA) that enables women farmers, including those with little or no formal education, to understand the complexity of the markets and situate their farm and product in the broader context of the market system," they explain.
The funding is part of a unique national initiative, the Fund for Innovation and Transformation (FIT), a 5-year, $16.5 M initiative of the Inter-Council Network of Provincial and Regional Councils, funded by Global Affairs Canada and managed by the Manitoba Council for International Cooperation. The FIT's goal is to support "Canadian small and medium-sized organizations from different sectors to test new or improved practices, policies, and approaches with local partners around the world."
Coady's Executive Director Gord Cunningham says the Institute is "honoured" to be one of only nine recipients across Canada.
"We've all heard of 'big data' and the power of big companies to make use of it," Gord says.
"What excites us the most is the that this initiative will produce tools that allow women smallholder famers to harness 'little data' – information about their farms collected by their peers farming the same commodities – which will give them power to make important evidence-based decisions."
"We know that empowered women lead to improved quality of life for everyone," Eileen Alma, Director, International Centre for Women's Leadership, says. "It is important to us at Coady to be in local partnerships that support local women farmers as they lead their own transitions into decision-making and entrepreneurial roles."
"Coady's role in this project is to facilitate a process that allows women farmers to be researchers and experts in understanding the complexities of the value chain and market, and based on that make informed decisions about their micro enterprises," Yogesh and Eric add.
The pair highlight that Coady's existing popular education tools – such as "the leaky bucket" – can be digitized to support farmers and entrepreneurs in the changing face of 21st century century agriculture.
This initiative further enhances Coady Institute's commitment to supporting women leaders in decision-making, especially at the local level. Farmer-led Tools, Dashboard Development and the Future of Farming will complement recent and current projects and programs such as those supporting Indigenous and non-Indigenous women in Canada, in Sub-Saharan Africa, South Asia, Haiti, and South/Central America.