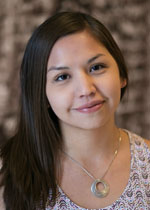 Justine Manuel
First Nations
Spaxmn, Okanagan, British Columbia
This is the perfect opportunity to pursue my language revitalization project. I hope to take the tools gained back to my community to apply in my road to leadership and encourage other women to become the leaders that we need.
Read More
I am suknaqinx (Okanagan) and have lived in Spaxmn the majority of my life. I now reside in Tk'emlups, British Columbia. The Okanagan peoples are known as the "beautiful ones." We keep close with our identity by reiterating our nation song "ałi kwu swiwinumtax, ałi kwu suknaqinx, ałi axa tmxwulaxw", meaning, "We are beautiful, because we come from the land, because our land is beautiful." I am a mother of a son, stk'masq't, who is the joy of my life. I am currently a full time student at Thompson Rivers University pursuing my Bachelor of Arts degree.
Spaxmn, or Upper Nicola Band, is a small community within the BC Southern Interior. It is a proud, inclusive Syilx community, which promotes Suxwtxtem, teaches our Captikwl and is committed to building foundations through En'owkin'wixw. Our vision is to be a strong, flourishing community in harmony with our Tmixw. I am passionate about learning and preserving language and culture, and continuing to be rooted to the land. I want to contribute to its future generations, to leave a legacy and a strong foundation for the ones yet to come.
Hali Pitawanakwat
Pottawatomi
Wikwemikong Unceded Indian Reservation, Manitoulin Island, Ontario
I came to Coady because I love to learn and experience new things. I wanted to hear other women's stories and be part of a movement of Indigenous women change makers and leaders.
Read More
I am the daughter of Cecilia Pitawanakwat and Timothy O'Connor (deceased). I have three beautiful children, Timothy, 19, and two daughters, Grace, 9, and Clarissa, 6. I live and work in my community as a registered nurse. I worked in community health, long-term care, education and home and community care.
My passion is lifelong learning. I love to learn and share my knowledge with my friends, family and community.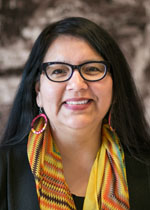 Melissa Hotain
Dakota
Sioux Valley Dakota Nation, Manitoba
I came to Coady after hearing the amazing experiences of previous cohorts of the IWCL program. The timing was perfect to be chosen to attend. I hope to apply new skills and knowledge gained from my mentor, fellow cohorts, and instructors.
Read More
I am a Dakota woman from the Sioux Valley Dakota Nation in southern Manitoba. I am an independent consultant providing research, policy analysis, program and proposal development, facilitation and liaison services, project management, program evaluations, work plan and strategic planning for a number of different organizations and First Nations. Previous to this, I was a policy analyst for 10 years with the Assembly of Manitoba Chiefs.
I moved home in the fall of 2015, to help raise grandchildren, grow my own food, learn/speak my language so I may teach my family, and to give back to my community. My goal is to empower both our young women and men into future leaders who are strong in their identity, culture and language, and ensure strong education and career paths. I plan to ensure greater internal and external resource collaboration to support these goals.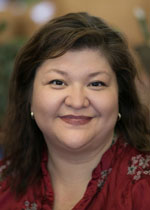 Michelle Hanson-Cunningham
First Nations
Alberta
I came to Coady to be in the presence of amazing women who are working to bring positive impacts to the world we live in. I am taking away so much medicine to keep going on my journey stronger, more determined and honoured to be a woman leader in the world today.
Read More
I strive to be a supportive, positive, and kind person. I am the proud mother of four wonderful children who have taught me to be the best version of myself – they make me smile. My day job consists of 21 years in social work. I love helping families and children embrace change for the better. Working with Aboriginal families has been a passion of mine; I believe we all need to take care of our communities, give to each other and support one another.
For the past seven years I have been facilitating Women's Moon lodge circles as a place to learn, grow and heal those stories that no longer serve our journey. Healing takes time and focus; I love how open and honest the circle can bring women. The medicine wheel is a guide to help us in our daily life – we just have to explore. It brings me joy to see women embrace their feminine strength honouring who they are and what they bring to this life.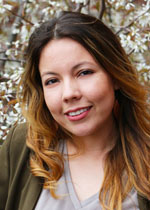 Stefanie Recollet
Anishinaabe Kwe
Wahnapitae First Nation, Ontario
I came to Coady to make connections with other Indigenous women and gather wisdom from Nations across Turtle Island. I hope to bring to my community the combined knowledge of all the extraordinary women I meet along this journey.
Read More
Aanii Boozhoo, Stefanie Recollet ndizhnikaawz. Ajijawk dodem. I'm of the Crane clan and my home fire burns at Wahnapitae First Nation, which is in Northern Ontario.
After graduating from the law and justice program at Laurentian University, I moved home where I now work as the environmental coordinator and raise my two children. I also enjoy doing photography in my spare time.
I came to Coady to make connections with other Indigenous women and gather wisdom from Nations across Turtle Island. I hope to bring to my community the combined knowledge of all the extraordinary women I meet along this journey.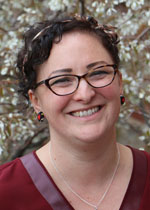 Amanda Myers – Kitaay Bizhikikwe
Anishinaabe, Pottawatomi, Métis
Ontario
I decided to enter into this program to revitalize my skill set, to renew and refocus the energy that I put into my communities. It is an overwhelming and exhausting task to help people with an open heart and a good mind, so I am grateful for this.
Read More
My name is Kitaay Bizhikikwe/Ancient Buffalo woman. I am Anishinaabe, Pottawatomi and Métis, of the Marten clan. I belong to the Three Fires Midewiwin Confederacy. I currently live in London, Ontario working for Indigenous Services at Western University where my primary role is to engage Indigenous youth from our urban community, Chippewa of the Thames First Nation, Oneida Nation of the Thames and the Munsee-Delaware Nation.
My passion is to see youth recognize their ability, take pride in their identity and love themselves. I hope to find the existing gaps in our communities and fill them with culturally relevant sustainable programming so that our youth can take on healthy balanced lifestyles.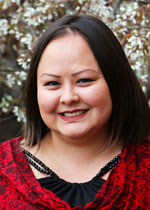 Vanessa Jack
First Nations, of the Frog clan from the Cheslatta'ten Nation
British Columbia
I have been on a journey of self discovery for the past eight years. I have always felt like I was made for greatness, and hope to prove to myself that I can achieve whatever it is I put my mind to. I hope to find my next direction and charge forward.
Read More
I come from a small town in Northern British Columbia called Burns Lake. There is a rich history in this area, of perseverance and resilience. I was born and raised in this little town and have no urgency to leave. These are my territories and I want to enrich my life, as well as those around me, in the beauty and natural abundance that is our homelands.
I am very passionate about using my voice. I found my voice later on in life and feel it is monumental to show the youth and children that their voices need to be heard. I truly believe that teaching someone to advocate for themselves teaches them to act with courage. I believe in my heart of hearts that a child who grows up being able to speak their truths will grow into a more grounded and wise adult.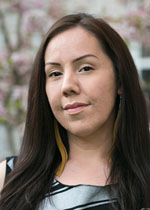 Nesta Opal Chrystal Hager
First Nation
Yukon
I saw an incredible opportunity to join a network of Indigenous women from across Canada where we can continually teach and learn from each other based on our knowledge, experiences, and expertise in an environment that encourages and enhances this.
Read More
Inye Dohuch'i (How are you?)
Nesta Hager Uuzhi (My name is Nesta Hager). Pelly Crossing, Yukon Territory ts'i ech'i (I am from Pelly Crossing, Yukon Territory). I am a member of the Northern Tutchone Nation and I belong to the Tske (Crow) Clan. On April 5, 2017 I was elected into leadership as a Crow Council Representative for the Selkirk First Nation.
I am committed to working with our youth, elders, community members, administration, and service workers in working together to reclaim our Northern Tutchone identity in hopes to build self-reliance, foster healing, build community, and restore pride in our daily lives.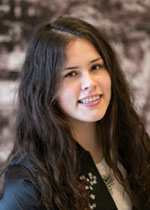 Miigwanesiik Akeesha Footman
Anishinaabe Ojibway European
Ontario
I came to Coady wanting to learn and share with people who are asking questions and working toward solutions for community healing. It is inspiring to have met so many beautiful, strong and smart women during this experience. Miigwech!
Read More
Art and community is how I celebrate life. My lineage is in Manitou Rapids and Europe. I am Marten clan and dance jingle. Born and raised in Toronto, I have a deep love for the Great Lakes, its people and the land. I am a part of the Toronto Indigenous Health Advisory Circle as a youth council member and sit on Toronto Drug Strategy Committee.
I am passionate about education and culture. I hope to effect positive change in myself and community by speaking my language, visiting family and friends, making art and practicing ceremony. My interests are governance, health, entrepreneurship and human rights.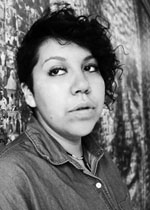 Alexandra Manitopyes
Cree, Ojibway
Alberta/Saskatchewan
Coady's IWCL is unlike any other leadership program I've researched, and I believe it has the capacity to help me achieve my leadership initiatives from the help of the program's resources, instructors and mentors.
Read More
I am the co-founder of Indi City. Having recently graduated from Southern Alberta Institute of Technology's New Media Production and Design program I'm currently working as the creative director/multi-media specialist for my company. I live in Calgary, but am a band member of the Muskowekwan Nation. It is a Saulteaux/Ojibway First Nation located 140 km northeast of Regina, Saskatchewan. Population: 1,517 – 400 on reserve.
All of my life, the arts has served as my greatest inspiration, opportunity and passion. Utilizing art and culture I contribute to the wellbeing of my community, and others. It is my experience that if you offer these powerful tools as a medium of communication you can create mobilization and activism, while assisting in the capacity building of community leadership.
Nadine Bernard
First Nation
Nova Scotia
I hoped to build on not only my strengths but to work on my weaknesses. To commit to creating something tangible from a thought to something that is real.
Read More
I am a proud mom of three inspirations in life and my beacon of light my granddaughter Gigi.
I enjoy reading, learning and teaching about language and culture with my nujij and just appreciating life and all its simple beauty we take for granted. My home community is the Wekokmaq First Nation but I reside with my family in Sydney.
"If you don't know who you truly are, you'll never know what you really want." — Roy T. Bennett
My passion is family, happiness, making memories and not wasting time doing it. All I want to do is make a small enough difference so that people will remember what they could do to change their life, not what I could offer.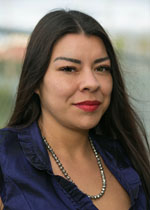 Tara Julian
Mikmaw
Paqtnkek Mikmaw Nation
I came to Coady to develop my skills and knowledge in realms of leadership, communication, problem solving and collective impact. I am determined to effect positive change within my community. Our youth are our future and I hope to lead by example and that young people are empowered to follow their dreams and be changemakers.
Read More
As a strong Indigenous woman, mother and pathfinder in her community, Tara's steadfast leadership includes youth empowerment and access to employment opportunities.
I am passionate about community development. Being a leader in my community means ensuring community members have access to employment training and life skills. I want youth to be empowered and to follow through on their dreams and goals. I am excited to seek out funding opportunities to increase community capacity and to implement additional initiatives for the wellbeing of our youth. I am currently in the process of securing funding for a full-time employment program that will support community members obtain employment skills with concurrent mental health and addictions challenges. Sustainability, innovation and creativity influences my community development work.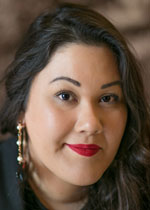 Angel Aubichon
Cree/Métis
Calgary, AB
Coming to Coady was the perfect opportunity to build community, and learn about the perspective of other Indigenous leaders from across Turtle Island.
Read More
Angel Aubichon is a Cree/Metis artist and entrepreneur from the Peepeekisis Cree Nation. Choosing Calgary as her home she wears many hats referring to her role as being the 'Indigenous Envisionista.'
Journeying to connect community and culture through innovative online opportunity, she builds her brand, Indi City, as a platform for others to connect with and share in the shifting paradigm of what it is to be an Indigenous person today.