Ela Bhatt Memorial Bursary
For close to 40 years, Coady Institute has partnered with the Self-Employed Women's Association, founded by the late Ela Bhatt. During these decades, Coady staff and participants have been inspired by Elaben's life's work in support of grassroots women seeking to improve their lives socially and economically. The result of her work has led to a movement of more than 2.5 million informal workers in India and countless organizations globally who have been inspired by Elaben's model of women's empowerment.  
On the first anniversary of her death, Coady Institute and friends of Elaben are honoured to create a bursary in her memory. This bursary will provide an opportunity for a grassroots leader(s) to take part in Coady courses each year, women who otherwise would never have had an opportunity to do so. In this humble way, we commit to continuing Elaben's work both locally and globally.
I am pleased to personally contribute to this bursary – if you have also been touched by Elaben's work, kindly consider also supporting the bursary by donating.
1933 - 2022Ela Bhatt Ela Bhatt, founder of Self-Employed Women Association (SEWA) of India, was a lawyer and social activist who dedicated her life to the pursuit of social justice and the empowerment of women, helping them to earn a living and making visible their...
SEWA's ImpactWe are happy to share these messages from those who were impacted by Ela Bhat and Self Employed Women's Association (SEWA)'s work.Aster Tefera Dubale on November 9, 2022 We heard the sad news about Elaben Bhalt. Her strength and leadership have been an...
SEWA and CoadyAs one of our longest partners, Coady and Self Employed Women's Association (SEWA) continue to work together to build stronger communities.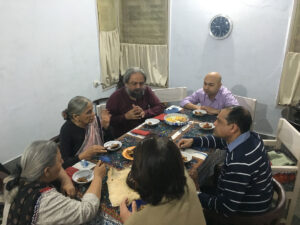 Ela Bhatt at table with Yogesh Ghore and others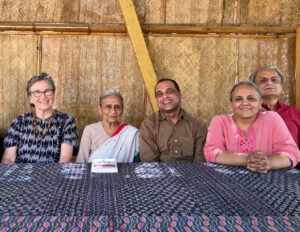 Alison Mathie, Ela Bhatt, Yogesh Ghore, Reema Nanavaty (Ela's daughter-in-law) and Mihir Bhatt, Ela's son.
Ela Bhatt, former Coady Director Mary Coyle, and SEWA Managing Director Jayshree Vyas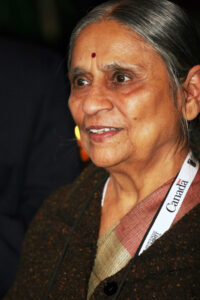 Ela Bhatt