Ela Bhatt
Today (November 2), Coady Institute learned of the passing of Ela Bhatt founder of Self-Employed Women Association (SEWA) of India a longtime Coady partner with more than 2.1 million women members working in the informal sector across 18 states in India.
"This is a tremendous loss to the informal sector of women workers, not just in India but globally. Coady Institute extends our sincere condolences to Elaben's family and all SEWA sisters," Interim Executive Director Eileen Alma says.
Bhatt was a lawyer and social activist who dedicated her life to the pursuit of social justice and the empowerment of women, helping them to earn a living and making visible their individual labour or small enterprises. She founded SEWA in 1972 and by 1995 the organization had become the largest single trade union in India. SEWA continues to fight poverty and advocate to protect workers from exploitation.
Coady Institute and SEWA have partnered for more than 40 years in the co-creation of knowledge about social enterprises and pioneering the asset-based approach to community development. Bhatt was a member of Coady Institute's Honourary Patrons' Council made up of accomplished leaders who support Coady's mission to build the capacities of community leaders and organizations worldwide. St. Francis Xavier University awarded Bhatt, an honorary doctorate in 1999. In 2012, a Coady Global Change Leaders Case Study profiled Bhatt's work in India.
Yogesh Ghore, Strategic Partnerships Advisor, Senior Program Teaching Staff Coady Institute, was a friend of Elaben's and has worked alongside SEWA with many other colleagues over the decades.
"I feel a profound sense of loss today. It's hard to describe her path-breaking work on women's empowerment and the kind of influence she had on shaping my thinking and our work at Coady Institute. This is an end of an era but her legacy and the strong movement she created continues," Ghore says.
Coady is currently a partner to SEWA on several key initiatives including ENGAGE! a five-year project working to advance gender equality and poverty reduction by enhancing women's capacity to participate in the social and economic life of their communities in India, Haiti, Ethiopia, Tanzania, and Bangladesh. The creation of the Livelihoods Recovery and Resilience Fund to support informal economy workers cope up with natural and market shocks is another example of an innovation that is currently being tested together. In partnership with the Gerald Schwartz School of Business, we have also created the Sears Internship in Social Enterprise initiative that helps StFX students learn about Coady and development approaches at SEWA.
Video by Eckova Productions
Comments are moderated and may take up to 12 hours to appear.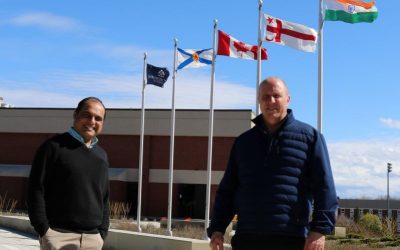 St. Francis Xavier University's Coady Institute is relying on its long-standing partnerships with funders and grassroots organizations to help respond to the deadly Covid-19 situation in India. One of Coady's longest partnerships is with the Self-Employed Women's...
read more