Global Change Leaders
Class of 2019
The Global Change Leaders Program is a seven-week education program offered by Coady Institute's International Centre for Women's Leadership. This program enables women from developing countries to strengthen their leadership capacities in order to contribute to innovation and change in their organizations and communities. Program participants engage in learning grounded in real world experiences and focused on Coady's core thematic areas. Through a shared learning environment with other emerging women leaders from around the world, participants are exposed to a range of experiences and the beginnings of a potentially lifelong network of support. To learn more about this program, click here.
Elizabeth Akowuge
Founder
Paworo Ghana, Ghana
I am responsible for designing complementary livelihood engines to enhance income options for women that depend on weather-oriented agriculture, while providing market and financial linkages at very competitive levels. My role aligns development and conservation objectives, and responds to the interdependence of ecosystems and livelihoods.
My organization seeks a world of hope, tolerance, and social justice where women and children live in dignity and security. Our three programme outcome areas include women's economic empowerment, sexual reproductive health, and rights and education.
I hope to sharpen my leadership skills and acquire strategies that will enable me to handle formidable challenges associated with moving into new and increasingly more complex leadership roles.
Vyonne B. Akoth
Founder and Director
Impart Change, Kenya
My primary role in the organization is to develop and design innovative projects and community engagement forums in consultation with my team members. I also play the lead role in resource mobilization and network development organization for the organization with external partners. As the program director in the organization, I oversee the management of the organization's financial resources.
Impart Change is a local non-profit organization that empowers children and youth with peacebuilding, conflict management, and violence prevention skills, knowledge, and information. We use informal workshops, consultative dialogue forums, and community outreach activities to empower our project beneficiaries and engage local community members. We also partner with local and international organizations to implement non-violence peace workshops and forums.
I hope to improve and refine my leadership style. Improving my leadership style will enable me to customize and align it with my aspirations and the vision of my organization.
Flowra Aktar
Program Officer – Girls' Education Program
Room to Read Bangladesh, Bangladesh
Room to Read has created systematic positive changes in 4,332 girls' lives in Bangladesh by helping them complete secondary school and having the skills to negotiate their own life decisions. We are a pool of social mobilizers playing a vital role as mentors, working with families, schools, and communities to ensure girls stay in school and successfully navigate the challenges of adolescence. As lead person of the Natore District, I am responsible for implementing the Girls' Education Program aligned with Room to Read, with worldwide and standard content.
Room to Read believes that "world change starts with educated children". We work to transform the lives of millions of children in 16 developing countries, focusing on literacy and gender equality in education. We envision a world in which all children can pursue a quality education that enables them to reach their full potential and contribute to their community. We empower girls to complete secondary school and obtain relevant life skills to make their own choices in school and beyond.
The Global Change Leaders program will make me more resourceful and strategic, with diverse techniques and new approaches, to resist the unequal power struggle of society through transformative leadership.
Najlaa Khaled Alzaanin
Project Coordinator
MA'AN Development Center, Palestine
My role includes networking with CBOs to reach the targeted groups and motivate them in diverse activities; coordinating with project partners and beneficiaries; preparing action plans for projects and field visits; planning campaigns and initiatives for women, youth, and adolescents; conducting pertinent surveys and helping in assessing the quality of the work output; and providing logistical and technical support for activities by logistic department support.
MA'AN Development Center is a non-governmental organization that aims to work hand-in-hand with other non-governmental organizations (NGO), community-based organizations (CBO), grassroots groups, and committees to promote community development that is guided by participation, human rights approaches, investment of local resources, and the empowerment of the poor and marginalized to improve food security, decrease poverty, and to protect the Palestinian environment and Palestinian rights.
I came to Coady to enhance my leadership skills and enrich my knowledge from different women leaders. I am hoping these gained skills will support me in empowering my community to achieve their right to live in peace and dignity.
Samia Awad
Project Coordinator
Plan International Egypt, Egypt
I am currently responsible for the implementation and leadership of a project that aims to have girls and women playing an active role in their communities, claim their right to gender equality, and live a life free from violence.
Plan International Egypt began operating in 1981 with the aim to reduce the abuse, marginalization, and vulnerability of children and address gender inequality. Plan International Egypt's key areas of work includes helping young people to get good jobs or start a business; enabling children to get a quality, inclusive education in a safe environment that respects girls' needs; and empowering girls and young women.
I'd like to take my leadership role to a new level with the ability to create innovative ideas and think outside the box. Joining such a lifelong network of women leaders will definitely allow me to share a wonderful learning experience.
Djatougbe Akouvi Aziaka
President and Director
Association Welfare Togo/Eco Conscience TV, Togo
As the head of the organization, I am in charge of the overall management of the organization and its projects. I also take active part in resource mobilization, project design, and implementation. As a trained journalist, I also run the web television station, Eco Conscience TV. In these capacities, I oversee recruitment, financial transactions, public relations, and I represent the organization in national and international meetings.
Association Welfare Togo is involved in building the capacity projects in rural Togo; rural people are trained on how to utilize forest and wildlife resources in a sustainable manner. The organization aims to promote social well being of young people for full development. The vision and mission of Welfare Togo is to achieve sustainable development in a manner that human rights will be upheld, gender inequalities will be eliminated, and all citizens enjoy life without discrimination.
It is my expectation that this course will expand my knowledge and build my technical skills so as to enable me to achieve my ambitions. My ambition is to become a political leader in my country, and establish the Green Party.
Fransisca Christanti
Mental Health and Psychosocial Services Programme Officer
International Organization for Migration (IOM), IndonesiaI work as a humanitarian worker in the Mental Health Psychosocial Services (MHPSS) division of IOM in Indonesia. My primary responsibility is to create sustainable psychosocial activities for refugees who live in community housing. My goal is to empower youth, girls, and women to become inclusive among their own refugee community and local community where they live.
Under the International Organization for Migration (IOM) umbrella, I established a Youth Learning Centre (YLC) for youth refugees in Pekanbaru, to provide them with a safe place to receive proper education through regular informal school activity. We also established a Women and Girls' Support Program which provides group-based psychosocial intervention for women and girls. They interact with local women in the community and join in the global movement to strengthen women and girls' roles in their own community.
The Global Change Leaders program at Coady will give me the knowledge, practical skills, and experience to carry out this empowerment agenda, and provide optimal psychosocial activities with gendered approaches for the larger communities.
Kathia Carrillo Garrido
Press and Communication Officer
Amazonian Indigenous Peoples United in Defense of their Territory (PUINAMUDT), Peru
Managing press and communications for the indigenous federations implies developing and applying an intercultural and gender-based approach. To do so, it's necessary to be close to the people in the communities, learning their demands and understanding their proposals, so that the messages and communication initiatives we develop together respond to their interests.
PUINAMUDT was formed in 2011 by four indigenous federations from the Peruvian northern Amazon region of Loreto to fight for human rights and their collective and territorial rights in a context of environmental and cultural degradation by the oil industry.
I hope the Global Change Leaders program, and the women leaders who participate, provide me with tools and experiences that allow me to develop sustainable initiatives for change alongside the indigenous groups – especially women – that I work with.
Donatha Gihana
Founder and Executive Director
Rwanda Esther's Initiative (REI), Rwanda
As the founder of the organization, my mission is to strategically think and plan for the growth of the organization. I also keep myself informed about the emerging issues in the lives of adolescent girls in the community to address them accordingly. My role is to mobilise the required resources to think through the risks or fears, as well as create potential stakeholders or strengthen exisitng partnerships.
Rwanda Esther's Initiative (REI) is a community-based organization whose mission is to elevate rural girls and women in the areas of leadership for which they are gifted and created. This is achieved through education and community mobilization. We use a wholistic approach to rural girls' empowerment and offer them full scholarships to stay in school and complete their education cycle. This is coupled with mentorship, life skills trainings, and community engagement activities.
I hope to enrich my knowledge on community development and feminist leadership, and understand the current trends in the women's rights movement. I hope to learn, engage, and share with other women leaders during the fellowship.
Eng. Raihan Ibraheem Abu Harb
Executive Director
Renas Women Cooperative Association, Jordan
As executive director, I am responsible for leading and managing the association by developing strategy and operational plans, designing and implementing projects, managing projects, preparing monitoring and evaluation reports, and coordinating fundraising activities to support our project funds. I am also responsible for building relationships and collaborative networking with governmental and non-governmental institutions, national, and international funding organizations.
Renas Women Cooperative Association works to build unemployed women engineers' capacities through developing their skills socially, economically, academically, and legally, thereby promoting their participation in decision-making within their communities. The main purpose of our association is to contribute to the development of women and youth through designing and implementing creative initiative programs and projects. "Working together, for sustainable development" is our vision.
At Coady, I'll develop my professional capacity in leadership – building strong and positive networks with different women leaders around the world. I'm also taking this opportunity to build my leadership plan to inspire others.
Cristina Segarra Haro
Research and Development Coordinator
San Francisco de Quito University, Ecuador
I'm working on the design and allocation of funds for development projects in the fields of rural economic development as well as protection and conservation of the environment, sustainable management, and natural resources with communities across the entire country. As a social activist and promoter of human rights, I'm passionate about connecting peace-building tools with economic opportunities for women and youth that gives them the chance to recover their self-esteem, identity, and develop their potential.
The Universidad San Francisco de Quito (USFQ) is a global leader in education, research, creativity, entrepreneurship, and freedom in Latin America. Through the Dean of Research and Creativity, the USFQ is oriented to the generation of knowledge through the development of research projects, technology transfer, wealth creation, and improvement of social welfare levels coordinating with several national and international allies.
Coady is a wonderful way to find yourself and strengthen your leadership. I hope to implement the tools learned, especially the gender approach, to continue contributing to the development of women and youth in Ecuador.
Silvja Hodo
Data Analyst
FED invest, Albania
When hired in 2017, I started my career as a simple assistant for the Projects' Department. In the first two years, I became acquainted with the overall running of the financial cooperative and performed the role of the coordinator between the foreign technical assistance and the local experts. I was promoted to Data Analyst in January 2019 and have since become an integral part of the decision making process on the introduction of the non-financial services for vulnerable groups.
A Savings and Credit Association (SCA), FED invest follows the bottom-up model of financial cooperatives. FED invest is a 100 per cent Albanian equity association. Beneficiaries of its services are residents of rural and semi-urban areas; members are also the sole owners of the SCA FED invest.
Our mission is to provide populations living in rural and peri-urban areas of Albania with a broad array of financial services, aiming at increased financial inclusion and overall poverty alleviation.The Coady experience has impacted my daily activities since day one.
I've become more mindful of my surroundings and hope to enhance my communication skills in an intercultural environment by the end of the program.
Naw Tin Tin Mar
Programme Management Director
Local Resource Centre, Myanmar
I communicate with donors and all stakeholders for new proposal developments and also manage and monitor overall programme budgets for the whole organization. I provide technical support to the training teams, programme coordinators, and monitoring and evaluation team. I review and revise organizational strategic plans, organizational policies, and training manuals. I am responsible for coordination with all stakeholders including government ministries on policy designing inputs.
Our vision is an empowered and accountable civic society that actively embraces diversity, social inclusiveness, and civic responsibility. Our mission is strengthening civil society organizations' (CSO) institutional capacity through skill development and targeted information dissemination. We create opportunities for CSOs and youth to develop a collective voice with other stakeholders by using a rights-based approach. We influence policy development and establish advocacy platforms through evidence-based information.
My passion is to empower individual and marginalized communities to claim their rights, through the channel of civil society organizations in each region, by using the transformative leadership power.
Eymuna Maria Matui
Legal Secretary/Co Founder
Women Action Towards Economic Development, Tanzania
My work evolves around creating partnerships for the organisation to realise its vision. My work is inspired by families, communities, girls, and women who realise their potential, live a fulfilled life, become the change, and reach their full potential by utilizing their talents.
Women Action Towards Economic Development (WATED) is an organisation formed by seven professional women with a keen interest to build, enhance, improve, and strengthen women's entrepreneurship and economic empowerment groups. We train women on issues of economic empowerment and leadership; raise awareness in areas of law, health, and self-employment; and empower girls in schools through conversations. We work with local organisations, communities, government authorities, ministries, and departments. We believe in partnership, learning, and applying knowledge to bring about change for the communities we work with.
We have extended our work to include gender financing for climate change – the nexus between women's rights and environmental justice. We bring together different actors from grassroots to national levels for conversation, sharing of experiences, and building partnerships.
My journey halfway across the world to come to Coady is to learn and re-learn leadership skills, to learn about inclusive economies, and to establish partnerships. The world needs woman leaders. I am working towards realising the change and aspirations within me.
Revai Elizabeth Mudzimu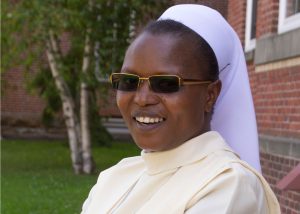 Women's Development Coordinator
Chinhoyi Diocese Pastoral and Development Centre, Zimbabwe
I develop programs that respond to women and girls' problems, such as gender-based violence and health issues such as HIV/AIDS. I research issues that are pertinent to women; for example, I am writing a PhD in sexual and reproductive health rights (SRHR). I am responsible for networking with different organizations and coordinating, monitoring, and evaluating our programs.
My organization is involved in training women from civic, political, and development programs. The main goal of my organization is to empower women and girls so that they can participate in their own social, political, and economical development. We organize workshops which respond to different problems such as gender-based violence (GBV), sexual harassment, and self-sustenance. We value that every human being should be treated with the same dignity.
I am really expecting to gain leadership skills, learning how to engage more with the feminist-leadership style and how to be innovative as a leader.
Fatou Sall Ndiaye ("Iron Lady of the Baol")
President and Founder
Women Africa Business, Senegal
I'm the youngest woman entrepreneur in my community. As the leader and president of my organization, my role is to lead, motivate, and administer. I develop strategies for the operation and development of the organization, plan actions to accomplish our goals, manage communications, and organize and coordinate logistics.
I created Women Africa Business in 2012. It is an organization with the aim of promoting women's advancement. We create jobs and improve women's working and living conditions. We regroup the women in my community of Touba who are active in processing local products. We aim to create a literacy and vocational training center for women, to allow them to have the opportunity to get out of poverty and develop skills that will lead to the development of active citizenship.
I am participating in the Global Change Leaders program, hoping to meet other women leaders and learn a lot from their experience, improve my management skills, and strengthen my leadership abilities.
Titilayo Olayemi Oguntoye
Research Officer
Forestry Research Institute of Nigeria, Nigeria
I carry out research on all aspects of forestry and forestry-related activities through the collection and analysis of data with appropriate statistical tools. I provide extension and outreach services to disseminate research activities and results to communities including youth, women, and men, for sustainable forest and environmental management. I also seek to understand the culture, tradition, belief, and religion of the people, and how these affect the adoption of research findings.
Forestry Research Institute of Nigeria is involved in scientific research activities; sustainable production, utilization, and management of forest resources for conservation, food production, and security; livelihoods; self-employment opportunities; and poverty alleviation. We also provide environmental education, awareness, sensitization, and policy. To this end, research outstations and colleges have been established in all the ecological zones of the country.
At Coady, I would like to strengthen my leadership, communication, and networking skills so as to contribute to innovation and improve my knowledge on women's empowerment, gender issues, and community development.
Pontso Tsoeunyane
District Manager-Social Development Services
Ministry of Social Development, Lesotho
I ensure quality service delivery and policy implementation through managing the five major departments of Social Assistance, Elderly Care, Disability Services, Child Protection, and Community Development. I serve as the head of the department and represent the Ministry at district, national, and international levels. I prepare and coordinate district operational plans and budget and performance appraisals. I provide supervision and mentorship to 21 staff members. I contribute in policy formulation design.
Our vision is a nation where every poor and vulnerable person is empowered through the creation of a caring and integrated system of social development services that facilitate sustainable human development. Our mission is to lead and facilitate the provision of sustainable social development services that are universally accessible to all groups in Lesotho. Our goal is to formulate policy and strengthen legal frameworks for facilitating social development of the poor and marginalized groups.
I hope to gain strategic designs for sustainable development that can empower women and vulnerable groups in Lesotho. From my Coady family, I'm curious to learn new innovations, leadership techniques, and build networks and mentorship opportunities.