Global Change Leaders Class of 2022
The Global Change Leaders Program is a seven-week education program offered by Coady Institute's International Centre for Women's Leadership. This program enables participants identifying as women from developing countries to strengthen their leadership capacities in order to contribute towards a feminist and just world. Program participants engage in at the conceptual, policy level and praxis of understanding development, justice and feminism.
To learn more about this program, click here.
Fatbardha Abazi
Career Center Official
University of Prishtina "Hasan Prishtina", Kosovo
I look forward to learning and improving my skills in the Global Change Leaders program. I expect to learn ways of gaining trust and confidence as a strong leader so I can address issues that affect society and influence change at work, in society, and anywhere I am involved.
Read more about Fatbardha
Career Center was founded by ABA Rule Law Initiative in Kosova, a USAID sponsored project, in cooperation with Faculty of Law University of Prishtina" Hasan Prishtina", now it functions within the university. It offers counseling on how to prepare the CV, Cover Letters, for job interviews and informs students about job and internship opportunities. Internship opportunities are offered in cooperation with Kosovo institutions and non-governmental organizations in Kosovo.
As the Career Center Official, I manage the career center duties, which involve managing the student internship program where applications are processed, then the selection of students is made, counseling students on how to prepare their CV and cover letter, and how to prepare for the job interview. Other tasks include contacting institutions and non government organizations for the internship opportunities and possible jobs for students, then placing students in internships or jobs after an agreement is reached.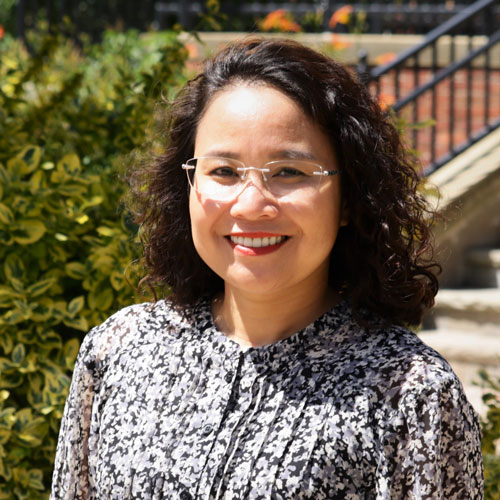 Chu Thi Van Anh
Founder and Director
Active Skills Education and Training, Vietnam
I am honored to study in the Global Change Leaders Program at Coady Institute with the aim to sharpen my knowledge of leadership skills – enhancing my knowledge of how to make changes for social justice. I am grateful to build global connections and I want to contribute to developing that network together.
Read more about Van
Active Skills is a community-based center for personal and interpersonal development to support secondary and high school students to grow their mindsets, develop their soft skills, broaden their knowledge, and improve their attitudes in an active and confident English-speaking environment – with the aim to become active-minded global citizens. We are an active connecting space to mobilize social assets for social justice and social changes.
I am the founder and the CEO of Active Skills Education and Training. My role is not only to set up the foundation of the organization, but also to build up the strategy and develop it to become a global community.
Vera Elikem Awuye
Senior Program Officer and Team Lead – Gender and Advocacy
International Needs Ghana, Ghana
I hope to deepen my knowledge on gender and feminist leadership through classroom and shared experiences, find more innovative approaches to promote social justice at the community level, and network to promote Regional and Global partnerships to intensify interventions on gender equality.
Read more about Vera
International Needs Ghana is a Christian Non-Governmental Organization that is focused on interventions that promote the wellbeing and empowerment of children, adolescents, and women – especially in rural areas. Through holistic interventions in education, child rights, gender and empowerment, health, and Christian witness, we reach vulnerable and marginalized persons and communities to contribute to achieving transformed lives and changed communities.
As a professional social worker and a gender advocate, I design and implement interventions targeted at empowering children, adolescents, families, and communities to take action to end child and adolescent protection violations and harmful practices within their environment. Through training workshops, consultative meetings, community and district level engagements, and media advocacy, I create platforms to initiate, reflect, learn, share ideas, and take action to contribute to societal and behavioral change.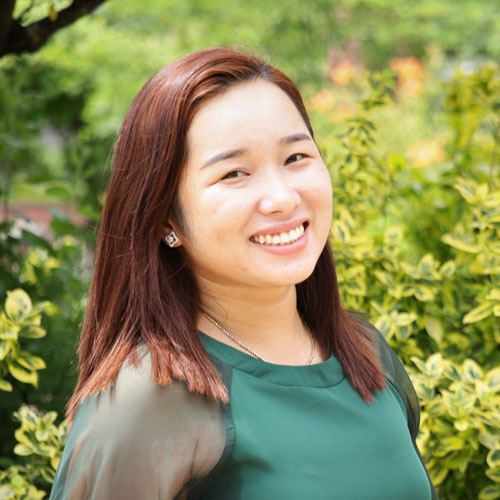 Veng Chhenghour
Leadership Development Program Manager
Empowering Youth in Cambodia, Cambodia
I believe that Coady will lead me to meet different potential leaders from different backgrounds to learn, share, and create actions for positive change together in society. I believe in our power of thinking, working, reflecting, and developing together. I am sure "We Can Make Positive Change".
Read more about Veng
Empowering Youth in Cambodia (EYC) is a grassroots organization working closely with kids, adults and communities. EYC believes we can break the cycle of poverty by empowering youth through equitable access to education and opportunity. EYC produces real models in communities to then create more models in communities. More than 60% of our staff are alumni who come back to share their knowledge and experiences to inspire students – especially girls – to keep continuing their studies.
I am working on sports (Yoga, Frisbee, Inline Hockey, Football, Cycling) to inspire the students in slum communities to join and learn leadership from the sports that they are practicing. I am also leading a Team Leader Program, which is a program to create the heart of supporting others, where we recruit EYC student volunteers every year to support other kids in different programs. Team leaders get soft skills training, volunteering experiences, and the opportunity to be a scholarships student in EYC.
Tenzin Choezin
Executive Director
Active Nonviolence Education Center, Tibet
The Global Change Leaders program will enhance my developmental change initiative with an international edge and empower me in the Coady culture of transformative leadership by meeting fellow women leaders and distinguished facilitators as I embark on a new journey as the youngest member of Tibetan parliament in exile.
Read more about Tenzin
Active Nonviolence Education Center (ANEC), based in Dharamshala, India, is a non-profit educational organization dedicated to the promotion of peace and nonviolence through comprehensive educational programs. Our core mission is to strengthen the foundation of active nonviolence as a tool to restore human dignity and justice for Tibet and other oppressed communities. ANEC was established in the year 2007.
As the Executive Director of ANEC, I lead and manage the organization strategically by designing, implementing, and monitoring projects that best align with our vision. I am responsible for raising funds, building networks, and maintaining relationship with training partners and stakeholders. As the head of the organization, I also have to recruit team members and build the team's capacity. As an Member of Tibetan Parliament in Exile, I represent the voice of the youth and work primarily for community development.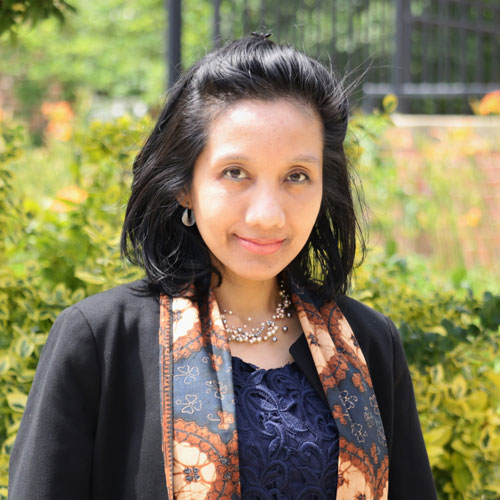 Nur Istifarini Handayani
Planning and Development Expert in Environmental, Social and Governance (ESG) Practices and Investment
Professional Independent Consultant, Indonesia
I hope to be an expert leader in building long-lasting relationships with supporters, to understand well the art and science of fundraising, and to learn how to make the ESG strategy not just a concept through diverse stakeholder relationships with other NGOs, research institutes, government, think tanks, and donors.
Read more about Nur
As an Independent Consultant, I initiate and drive strategic programs and transformation initiatives across public and private partnership organizations and communities, deliver innovation, strategy, design, Intellectual Property and Standards (IP&S), and sustainability – integrating across the Innovation and Strategy Leadership Team, and translate strategic objectives into effective innovation and R&D plans and capabilities to make sure the ESG practices and investments not only serve the company well, but also all the stakeholders and communities at large.
My role is varied, but my core responsibility is managing the planning and development in ESG frameworks, ensuring sustainability strategies and innovative business models are able to generate significant value for the organization, environment, and people through inclusivity. I focus on development of ESG strategy, programs, policies and capabilities to deliver on the ESG commitments and the UN Sustainable Development Goals. My expertise is in the potential for innovation to address global sustainable development challenges and create long term value for society.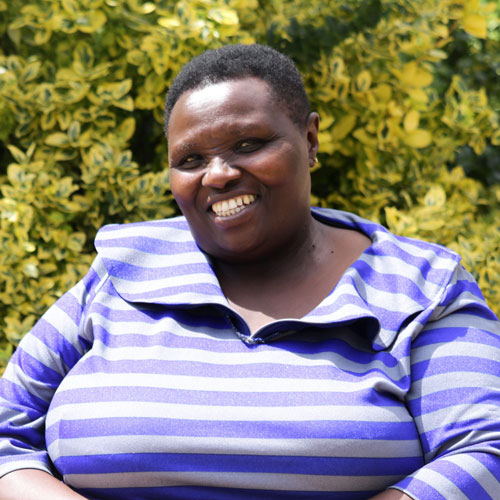 Jane Kihungi
Director
Women Challenged to Challenge, Kenya
I hope to learn how to look into socio-economic and political issues through a feminist lens, and learn how women of different diversities can access opportunities on equal level.
Read more about Jane
Women Challenged to Challenge (WCC) is a national organization of women and girls with disabilities in Kenya formed (and registered under the Kenyan Laws) with the goal of bringing together women with disabilities to champion issues that limit their participation in development spheres.
In recent years, WCC has focused its attention on sexual and reproductive health and rights (SRHR) that is designed by applying multi-sectoral approaches and by bringing together policy makers and programme managers.
As Director, I coordinate all programmes ensuring all projects activities are implemented as per the work plan. I am also in charge of all staff of the organization and I ensure team work is embraced. While the Board sets out policies and regulations, it is the work of the Director to implement them. I contribute my vast disability advocacy skills and the leadership skills I have acquired with time – including the skills I've obtained from Coady training.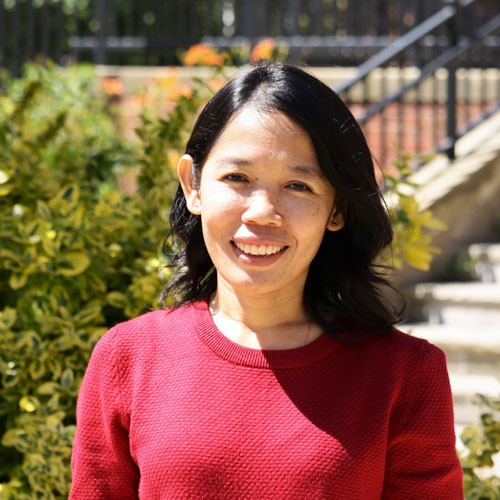 Malin Lok
Dorm Manager
The Harpswell Foundation, Cambodia
The wealth of knowledges and experiences from other women leaders from diverse backgrounds will help strengthen my leadership and expand my networks. I look forward to meeting and staying connected and for "our one voice" to bring positive change to the world.
Read more about Malin
The Harpswell Foundation is a US non-governmental organization. Our mission is to equip young women in Southeast Asia with leadership skills, education, and a supportive network.
Starting from recruiting potential candidates to their graduation, I oversee daily dorm operation, offering hands to support students' physical and emotional well-being, facilitate critical thinking classes by discussing world issues, monitor students' academic progress, and set a strong leadership role model to students. This work contributes to equipping the next generation of young women leaders to be change agents. This job makes my parents the most proud!
Helena Zefanias Lowe
Gender Practitioner
Independent Worker
Mozambique
As a facilitator, I always feel that I should contribute more by writing my own experience and sharing it with other practitioners. I hope to learn how to structure short, relevant information for different publics, and how to document life stories in a way that tells about journeys for change.
Read more about Helena
I am a gender facilitator and use a methodology known as Gender Action Learning System – an inspiring life planning approach with a gender justice perspective. The institutions and organizations I work with have helped thousands of women and men, young and not so young, to transform their lives, to build better and happier families, to create wealth for their households, and to achieve more justice. In this process I have learned a lot, particularly to listen and to show empathy to others with gratitude.
My contribution as an external facilitator is to master myself so that I can facilitate from the back by creating spaces where people feel safe to explore their potential, and their dreams, and learn to overcome their challenges.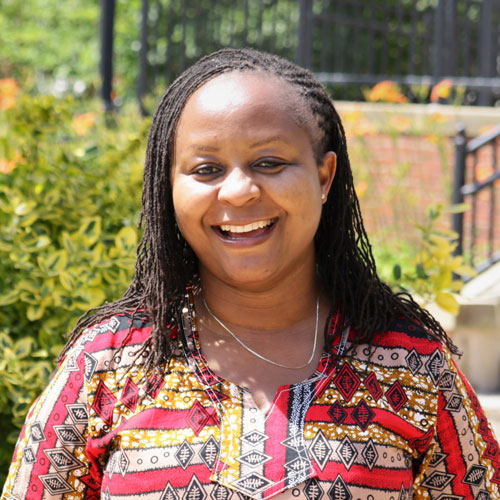 Saliwe Mutetwa
Director
Talia Women's Network, Zimbabwe
I have felt like an imposter with limited knowledge on feminist leadership and feminist perspectives on change because my academic background was not in gender studies. I am hoping the Coady experience will increase my confidence and strengthen my leadership capacity to be more effective in my work.
Read more about Saliwe
Talia exists to empower women and girls, inspire change, and transform lives. We believe in the empowerment of women, girls, and communities in situations of poverty, illiteracy, disease, and social injustice. Talia brings economic and social opportunities that facilitate the development of large-scale positive change through programs that allow the women and girls to realise their potential. We are building resilient women and girls who actively participate in creating sustainable communities.
I am the founding Director of the organisation and I have been instrumental in setting up the strategic direction and structures of the organisation, including the Board of Advisors, staff recruitment and on boarding, and policies and procedures documentation. My major role has been in fundraising and resource mobilisation through responding to calls for proposals, creating relationships with potential funders and private sector partners, as well as finding innovative ways to fundraise – particularly in the pandemic era.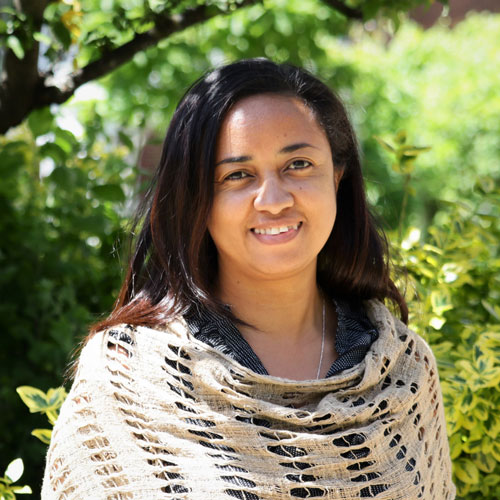 Vololonarivo Harilala Myriam
Program Coordinator
Malagasy Youth for Sustainable Development (MYSD), Madagascar
I look forward streghtening my leadership. I hope that the skills obtained from Coady's Global Change Leaders program will lead me to deepen my actions in promoting Disaster Risk Reduction and Climate Change in a way that helps women become self-aware and actively participate in the resilience of their community.
Read more about Myriam
MYSD promotes resilience and sustainability through research and training programs. UNDRR and the National Office for Disaster Risk Reduction in Madagascar work together with the association to engage young people in taking action towards disaster risk reduction and sustainability. MYSD works to create jobs and opportunities for young malagasy people by using social media and the internet.
I am in charge of the institutional partnerships between the organization and international or national stakeholders. I also supervise the coordination of the programs led by the organization, from membership recruitment to capacity building on disaster risk reduction.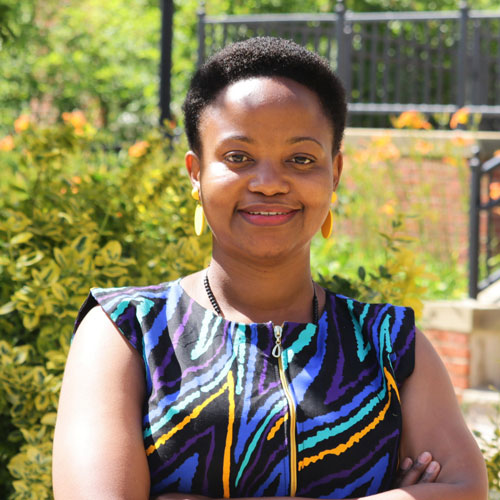 Vivian Ninsiima
Gender and Advocacy Manager
Rukungiri Women Integrated Development Foundation (RWIDF), Uganda
Attending Coady will help me improve my theoretical knowledge needed to redesign service delivery systems in my community, as well as develop an understanding of the importance of women's leadership – to lead change with more conviction and confidence – in implementing pro poor projects in Uganda.
Read more about Vivian
RWIDF is a Non-Governmental Organisation based in Rukungiri District, South Western Uganda, with a mandate to enhance the skills, livelihoods, and wellbeing of women and youth in order to mobilize communities and increase awareness in human rights advocacy, income promotion, food security, education, good governance, water, sanitation, and hygiene standards. RWIDF aims to create livelihoods for the rural population and capacity for women through income generating projects.
I provide technical support to project teams in facilitating knowledge, guidance, and information sharing on the availability, accessibility, and quality of support services in response to Gender Based Violence in my community. I foster transformative change for women and adolescent girls' programs that aim at empowering them. I also ensure that the design and implementation of all project activities protect the rights of all populations – especially women and girls – and that the interventions are tailored to their different needs.
Beatrice Rabiel Sawe
Environment and Climate Change (ECC) Specialist
Mennonite Economic Development Associates (MEDA), Tanzania
I hope to gain transformative leadership models so our members can apply a feminist leadership approach to advance women's leadership and decision-making into their businesses – enabling access to the formal economy and promotion of environment and climate actions to reduce climate and equality vulnerability.
Read more about Beatrice
MEDA is an international economic development organization that creates business solutions to poverty that are sustainable, scalable, measurable, and replicable. MEDA has worked in over 70 countries in designing and implementing environmentally sustainable, agri-food market-driven programs that focus on sustainable development that benefits women, youth, and rural communities. Our success is measured by income, improved processes, increased knowledge, and the creation of decent work.
I support businesses in agri-food value chains in capacity building and mainstreaming environment and climate change, and Occupational, Health and Safety. I propose Climate Smart Agriculture (CCA) interventions to feminist small-to-medium enterprises (SMEs) and women small holder farmers for enhancing climate resilient entrepreneurs. I also work with national regulatory authorities, including the National Environment Management Council (NEMC), to ensure that the project's environment and climate change strategies are in line with Tanzanian national strategies.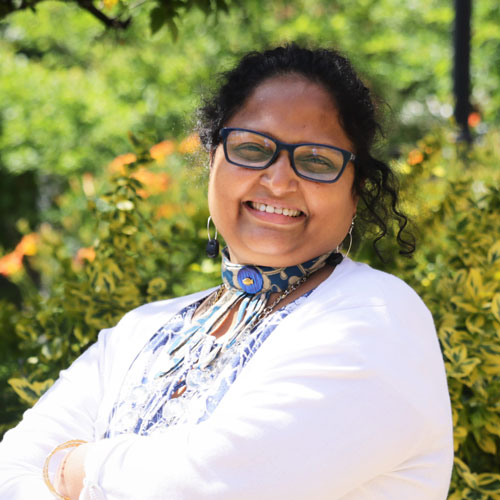 Pedely Sujata Rani
Program Director
PEACE FORUM (Poverty Elimination and Community Empowerment Forum), India
I am humbled and it is my profound honour to participate in the Global Change Leaders program. This program enlightens me and provides new learning opportunities, which helps my community. It equips me with the new tools and leadership skills, resources, and a global network.
Read more about Sujata
PEACE FORUM (Poverty Elimination and Community Empowerment Forum) undertakes various socio-economic, cultural, educational, health, and relief activities including research on the problems affecting the deprived, disadvantaged, and disabled, especially children, youth, women, and other problems arising out of calamities – natural or otherwise. We work with communities to end hunger and poverty, and to promote basic education, women's empowerment, and livelihoods creation.
My role includes designing programs for women groups in the community, developing soft skills, communication with external agencies, conducting workshops on various thematic areas relevant to peace forum vision, literacy training on girl child education, providing needs-based counselling, assessment and career guidence, creation of livelihoods and promoting entrepreneurship, and creating awareness programs through art and role play on violence against women and substance abuse.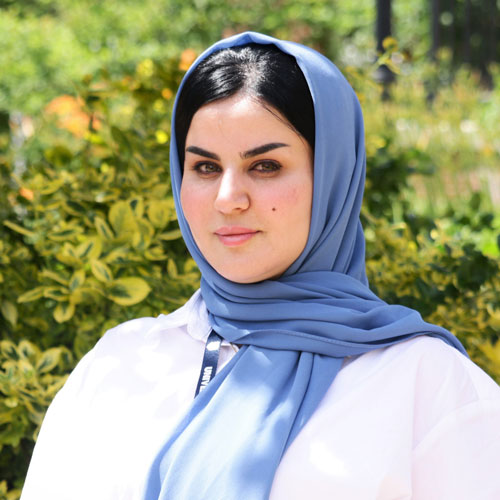 Shara Khaleel Shareef
Focal point of a children and youth protection and empowerment center
STEP UK, Kurdistan (Iraq)
They asked me five years ago, 'what do you want to achieve in the next five years'? I answered with, 'I want to become an internationally recognized leader, highly effective in my community and reliable, resilient, creative, passionate and caring.' I believe Coady can help me achieve all of them.
Read more about Shara
The purpose of our organization is to empower and protect the children and youth in the Kurdish region of Iraq by providing safe spaces that care for and equip those in the most vulnerable circumstances; and working in cooperation with local government and civil society as they build and sustain a safe future for children. Our long-term goal is to work towards better child protection systems in Iraq.
During my five years of experience as focal point of a children and youth protection and empowerment center, I had the privilege of inspiring many to bring change to their lives by advocating for them, teaching them new skills, and expanding their knowledge by helping them to be aware of gender equality and peace building.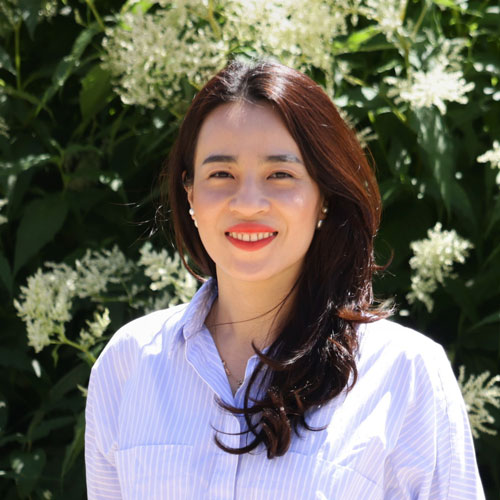 Trang Thi Nhu Tran
Member of Board of Management, Director of the Foundation
For Vietnamese Stature Foundation, Vietnam
My purpose is to strengthen the rights of participation and self-decision for our beneficiaries – especially women and children. I look forward to learning from global female peers and strengthening my leadership in order to review and create a more innovative management approach to adapt to current situation changes.
Read more about Trang
VSF is a non-profit foundation established in 2014 to contribute to the achievement of the Sustainable Development Goals, with particular emphasis on SDGs related to education, equality, and health care. In the past few years, VSF has some outstanding achievements, and rewarded as "Best Non-Profit Organization of 2019" by the Asian Philanthropy Awards. Our core values are: Improving Vietnamese stature, connecting and mobilizing community, and arousing and nurturing humanity.
I am in charge of overall operation and management of VSF's activities. I design programs, inspire my staff and encourage their creativity and contribution, and supervise projects to ensure that our core values and mission are fulfilled. I advocate with different partners, connect community, and mobilize social resources to support vulnerable groups – especially women and children. My strong network and connections contribute to the image and influence of the foundation. I am responsible for the short and long term strategy of the foundation.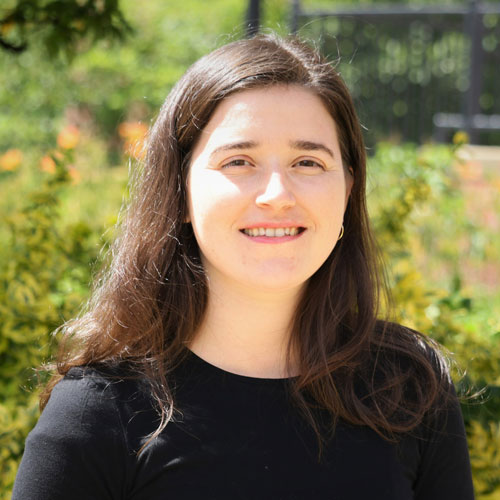 Ana Paula Valdiones
Coordinator of Environmental Transparency Program
Instituto Centro de Vida (ICV), Brazil
I believe the Global Change Leaders Program will help me and my organization to include gender lenses in the projects and actions we carry out to promote forest governance. This experience will help me to bring these two themes together and improve the rights of women who live and protect the Amazon rainforest.
Read more about Ana
Created in 1991, Instituto Centro de Vida's mission is to build shared solutions for the sustainability of land use. To fulfill our mission, we work in partnership with civil society organizations, social movements, and private sectors, supporting national, state, and municipal governments in the fight against deforestation and in the development of economic incentives to maintain standing forests.
As coordinator of ICV's Environmental Transparency Program, I have designed and implemented projects that seek to fight deforestation and improve forest governance – mainly by strengthening transparency, participation, and inclusiveness.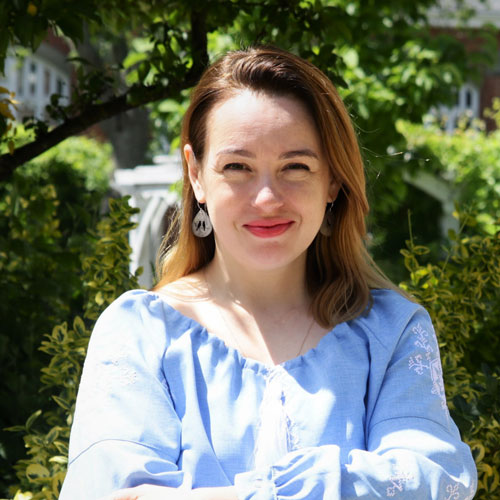 Nataliya Vyshnevetska
Head
D.O.M.48.24, Ukraine
My goal at Coady is to get a helicopter view on my community's ways. As a citizen of a country that is surviving unprecedented war aggression, I am looking for methods of post-conflict support for vulnerable groups. Feminism is a way to a world without war, and I need to know more on how to achieve it.
Read more about Nataliya
Our organization was founded in 2015 by internally displaced people (IDPs) from occupied parts of Ukraine (Donetsk, Luhansk, and Crimea). In seven years, our goals evolved from IDPs integration, to women's empowerment, to combating domestic and gender-based violence. We act both on grassroot and systematic levels to make our community attentive to vulnerable groups and to bring a feministic approach. Providing shelter for domestic violence (DV) survivors, social entrepreneurship, and even cultural events are all tools we use to achieve a better world.
As a co-founder and head of organization, my task is to bring in new knowledge, experience, and partnerships. I work in strategic planning, budgeting, fundraising and project idea development. I manage the team, assuring motivation, effective conflict resolution, and timely celebrations of success. I am also involved in some projects; my expertise is analytical research via interviews, independent critical theater, social entrepreneurship, and I enjoy needs and impact assessment, and providing training and business modeling.