The Topshee Memorial Program honours the legacy of the Rev. George Topshee, former director of both the StFX Extension Department and the Coady International Institute, and provides a space to connect with Labour in Atlantic Canada.
Fr. George Topshee
Rev. George Topshee served as director of both the StFX Extension Department (1969-1982) and the Coady International Institute (1973-1979). During his 25 years with StFX Extension, Fr. Topshee established himself and the Department as close friends and allies of organized labour. Fr. Topshee was a "Movement" person and saw workers in their trade unions and consumers and producers in their co-operatives and credit unions as part of the same cause for social justice and economic democracy.
Topshee Memorial Conferences
The death of Fr. Topshee in 1984 prompted leaders in the Labour Movement in Atlantic Canada to initiate the Topshee Memorial Fund, named in his honour. In collaboration with the StFX Extension Department, they designated the Fund to support annual conferences to deal with pressing social and economic issues, which confront the people of Atlantic Canada. The StFX Extension Department founded the Annual Topshee Memorial Conference in 1984 with the support of the memorial fund. These conferences provided a forum in which people from all walks of life could meet to discuss critical social and economic issues affecting life in Atlantic Canada. Eighteen conferences were held between 1984 and 2004.
Topshee Memorial Webinar Series
In the ensuing years, due to a variety of reasons, Topshee conferences were discontinued. In recent years, due mostly to the COVID-19 pandemic, webinars were adopted as a method of providing a space for discussion and learning. Beginning in 2021, the Nova Scotia Federation of Labour, St. Francis Xavier University Extension Department and Coady International Institute – now Coady Institute – commemorated the National Day of Mourning by launching the Topshee Memorial Webinar Series focused on key issues facing workers in the midst of the global Coronavirus Pandemic. The series sought to continue the Topshee dialogue tradition within the context of today's society. In addition to National Day of Morning, topics included workers' rights and sick days in Nova Scotia, working while Black in Nova Scotia, and labour rights during Covid-19 from an international perspective.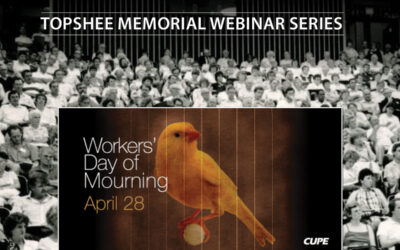 April 27 | On the eve of the National Day of Mourning, please join us for a discussion on worker safety in the workplace.
read more
Nova Scotian Workers – Worker Health and Safety
Nova Scotian Workers Worker's Rights and Sick Days
Labour Rights during COVID 19 – An International Perspective
Topshee Memorial Program – Our Vision
As we move forward, rekindling relationships with Labour in Atlantic Canada and thinking about the future of work and workers, just economies, and the sustainability of our planet and the well-being of our people, efforts will continue to provide a forum via the Topshee Memorial Program for the strategic sharing of information and fostering of essential dialogue.