Indigenous Women in Community Leadership
Applications Closed.
Optional Mentorship and Community Project – October 5, 2020 – December 18, 2020
Applications open soon.
Application deadline May 15, 2020
This program is for First Nations, Métis and Inuit self-identified women residing in Canada only.
This program takes place in Mi'km'aki, the ancestral and unceded territory of the Mi'kmaq people. It encourages Indigenous women to further develop their leadership skills and abilities for community-led and community-driven development. Social change in solidarity with others and providing tools that prioritize equity and inclusion are central goals. The course welcomes all self-identified First Nation, Métis and Inuit women who can demonstrate the ways they are currently engaged in or showing their potential for leadership in their respective communities, organizations or Nations.
Personal benefits include:
assessing your life and leadership experiences;
building leadership awareness by discovering your strengths and capacities;
understanding opportunities and challenges in your community;
learning practical tools and strategies to lead community-driven change forward;
design a community engagement project;
networking with a motivated and diverse group of Indigenous women to build approaches that break down barriers and limits to community development work.
Organizational benefits:
As a result of this program, participants will:
develop community approaches to increase the social capital of their communities, organizations, Nations; and
develop vision and leadership approaches that support and lead to innovation and social change.
Who should take the program?
The strength of the course is in the geographical and cultural diversity of Indigenous women who attend, share and contribute meaningfully. The mix of ages, experiences, backgrounds, cultural knowledge, responsibilities, education, and working lives creates a vibrant context for learning.
You are a great candidate if you are/have:
all self-identified First Nations, Metis, or Inuit woman who are passionate and actively working to make positive social change in your community, organization, or Nation or show high potential for this kind of leadership
a high school diploma or undergraduate degree in combination with sound oral and written abilities
3-5 years' experience in community work, at emerging or mid-career leadership level.
limited exposure to leadership training or other educational opportunities.
committed to being accountable to staff and mentors throughout the program.
applying your learning in your community, organization, or Nation after the program.
contributing to on-going learning within IWCL and Coady alumni networks.
Approach to learning
This course includes Indigenous and non-indigenous approaches to leadership and community development. Participatory and experiential learning methods are used by which participants share their experiences and deepen their learnings. These include on-the-land opportunities, talking circles, Elder and knowledge keeper teachings, ceremony (where appropriate), lecture presentations, small group discussions, role-plays, debates, case studies, guest speakers, and skill-building exercises. Additionally, participants visit a local Indigenous community to engage in dialogue and learning.
Fees/Scholarship
A mix of institutional and private donors who share Coady Institute's vision of community-based, citizen-led change sponsor the institute's educational programs. For successful candidates, we can offer a full scholarship that includes tuition, program materials, travel, accommodations and meals during the program.
Due to the prevailing global and local circumstances concerning Covid-19 (novel coronavirus), Coady Institute has cancelled all courses from May to mid-August this year. Our ambition is to resume on-campus courses such as the Indigenous Women in Community Leadership program by late August. We encourage you to apply for this, or anyone of our 2-week Certificate courses that will be offered in the Fall, full details and dates are available on our education page. As you know, the uncertainty surrounding the Covid-19 pandemic continues. In the best traditions of community-based development, we will innovate and improvise as circumstances require. Changes in when and how courses will be delivered will be communicated to applicants and on the Coady website.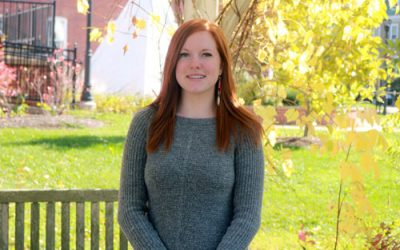 Jasmine Collis designed and implemented a community project aimed to empower local youth in partnership with Lakewood Academy in Glenwood, NL while attending Coady's Indigenous Women in Community Leadership (IWCL) program.
read more
Coady International Institute acknowledges the support of the Government of Canada, Imperial, and Comart Family Foundation for the Indigenous Women and Community Leadership program.